File information
Created by
Sushin
Virus scan
Some manually verified files
About this mod
A multi-arena adventure map that concludes with a boss enemy. This is a difficult challenge with multiple routes to choose from with a total of 8 arenas and some climbing.
Requirements

Permissions and credits
Dungeon Gauntlet II
is a progressive combat challenge broken up into multiple combat arenas. This mod attempts to give you a purposeful combat experience with a beginning and end, moving you through multiple environments with different risks, challenges and opportunities.
8 to 9 combat arenas in total, 6 of which must be chosen to complete the challenge
Multiple paths to choose from
A beginning and ending that you must fight through to the end
A final boss battle
Secrets and rewards
Unique enemy waves for each arena
Multiple difficulties to play through
This mod requires
The Cabal
 to use the enemy waves included with the map.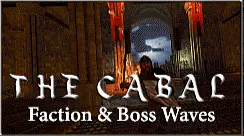 INSTALLATION

Extract the contents of the zip file into \Blade & Sorcery\BladeAndSorcery_Data\StreamingAssets\Mods
If you don't see a "Mods" folder, you don't have the correct version of Blade & Sorcery. See below.

THIS MOD ONLY WORKS ON THE BETA BRANCH OF BLADE & SORCERY UPDATE 8.4 BETA.
If you don't know what that is, you are not on the beta branch. Please
follow this guide
to access the beta, but be warned that all mods for version 8.3 and below will not work on the beta.