File information
Created by
vincemeister55
Virus scan
Some manually verified files
About this mod
Just a mix of vanilla and new songs from different games.
Permissions and credits

Changelogs
Just a mix of vanilla and new songs from different games. This is only for those users who got bored with listening to the same music of the game after playing the game still since 2015 like me. lol
These are just some of the music I added/replaced that I remembered on top of my head. There are still many that are not listed here. Some may not be accurate as I keep updating the mod for my personal use occasionally.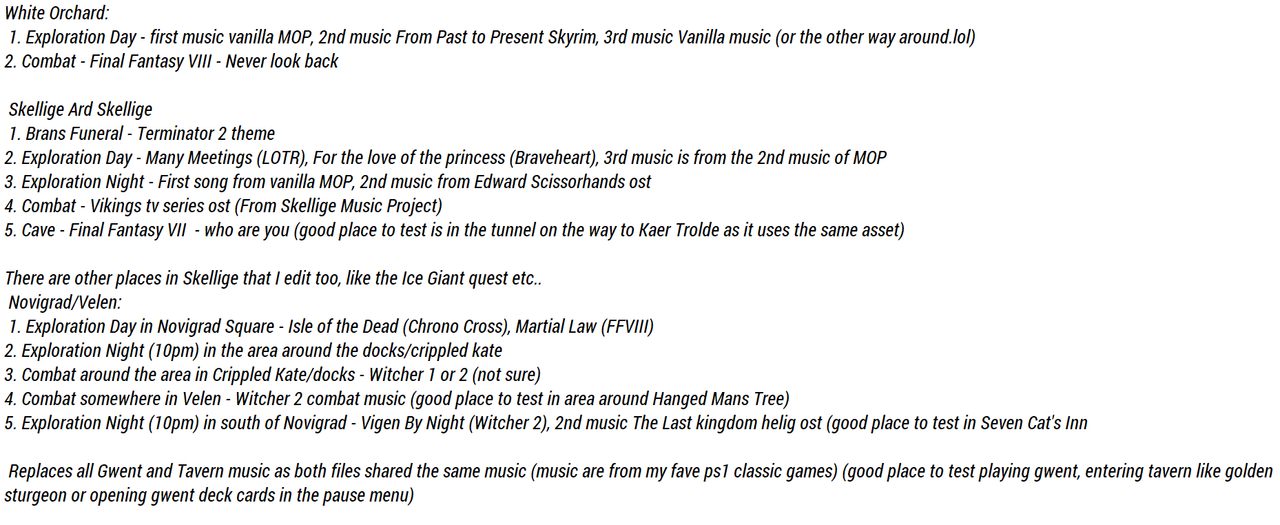 I've also added an optional file that changes the music played by the bards in the streets of Novigrad.
Music is subjective. I made this for my personal use. You may or may not like this. 
Update 1.1
Made an improvement to the music playing during the Graham and Annabelle kissing scene. 
Added a 3rd track in the music playing outside Novigrad during daytime exploration. It's a hidden song from the game that I used, that only plays once in the quest 'Into the Heart of The Woods' in Skellige, and that it will only play if making a certain choice during the quest. I added previews in the video tab. You might hear some muffled sounds in the previews. That is due to the way I record the video. There is no muffle in the music during gameplay.
Credits to : avarwig45, PatrioticBat, Ridog8, ElectronicOldManPrime, robx99 
 for all the help, and for giving me the permission needed.UPDATE: Feb 25, 2022
Reuploaded the files plus a few additions. New combat music in Spikeroog feat. Practice Makes Perfect track from Witcher 2, new combat track during battle with Imlerith feat. the ending credits of the TV series LOST. And added new music for the wedding bards in the wedding quest during HOS story.