File information
Created by
jack3459
About this mod
TorchLight For Geralt and Ciri, plus Wisp for Ciri
Permissions and credits

Changelogs

Donations

TorchLight For Ciri Too
Torch For Geralt and Ciri, plus Lamp and Wisp for Ciri.
-- If you like, endorse. Thank you --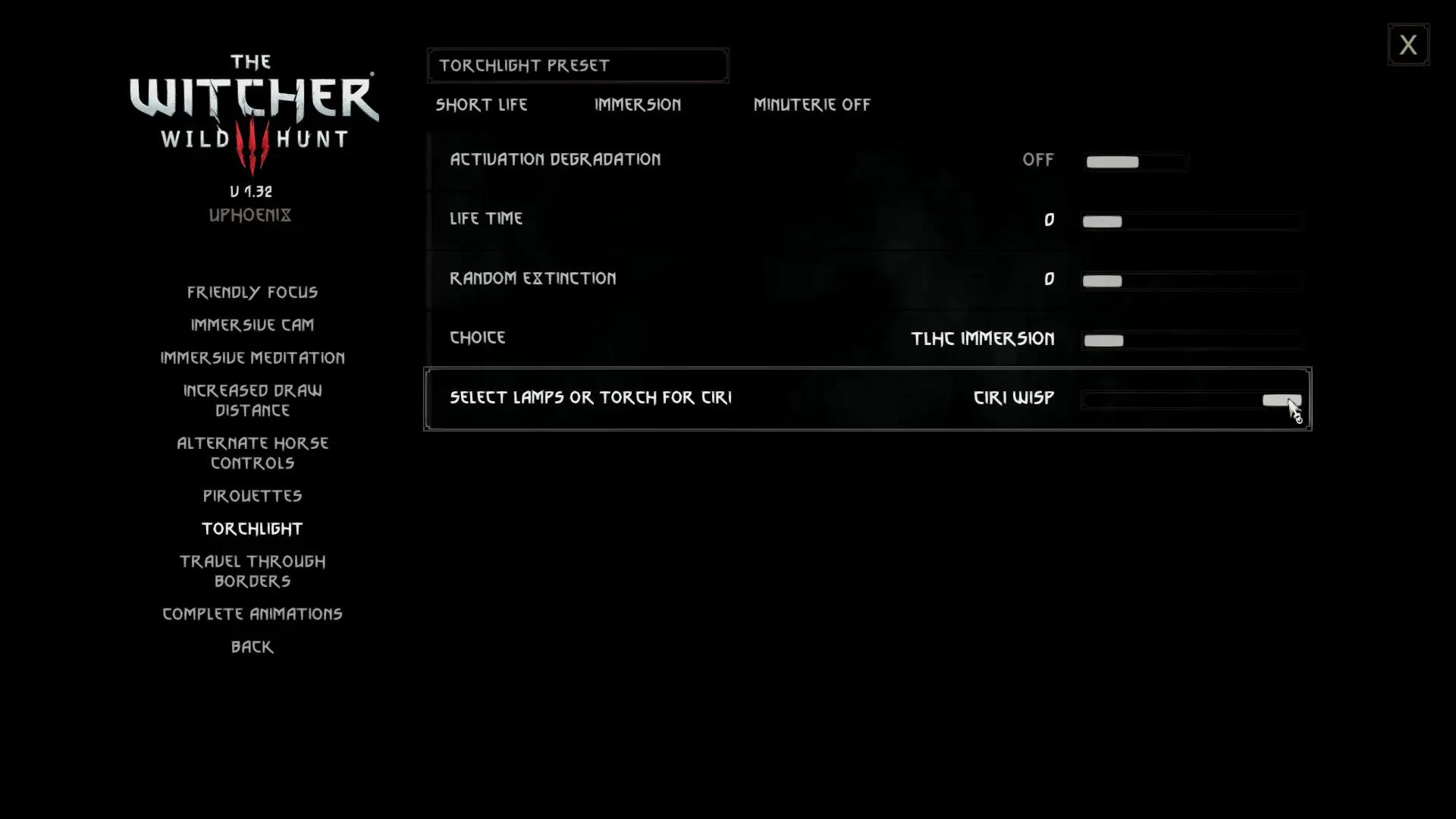 include
TorchLight and Better Torch
https://www.nexusmods.com/witcher3/mods/2810
-You can build Torch at the blacksmith, you can buy  torch at the merchants..
find the torch in the coffers or on the corpses.
-The torch turns off after a few seconds, but you can disable it in the setting .
-Go talk to Brams at White Orchard. Buy the Torch.
Installation:
Extracted modTorchLight, bin and DLC to \yourWitcher3Directory\
edit input.settings
[Exploration_Replacer_Ciri]
IK_MiddleMouse=(Action=CiriTorchToggle) or IK_8=(Action=CiriTorchToggle)
Uninstall:
Delete \yourWitcher3Directory\DLC\DLCTorchLight
2. Delete \yourWitcher3Directory\mods\modTorchLight\
3. Delete \yourWitcher3Directory\bin\config\r4game\user_config_matrix\pc\MTLConfig.xml
edit input.settings
[Exploration_Replacer_Ciri]
delete
IK_MiddleMouse=(Action=CiriTorchToggle) or IK_8=(Action=CiriTorchToggle)
Script original from : Syynx , starwarssonic90, KNGR
jack3459,  CdProjektRed
Optional files:Patch for use with friendly Focus and friendly HUD.
overwritten files in modTorchLight folder
then scan with Witcher Script Merger
in files in fonfilct with modTorchLight (friendly Focus and friendly HUD)
just prioritize marge with modTorchLight for all conflict.
overwritten files to bin folder ,
in game (friendly Focus and friendly HUD)select preset UPhoenix

****************************************************************************

My Mods


Realistic Contrast Textures

RCT Characters series

Shoes for Keira

SCW


Geralt Netflix Naked

Wallpaper Blood and Wine
Screen Saver Witcher 3 BAW


TorchLight For Ciri Too
Torch For Ciri
Lamp for Ciri
TorchLight


Witcher 3 pack tools
UphoeniX
UphoeniX Light