Wild Hunt Re-Imagined ReShade
Wild Hunt Re-Imagined ReShade
File information
Created by
firemanaf
About this mod
ReShade with Graphical Options!
Presets for Vanilla & STLM 2.2 Lighting
Also, MXAO IL optional add on

Requirements

Permissions and credits

200+ Endorsements!! Wow, I can't believe it
Plus,
July File of the Month Mod!!!
I really can't thank you all enough!!

Thank you to the mod community for the amazing support & feedback
With that support I believe this has turned out to be one amazing Witcher 3 ReShade preset

UPDATE: I have moved my Supreme to Extreme Graphics to a separate mod page. 
Here: Supreme to Extreme Graphics Options

Also, feel free to check out my newer ReShades. It adapts to you location and changes presets based on that location
Wild Hunt Adaptive
&
Wild Hunt Re-Engaged


Since the creation of this preset I have worked hard to balance out the settings to make an enjoyable Witcher 3 experience without taking away from the default game through trial and feedback from many users. With my preset you will not find over saturation or de-saturation. No over blown contrast or deafening shadows. No over-sharpening or distracting grain effects. You will find dark areas darker and with an atmospheric feeling, almost a cozy like feeling while in cottages and buildings. You will find the yellowish light from the Vanilla sun and fire are replaced by a warmer soft glow. You will see gorgeous sunrises and sunsets. Yet, gloomy stormy weathers. But, overall an enhancing effect. Hope you enjoy. Thank you again for trying.

Presets Include Vanilla/Toussaint & STLM 2.2/Toussaint 
Supreme & Ultimate Graphics Option add on
Full Quality & Performance Versions
MXAO & Indirect Lighting add on
For ReShade 1.1 & 2.0

First, thank you for downloading and trying out the preset.
&
Second, thank you to those that have taken time to Endorse!  
&
I appreciate all the support of Wild Hunt Re-Imagined so far.
& Lastly, please provide feedback so I know if adjustments are needed and your thoughts of the preset. 


Vanilla Preset Video (V3.3)
Note: You can get the graphics option here now: 
Supreme to Extreme Graphics Options

Vanilla Preset Video
Note: With Grass 420 mod
 You can get the graphics option here now: 
Supreme to Extreme Graphics Options
STLM Preset Video
Thank you It'sAGundam for taking the time to review and make this video. (lol, the AF doesn't stand for "as f***" in the video but might be cooler)
In this video he shows off the STLM 2.2 preset and "optional" Supreme-Ultimate graphics add on
Note: Since the making of this video Supreme-Ultimate Options were update and Ultimate is not as a heavy hitter as in previous version
also, I have moved the graphics option to a separate mod file. 
Disclaimer: As with any other reshade one of the negatives is you cant adjust image based on time of day, weather, interior/exterior and everyone's monitor settings. This preset was created using my Dell s2716dg 1440p monitor. I tried to balance out settings as best I could and looks pretty good on my setup. What you get on your monitor might be slightly different than images below. For example, when I switch game to my Dell 1080p IPS monitor blacks are darker as opposed to by 1440p monitor so I have to adjust my monitor settings a bit. If you find darkness different than images below please see in FAQ on how to adjust. Or you can adjust your monitor settings and in game gamma. I highly recommend your monitor is calibrated as best a possible for best image. 
This Reshade I have provided users with 2 preset options.
Vanilla-
for those that prefer the use of Vanilla/Default lighting in game  
STLM-
for those that love the lighting of Super Turbo Lighting Mod. 
_____________________________________________________________________________________________________________________________________________________
Vanilla Lighting/Toussaint Preset

The Vanilla game I absolutely love. CDProjectRED did outstanding but, still felt slightly to colorful to my taste. This is a war ravaged land. I tried to tone down the blues & greens a bit without taking away from the initial feel of the game. You will find the color is still there but brought down a bit to add an atmospheric tone. The colors are slightly darker such as the grass & trees and the shadows adjusted to add depth. Light from the sun/fire will be warmer as opposed to the yellowish look. Nights will be slightly darker as well. This was by no mean an attempt to get an E3 image.
(Newly updated with slight color adjustments and use of tuningpallete. Works well in all Vanilla places like White Orchard, Velen & Skellige as well as Toussaint in the B&W DLC)
Note: If you want the fog removal & view distance effect of STLM but don't want to use STLM check out 
Extended View Distance
. I recommend you try with 
Darker Nights
 (see locked comment history on mod page with updated DN V1.22 with Toussaint download link) with the mods darkness setting of 50-70. Looks awesome at night. I highly recommend using both these mods with my preset.  
________________________________________________________________________________________________________________________________
_____________________________________________________________________________________________________________________________________________________
Super Turbo Lighting Mod 2.2 /Toussaint Preset 
(recommended to use Super Turbo Lighting Mod 2.2 not STLM 2.2.1)
although, you may like using this preset with Vanilla Lighting
(I will say I prefer this preset while in Toussaint)


This is created due to the popularity of STLM but still keeping true to Essenthy's image attempt. STLM by default tends to be more colorful, almost fantasy feel. (If you don't want that feel, I highly recommend the Vanilla Preset for you) With this version I took STLM I just ever so slightly darkened the colors such as darker grass and bluer sky. It gets rid of the yellow tint of light/fire and makes more orange/red like in real life and will be slightly darker at nights.  But, you will find this preset is just a bit more colorful than my vanilla preset but not as colorful as using STLM alone. 


I highly recommend a try with Darker Nights (see top locked comment history on DN mod page for a update mod link for 1.22 and Toussaint) mod, with a darkness setting of 50-70. Looks awesome at night. Since, STLM tends to make nights brighter

Note: This preset does go good with Extended View Distance (EVD) if you are using that mod over STLM. EVD I do think changes default colors ever slightly so this preset does look good with it. So your choice when using EVD, choose Vanilla or STLM preset.
This is STLM 2.2 preset but should look good with STLM 2.1 if you are using that.  
________________________________________________________________________________________________________________________________

Tried your version of ReShade 1.1 and I must say, this is very likely the best
looking preset I have seen for witcher 3!
-- Walteriusmaximus --
I think you have done a wonderful job with this preset, and if I could I would
endorse twice
-- Gulfwulf--
Amazing Reshade...Love this reshade
-- Alastre79 -- 
mama mia, looks awesome!
-- haddoken -- 
Tried your preset with STLM. Makes wonders
-- cloudeadmind -- 
Awesome preset. Absolutely love it. Favorite ReShade out of all of em (including mine)
-- zultre -- 
Its a great preset
-- kokoloko2015 --
I just tried...what about AMAZINGGGGGGGG
-- sheogorath1664 --
Just tested it, works like a charm. Absolutely Stunning!
-- Harvilt --
Wow..Just tried Vanilla preset looks good. Its an adjustment to game I didn't realize I would like
Just tried 2.7 and really impressed with how it came out
-- clkells --
Well, just tried this out and have to say AWESOME work dude. The quality is astounding and the game looks amazing!!
-- skeletallemon --
Beautiful Preset. I am using Vanilla/Toussaint 2.8 in 4k. Might have to do another playthrough.
-- cow123456 --
Great work on the reshade. Vast majority look overdone but this looks great. This mod + Atmopsheric Nights + STLM 2.2  is closest combination I have seen to early trailers. 
-- ollinblack --
Really nice work. I appreciate this mod to the fullest...the game looks impressive.
-- Danteinhell --
Really pretty dude! My new favorite reshade
-- AgentChaos --
I LOVE this preset!...It's beautiful. 
-- Nefostatros --
Beautiful mod. I could not play without it now
-- Elishia14 --
Your preset looks great.Really. Thank you for all your work.
-- triskl3 --
That's exactly what I was looking for, not that dramatic neither overly full with OMGWTF effects like many other presets out here.
-- Strahlimeier --
Best ReShade preset ever...you have great work here dude.I really like your preset...usually just download and try but had to comment cause I love it.
-- carrywan123 --
The game now looks even more beautiful than it did before...no need to try others. Thanks.
-- Chadonraz --
I have to say this is the best reshade I have tried...With this reshade I feel truly immersed in the world of Witcher 3...It is without a doubt the best reshade I have tried and cant imagine anything else beating this.
-- churchofdeviance --
Quality Version (approx 5FPS)

-Various Color Effect
- HDR
-SMAA
-FXAA
-Lumasharpen
-Gaussian Blur

Performance Version (approx 2 FPS)

-Various Color Effects
-Lumasharpen 
Hot Keys

      Activate/Deactivate Preset- F10 
MXAO Indirect Lighting - F7 (Optional Add On)
HDR- F11  
      Gaussian Effects- F12
     
Reshade 2.0 works different than using Reshade 1.0 or 1.1. Make sure to follow instructions

What is awesome about ReShade 2.0 is the ability to have multiple presets in the file while easily able to switch between them with a click of a button. Even without exiting game. However, I do feel ReShade 1.1 operates smoother than ReShade 2.0. ReShade 2.0 has been known to have issues for some. In fact, if you have no need to switch easily between Vanilla/STLM or Quality/Performance I would use ReShade 1.1. 

Note: Some users of ReShade 2.0 have reported issues with image being darker over reshade 1.1 or other issues when using reshade 2.0. ReShade 2.0 can have bugs with some users. If you do you can 1. Try selecting a different DLL than the one you currently using i.e d3d9 or dxgi as opposed to d3d11. Or 2 you can try using ReShade 1.1 and see if helps.
As always when switching to a new reshade make sure to always do a fresh install.



For ReShade 2.0 Users
1.     
Download Reshade 2.0
Reshade Link
2.     
Extract file to a location you will be able to keep this file located for use. (Maybe outside your download folder.
        You will not be putting this in your games exe folder)
3.     
Download Wild Hunt Re-imagined
4.     
Extract file
5.     
Copy the ReShade Folder (from Wild Hunt Re-Imagined) and paste into your Reshade 2.0 (that you placed safely)        
6.     
In the Reshade 2.0 folder run ReShadeAssistant application
7.     
Click Profile tab in the new window that pops up and Click the "+" on the top.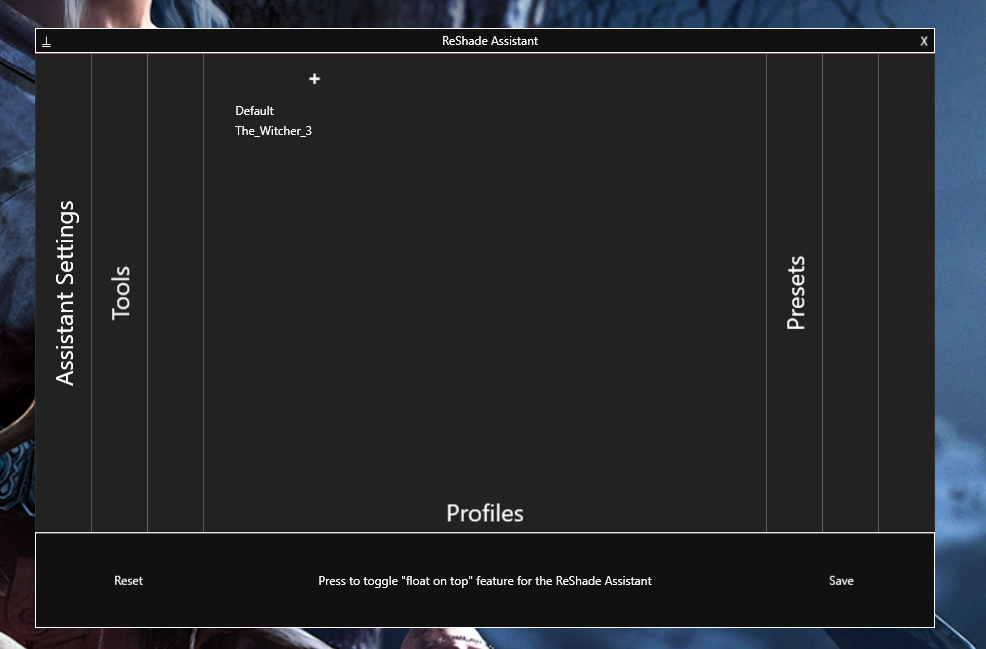 8.     
Search for you Witcher 3.exe and hit select

9.     
Select the binary you want to use either d3d11 or dxgi and hit confirm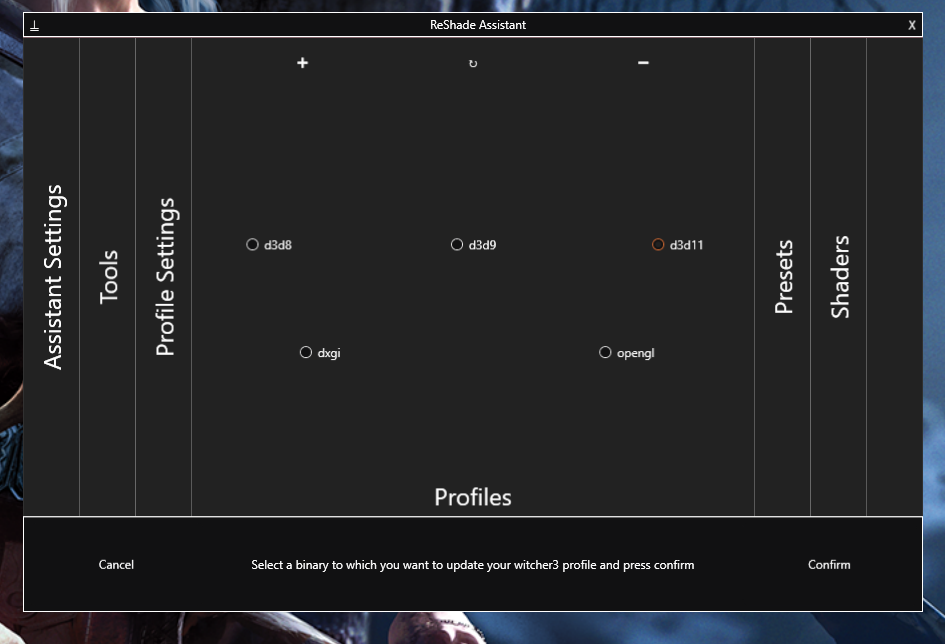 10. 
Click the Preset tab and you should see the image below. Click version you want to use and hit save
       (STLM preset users will need 
STLM Link
) 
11. 
Now go back to the location of your Reshade 2.0 folder and open ReShade folder then Profiles folder then witcher3
      folder.
12. 
Open the Global note file
13. 
 Verify that these lines haven't been changed during installation and if so make look like these. (otherwise scroll lock will be hot key by default)
-         #define RESHADE_TOGGLE_KEY VK_F10 //[undef]//
-         #define RESHADE_SHOW_TOGGLE_MESSAGES 1
If updating from a previous Wild Hunt Re-Imagined preset (i.e V1.0 to V1.2) all you need to do is copy ReShade folder (from the new version Wild Hunt ReImagined) into  folder where you put the ReShade 2.0. No need to go through all the steps above. (It will just overwrite previous preset shaders with updated ones)  
NOTE: MXAO Indirect Lighting & AO add on was tweaked for Vanilla Lighting. When using with  ReShade 2.0 is it applies itself to all presets when you install the add on, so even when you use STLM or performance versions. MXAO works good with Vanilla. It does work with STLM, but note STLM already makes use of indirect lighting in the mod. If you want to use with STLM use at your own discretion.  
For ReShade 1.1 Users

1. Download Wild Hunt Re-Imagined ReShade V1.1
2. Extract Files
3. Copy all contents (d3d11.dll/Reshade note/Reshade folder) Make sure to install default reshade folder from my download before installing alternate       preset or if you already have reshade 1.1 installed on pc. You need the lut file in the CustomFX/Textures or you will get an error and preset will look       wrong.
4. Paste in your games X64 folder (where your game exe file is)
5. (ONLY IF NEEDED) Change d3d11 to dxgi 
6. If wanting to use Alternate Preset like STLM or performance  open the Alternate Preset Folder(Default preset is Vanilla Lighting)
7. Open the preset you want to use
8. Copy the ReShade folder
9. Copy back into the X64 folder and allow to overwrite. 
You should now be able to launch your game and enjoy!

Recommend leaving all to highest possible (- Hairworks)
Sharpening- Full Quality- Off or Low/ Performance-Low
Gamma- 1.00
Blur/Motion Blur- Off/Personal Preference
DOF- on/Personal Preference
AA- On (I recommend on due its temporal AA but if you want off its ok)
Chromatic Aberration- Off/Personal Preference
Vignette- Off/Personal Preference
Bloom- On
Light Shafts- On
For ReShade 2.0 Users
1. Open ReShade Assistant
2. Click Profiles Tab
3. Click "-" symbol top right
For ReShade 1.1 Users
1. Open X64 folder where you installed ReShade
2. Delete ReShade folder, ReShade FX note & d3d11 (or dxgi if you changed)


MXAO- Ghosting can occur with MXAO enabled in game at times. Its really hard to find the right balance in AO to get a good image quality and not get ghosting or white outlining around items, especially at night in cetain conditions.

If you are getting failed to load texture error that means you are missing the Firelut from my reshade folder. Make sure the lut file "Firelut" was properly installed in ReShade/CustomFX/Textures folder (1.1) and ReShade/Shaders/Ganossa/Textures (2.0)

If you find black levels/shadows too dark. Open ReShade/Presets/Witcher_3/Shader_by_CeeJay(Reshade 2.0) or ReShade/SweetFX(Reshade 1.1) and and you can make adjustments to by increasing numbers by .10 at a time
#define RGB_Lift float3 (x.xxx,x.xxx,x.xxx)
#define RGB_Gamma float3 (x.xxx,x.xxx,x.xxx)
#define RGB_Gain float3 (x.xxx,x.xxx,x.xxx)

Steam Overlay most likely will not work when using a ReShade

Reshade has no day/night cycle so its extremely hard to make image look great in all conditions. Just FYI

Also, everyone's monitor is different. Image from screenshots may not look exactly same on your monitor. Best, to make sure your monitor is calibrated right. I can't adjust my reshade preset to look same on all monitors. 

If you are getting load screen error its either 1. Change dll file to d3d9.dll or if using my Supreme/Ulitmate settings add on remove 
Bin/config/base/resources file from my add on and leave the default one installed

You can change the hotkeys used to turn off/on reshade effect. 
ReShade 1.1- Open ReShade/Common and change #define RFX_ToggleKey VK_HOME to #define RFX_ToggleKey VK_F10 (I use F10. But can make whatever)
ReShade 2.0- Open ReShade 2.0 Folder/Profiles/Default/Global and change #define RFX_ToggleKey VK_HOME to #define RFX_ToggleKey VK_F10
V3.3a- Added an extreme level to the Supreme-Ultimate graphics settings. Now Supreme to Extreme

V3.3- Slight adjustment to SMAA, FXAA and colors on Vanilla and STLM presets

V3.2c- Update to Supreme-Ultimate Graphic Option Add on only

V3.2b- Added a cinematic preset that was not intended to be released but figured I would share it. Not part of main preset

V3.2- Vanilla-  Slight adjustment to liftgammagain,contrast and minor color change. Adjustment to SMAA,FXAA & Lumasharpen.
STLM- Adjustment to SMAA, FXAAA & Lumasharpen. No other changes.

V3.1- Vanilla/STLM 2.2- Slight adjustment to liftgammagain and contrast. No other changes.
Supreme/Ultimate Graphics- Adjustments to certain ini settings and added new ini changes to some setting  also added my redering/resources setting files. 

V3.0- Vanilla/STLM 2.2- Slight adjustment to liftgammagain and contrast. No other changes.

V2.9- Vanilla/STLM 2.2- Slight adjustment to liftgammagain due to issue in caves and interiors. No other changes. 

V2.8- STLM 2.2-Color Adjustment. Also now works with Toussaint (use STLM 2.2 without Toussaint Change)
STLM 2.1- Removed

V2.7- Vanilla- Color Adjustment. Also now works with Toussaint area as well.

V2.6- All presets adjusted for better Performance (effects disabled in each to gain by FPS)
GRIM-Deleted

V2.5.3- Added "Ultimate" graphics option add on

V2.5.2- Corrections to "Supreme" setting file

V2.5.1- Added "Supreme" graphics option add on

V2.5a-  Adjustment to MXAO add on only 

V2.5- Toussaint- Adjustment to purple tint in some lighting. Slight adjustment to colors. 
Vanilla/STLM/GRIM- No changes. 

V2.4- Vanilla- Disabled HDR in quality version/minor color tweaks. (Final version vanilla)
Toussaint/STLM/GRIM- No changes

V2.3- Toussaint- Slight adjustment to colors and black levels

V2.2- Toussaint/STLM 2.2 disabled HDR/adjustment to sharpening/slight adjustment to colors/black levels

V2.1- Created preset for STLM version 2.2 

V2.0- Toussaint Preset added for ReShade 1.1/2.0 Full Quality & Performance 

V1.9.4- Vanilla/STLM: Removed HDR effect for performance version/Adjust contrast and black levels to compensate for loss of HDR

V1.9.3- Removed MXAO IL & AO effect installed by default. Now optional add on/Removed FXAA for performance versions

V1.9.2- Vanilla-Adjustment to MXAO Indirect Lighting/Activated MXAO (actually using the AO now)
STLM/GRIM- No changes

V1.9.1- Vanilla- Updated to newer version of MXAO
STLM/GRIM- No changes

V1.9- Vanilla- Added MXAO Indirect Lighting/Disabled AO/Adjustment to contrast and shadows
STLM/GRIM- No changes

V1.8.1- Slight adjustment to contrast/gamma levels in Vanilla/STLM versions. (accidentally created 1.8 with wrong gamma setting and monitor calibration)

V1.8- Vanilla/STLM- Disabled Grain/Adjusted AO/Enabled HDR/Various color tweaks
GRIM- Adjustment to Grain and AO. 

V1.7- Performance versions created for all presets for ReShade 1.1 & 2.0

V1.6- Grim Lighting preset created. No changes to Vanilla or STLM version

V1.5- Created version to use with STLM
Non-STLM preset adjustment to grain effect & disabled Gaussian Bloom
Slight performance increase

V1.4- Changes made to contrast and black levels 

V1.3- 1.3 for Reshade 2.0/1.1 uploaded. Changes made:
Tweak Grain/Adaptive Sharpen/AO/Added Curve & adjusted levels/Adjustment made to FXAA & SMAA/Adjustment made to DPX mode/Added tone map for defog enhancement/Adjustment to Gaussian Bloom

V1.2- Added a ReShade 1.1 version as optional file

V.1.2- Minor change to color (slightly deeper blacks)
Tweaked Deband- Was too strong especially in certain weather, it would effect clouds/fogs 
Tweaked AO- Still getting ghosting but that is a side effect of using AO but minimized it a bit more. Actually makes clouds at night look pretty good. 
Tweaked Grain- Lowered intensity a bit but, still noticeable
Tweaked Gaussian Blur- Slightly increased quality and amount 

V.1.1- Edited File Organization for easier install

V.1.0- Original File Uploaded
CD Project Red for creating this outstanding game, easily in my top 3
Reshade/Shader credit to
Crosire
Ganossa
CeeJay
MartyMcFly
JPulowski
Alo81
Bacondither
IDDQD
Ioxa
Otis

kokoloko2015- For testing and providing feedback
Nathee- For testing and providing feedback
fmoritz- for his 
3D Lut Mega Collection


rickthedope- for recommend new settings for my Supreme-Ultimate Graphic Options add on
All users- for you support, feedback and endorsements. 

I5-4690k on a MSI-Gaming 5 MB/MSI GTX-1080 Gaming 8G X/16GB 1866hz RAM/120gb Samsung SSD/1TB WD Black HDD/Dell 27" 1440p G-sync Gaming Monitor & Dell IPS 24" U2415h Monitor