File information
Created by
ulolop
Virus scan
Some manually verified files
Mod is for v0.8.24
(will be updated as new version is released or bugs are found).
You can check the
changelog section above
for details.
Feel free to leave suggestions or report bugs you encounter.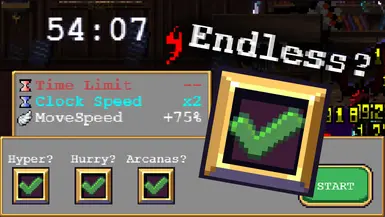 Mod detailsIMPORTANT:
some features of this mod have been (temporarily?) disabled since patch 0.8.
I'm having trouble implementing some existing logic with the latest update - this needs to be rewritten, so it's taking significantly longer.
I will rework it in future updates if I have enough free time.
What's in this mod
1. Separate switchable NG+ game mode:
endless waves - enemies getting stronger every standard map time limit
Increased the number of upgrades: 14 for standard and evolved weapons (12 for Clock Lancet and Laurel), 8 for items (3 for Duplicator and Tiragisu)
initial waves made easier for a smooth start
stronger bosses
2. Quality of life improvements:
treasure chests delay reduced
removed the selection window when leveling up at the maximum level of weapons and items (included in actual game patch)
minor changes in game mechanics and UI
3. Slightly reworked balance (details below)About mod balance
The mod has been reworked to progressively get infinitely harder, however it does have some balance issues.
I've been working on the balance a bit and I'm trying to improve it with every update. Not everything has turned out as planned so far, the balance in this game is quite difficult not to break.

Notable items and weapons changes from original game:

Each maxed out item in NG+ mode is stronger then the original.
Some maxed out items in standard mode are weaker then the original.
Area, duration, speed, luck, shield time reduced by 10-40% for base and levelup.
Armor, hp regen, max hp, movespeed increased by 50-300% for base and levelup.
Some weapons have amount increase due to more levels in NG+ mode (e.g. Laurel has 4 charges).
Knives, garlic, birds, cart, bible have 2-3 times increased damage.
The direction of the knives depends on their speed.
The cart does not always move in a straight line.
Chicken heals twice as much
Mod installation
How to Install mod
manually
Download main.bundle.js from main files
Backup original main.bundle.js (Steam\steamapps\common\Vampire Survivors\resources\app\.webpack\renderer).
Replace file main.bundle.js (Steam\steamapps\common\Vampire Survivors\resources\app\.webpack\renderer).
NOTE: Replacing the file manually will reset any other mods and version updates!
How to Install mod
with standalone installer
Download standalone installer from optional files (it may be temporarily unavailable if the moderators have not yet approved it after the update - see below)
Place the .exe file either in the root directory of the game along with VampireSurvivors.exe
or in "Steam\steamapps\common\Vampire Survivors\resources\app\.webpack\renderer" along with main.bundle.js
Run the installer. If the game version is compatible, after a couple of seconds your game will be modified and the original main.bundle.js will be backuped.
NOTE: Standalone installer may be incompatible with some mods and versions!NOTE:
Sometimes the standalone .exe upload requires manual Nexus approval and this may result in version upgrade delays. Usually it takes no more than a day. In such a situation, you can use the previous version of the installer from the
old files
.