File information
Created by
TurtleFreak7
About this mod
IDW themed re-colors for all Foot soldiers and Shredder!
Requirements

Permissions and credits

Changelogs
Summary
"IDW Foot Clan" is a simple re-color mod that swaps out the colors of all in-game Foot soldier sprites and Shredder too!  I aimed to get the colors as close as possible to the colors used in the IDW comic run.  Now including an optional IDW-themed Super Shredder!
Recommended Quick Install
To install, I strongly recommend first installing the
TMNT Mod Api
by
Platonymous
.  It isn't required, but it makes the installation process much faster and simpler.  If you have that installed already, then all you need to do is unzip the "IDW_FootClan" file into the "ModContent" folder that the mod api created.
Alternative Slower Install
If you don't want to use the mod api, then you will need to copy the content of the "IDW_FootClan" file into the "Content" folder of your game directory.  Then you will need to rename or relocate the corresponding *.xnb or *.zxnb files of the same names so that the game will be able to see the *.png files provided by this mod.  It's a tedious process, so take advantage of the mod api instead if you can.
Related Mods
For more IDW fun please check out "IDW Players":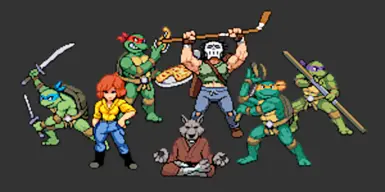 https://www.nexusmods.com/tmntshreddersrevenge/mods/93