File information
Created by
Bulwarkhd
About this mod
Performance textures optimized for low-end PCs. 1k and 512 versions of ALL textures available.
Permissions and credits

Changelogs

Donations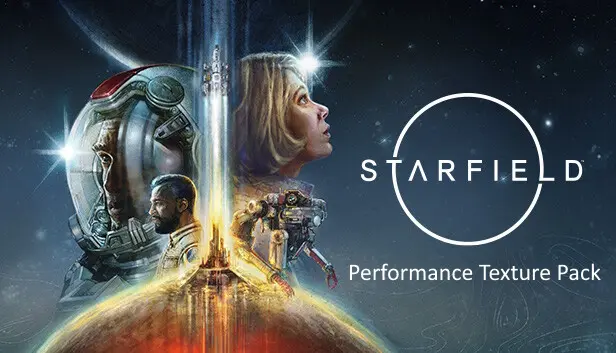 Performance textures optimized for low-end PCs. 1k and 512 versions.
Use either 1k or 512, not both. 


1k is performance and half the size of default textures. The smaller 512 version is half the size of 1k and is for ultra performance.
This is my first attempt at performance textures for the game. I kinda brute force downscaled all the textures in the game but permissions are open so feel free to use any of them or make a better version. I already have a good PC so testing only got me a couple extra frames but people on the lower end side might see a boost.
Try it out and see! And let me know if it worked for you.
Thanks!
Update:
New 512 version released, replace the original BA2 with that, if everything is black re-compile shaders
If 512 is still too big I have other versions available here: 
https://www.nexusmods.com/starfield/mods/826/?tab=posts
Installation:


Step 1: Download either the two part 1k pack or the 512 pack and the matching Starfield ini file
Step 2: Extract the BA2('s) to your starfield Data folder (The BA2 files should be inside the Data folder)
Step 3: Extract/Place the corresponding starfield.ini file in your root folder (where the .exe is) and overwrite. (Alternatively you can simply add the lines to your existing ini file)
It should say something this under [Archive] 
: sResourceIndexFileList=Starfield - LODTextures.ba2, Starfield - Textures01.ba2, Starfield - Textures02.ba2, Starfield - Textures03.ba2, Starfield - Textures04.ba2, Starfield - Textures05.ba2, Starfield - Textures06.ba2, Starfield - Textures07.ba2, Starfield - Textures08.ba2, Starfield - Textures09.ba2, Starfield - Textures10.ba2, Starfield - Textures11.ba2, Starfield - TexturesPatch.ba2, 512TexturesFull.ba2

For loose file versions add these lines to StarfieldCustom.ini:
[Archive]
bInvalidateOlderFiles=1
sResourceDataDirsFinal=
Or usemy ini tweaks mod here: 
Starfield ini Tweaks 


Uninstallation:
Remove both 1k or 512 BA2s from the data folder and erase the lines added at the end of sResourceIndexFileList= or delete starfield.ini and verify steam files.
GAMEPASS INFO: For the time being I am unable to support the gamepass version. A lot of mods and managers are not working with it and I'm not sure if they ever will. If someone figures it out let me know but until then gamepass versions won't be supported. I'm sorry.
You may have to re-compile your shaders
which you can read about here: 
https://www.reddit.com/r/Starfield/comments/16703yo/guide_how_to_force_recompile_shaders/
Tools used:
BAE