Sam - New Hair and Jacket
Sam - New Hair and Jacket
File information
Created by
ktruong
About this mod
Sam gets new hairstyle and jacket. Choose goatee or shaven. Comes with two portraits and sprite!
Requirements

Permissions and credits
Sam makeover! I wanted to give him a different haircut and clean up his jacket. There are two versions, one with a goatee and one clean shaven.
I hope you enjoy it!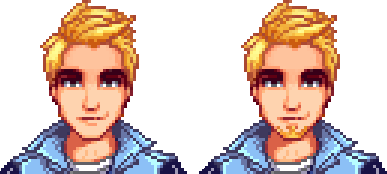 HOW TO INSTALL:
1. Download and extract files
2. Open folder directory ...Stardew Valley\Content\Portraits and Stardew Valley\Content\Characters
3. Back up your Sam.xnb file (you can rename it to Sam_Original.xnb) in both the characters and portrait folders.
4. Copy and paste the new file into the respective folders
5. You are done!