File information
Created by
ceruleandeep
About this mod
Tired of watching your Multiple Spouses smooching all the time? Ever wish they could take a break for like 2 minutes? Nah, me neither. But this mod at least gets them saying cute things in between snogging, pashing, and making out.
Requirements

Permissions and credits

Translations

Turkish
Spanish
Portuguese
Mandarin

Changelogs




Multiple Spouse Dialogs
lets your various spouses say sweet nothings to each other when they pass by in the house.
Only got one spouse? That's ok, there's something here for you too: now your spouse will say cute things to you!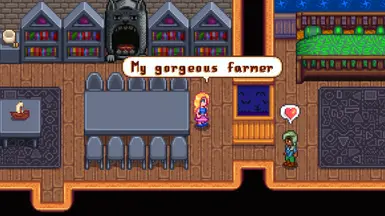 There's nothing adult-oriented or suggestive in the included dialog, but you're free to add whatever suits your relationships and playstyle.
You can add or modify the dialog, including having custom dialog for specific NPCs or specific days/times/weather/festivals etc. You can do it! Even if you haven't modded before.
Check out this tutorial
.


Dialog spawns occasionally when NPCs are within speaking distance
Supports Generic Mod Config Menu, so you can configure it from inside the game
You can adjust the distance and the random chance
Option to prevent related spouses from chatting, in case you add rude dialog that Haley shouldn't say to her sister
Over 150 bits of dialog included so far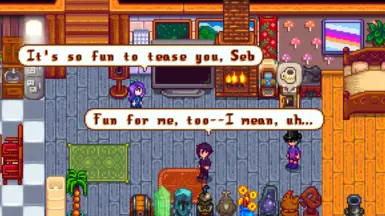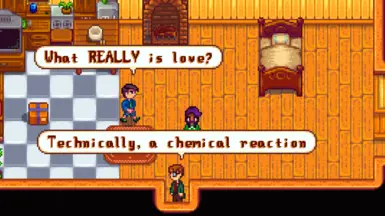 One file to download. Decompress and drag the whole folder into your mods. It contains two subfolders, these can stay inside the main folder.
 




Extra dialogs for specific pairings:

Abigail/Sebastian, Shane/Harvey: (included)
Alex/Haley, Leah/Elliott, Sam/Sebastian, Abigail/Emily: add
Tia's Multiple Spouses Dialogue Pack

See the json files in Assets. Every json file in that folder is loaded as dialog.
You can enable extra debug messages in the configuration. This may help if you have any problems with adding dialog.
If you've renamed characters, use their original base game name in the dialog files. The @ symbol in dialogs will use the new display name.
New in 1.2.0
: you can distribute custom dialog in a MSD content pack. See the example that comes with the mod.


Post a comment. If it's a bug, go to
smapi.io/log
, get a link to your log, and add the link to your comment.



LICENSED UNDER GPLv3

You can update it!
You can translate it!
You must provide your own mod's source under GPLv3!
Credit is good manners, and appreciated ♥ (But not actually required.)
By ceruleandeep ?.
Seb/Abby dialog contributed by tiakall.
Shane/Harvey dialog contributed by Celty.
Shouts to
aedenthorn
for Multiple Spouses.