File information
Created by
Urbanyeti
About this mod
Prevents failing milking/shearing attempts and adds an indicator when pets and animals can be petted, milked, or sheared.
Requirements

Permissions and credits

Changelogs
Prevents failing milking/shearing attempts and adds an indicator when animals can be petted, milked, or sheared
Compatible with Stardew Valley 1.5.5+ on Linux, Mac, and Windows. Requires SMAPI 3.13.1 or later.
https://github.com/urbanyeti/stardew-better-ranching


Update (12/6/21): I just released a new mod called Better Friendship!
Sorry to cross-promote, but I think you'll really like it! The mod adds the floaty thought bubbles over
villagers to indicate their favorite gifts from your inventory and when they'd like to talk. The idea is to make it easier to manage friendships with villagers without having to spend time on the wiki or other mod menus. Please check it out and let me know if you think it's useful!

Update 1.9.0 (12/2/21): It's been awhile so biiiiig update!

- Added an in-game config menu so you can more easily adjust settings. Requires the awesome Generic Mod Config Menu !
- Clarified the "Milking/Shearing Failed" messages. These seemed to be causing a lot of people confusion so they now say things like "Out of Milking Range" and "Nothing to Milk".
- Improved reliability of harvest detection. I finally figured out a bug where the milking detection range was sometimes being artificially limited. Milk from farther away!
- Added config options to individually control hearts for farm animals and pets. This should make it easier to ignore animals if you use the auto-petter.
- Added config option to hide hearts for max level animal friends. This was a specific request I saw on the discussion page. Feel free to suggest additional improvements/options you would like to see!
- Updated to SMAPI 3.13.1 and .NET5. If you haven't updated to latest SMAPI, be sure to do that.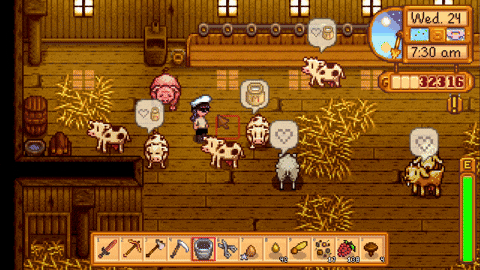 Install
Unzip the mod folder into Stardew Valley/Mods.
(optional) Install Generic Mod Config Menu for easy config setting managemen.t
Run the game using SMAPI.
Contributors
Better Friendship
 -- Ditch the menus! See real-time gift suggestions based on the items in your inventory!