File information
Created by
ManaKirel


As of June 5, 2022, Maythorn will no longer be maintaining this mod. Please contact
the original author, Manakirel, if you would like to take over. Posts and bug reports will be disabled until a new maintainer is assigned or Manakirel unlocks them. Thank you for all the support!

Feel free to use my mods and their assets as a base or as part of a new mod (no permission needed)
But please... give credit when you post your work as a public mod here or anywhere else.
Thank you so much and enjoy this wonderful game. ♥


- - - - - - - - - - - - - - - - - - - - 
This is an alternate version of my Vintage Interface mod.
It comes with lots of updates and fixes, so let's call it V2! ♥
- - - - - - - - - - - - - - - - - - - -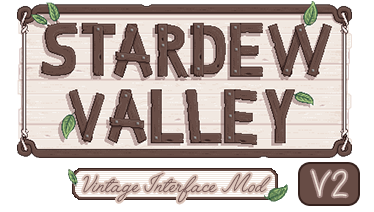 * About *

This mod replaces the complete interface with a cream-brown one to match most of the same coloured texture mods out there!
It's a lovely little finishing touch for your desaturated Stardew Valley experience~
* What's new in V2? *
* The freshly baked cursors file is all cleaned up and only contains interface parts, so it is now fully compatible with any map recolour
and won't cause any issues with other mods - as long as they don't edit the interface itself of course~!
* As requested, I have added new options to the config file, so you can deactivate what you don't need. 
☆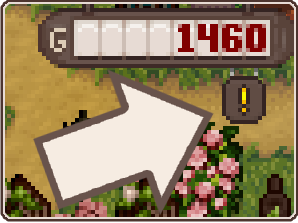 * Flower dig spots! *
I've made these cute little dig spot replacements and added them to my interface mod! I hope you like them! 
♥

Digspots are 
red
 flowers by default, but many other colors are included. Set them to '
disabled
' if you prefer the vanilla version or another digspot replacer. 
You can download them as a standalone mod for
Content Patcher,
if you prefer the dig spot without my interface recolour btw!
You can find the download in the optional section of my old
Vintage Interface mod
.
* Installation *

*You need the latest version of 
SMAPI
 and
Content Patcher
. Please download and install them first, then move on to the next step!
*Download the main file of my mod and (if you're using the manual installation method) place it in
Stardew Valley/Mods.

*If you're using other mods with a new/custom interface part, you can also take a look at the "compatibility patches" folder to see if there is a patch. Use the provided images to overwrite the art files in the other mod. There are also several mods posted to recolor different mod elements in the style of Vintage Interface v2.


* Updates *

01.11.22 // Added compatibility for android.
Completed translations and merged them into a single mod.
Added more digspot colors and included several new files.
Many textures were lightly desaturated to match the mod's theme better.
Created more config options to help increase compatibility with other mods.
05.12.19 // Quick update for 1.4! Barely tested, but *should* be fine~
23.11.19 // Initial release of Vintage Interface V2