About this mod
Replaces the worms with the Animal Crossing digspot marker.
Permissions and credits

Donations
09/14/2018
Updated it to work with Content Patcher. Please let me know if there's any problems.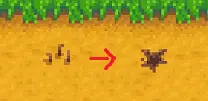 Replaces the worms with a Animal Crossing like digspot marker. 
Installation [CP]
1. Install
ContentPatcher
.
2. Unzip the file into the \Steam\steamapps\common\Stardew Valley\Mods folder.
Installation [XNB]
1. Backup your default files.
2. Unzip the file.
3. Place the "Cursors.xnb" file into your Stardew Valley\Content\LooseSprites folder, overwriting the old Cursors.xnb. 
If you're using Steam, the default folder path is something like C:\Program Files\Steam\SteamApps\common\Stardew Valley\Content\LooseSprites. 
If you're using another mod that edits Cursors.xnb (like a mod that edits the inventory screen pet heads), this will overwrite that mod. If you want to use both, let me know and I'll see what I can do.
Uninstallation:
1. Delete the file.
2. Restore the backup you made. 


Compatibility Patches:If there's a mod you're using and you'd like for it to work with my mod, let me know and I'll make a patch for it.