File information
Created by
DuduBertol
About this mod
Chessing Land is a new Chess Mod for STV, created by DuduBertol. My goal in this mod is to make you discover, learn and enjoy chess through stardew valley!
It contains chess pieces, boards and, above all, a TUTORIAL to LEARN HOW TO PLAY!
Be happy and allow yourself to learn to play chess here!
Compatible with most famous mods.
H
Requirements

Permissions and credits

Changelogs

Donations
THANK YOU!


"I always had the dream of creating a mod, I never imagined that I would be able to for stardew valley. A game that enchanted me from hair to toe. From its creation process, to the modding. I found in Stardew Valley a very welcoming community and willing to teach new people. With a vast encyclopedia of forums and wikis, not so easy to find, but which serve as a great help for people new to the business, like me.
Today I can finally say that I created a mod. It was hours and hours working on it, alone, like Eric Barone. I hope people can like it, it was made with a lot of love and dedication for you, the player. Don't give up on your goals, however difficult and time consuming it may be, at some point you get there, and when you get there you realize how beautiful and empowering the climb was. And may it serve as an incentive for the search for knowledge. I feel grateful to be able to do it and I hope you enjoy playing it. It's not very perfect, I still have skills to improve.
I'm a beginner, but I don't intend to stop here." 
======================================================================================================================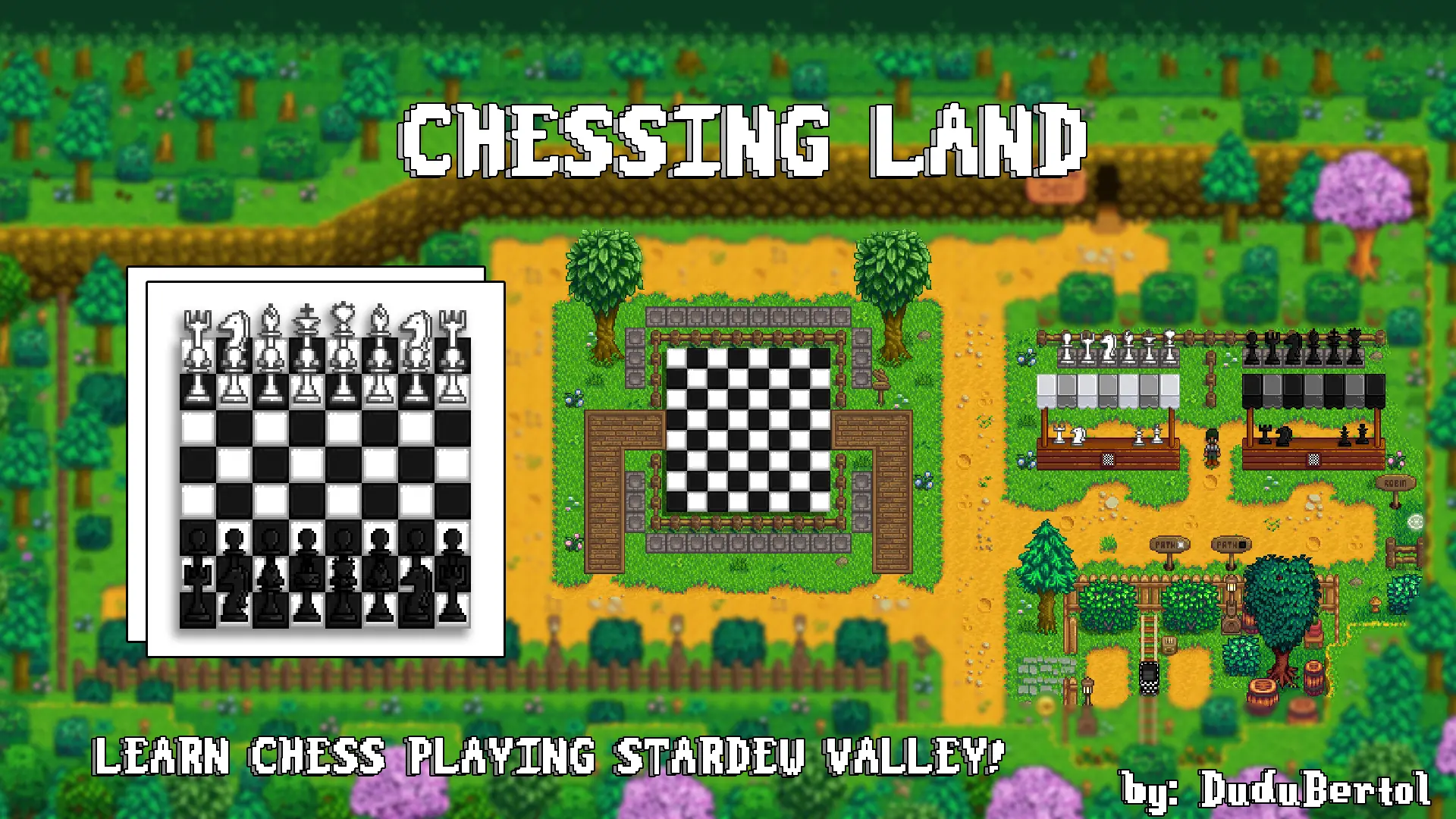 WHAT IT ADDS TO THE GAME?

Chessing Land is a
CHESS MOD
for STV. It
includes
: 
4 New Locations
= 2 RailWay Stations, Chessing Land and a Interactive Location to learn chess. 
32 New Furniture
= 16 Tall Chess pieces (8 White and 8 Black) and 16 Small Chess pieces (8 White and 8 Black).
2 New Floor by CP
=  White Chess flooring -> Stepping stone path. Black Chess flooring -> Stone floor.
1 Custom TP
= A custom TP to Robin's Carpentry to buy the pieces.
MORE DESCRIPTION BELOW!


NOT COMPATIBLE:-
Original NUV file.
COMPATIBLE:- RECOLOR
mods.
-
Stardew Valley Expanded (
SVE
)
- Ridgeside
Village
-
Mods that add new crops and foods.
!! Mods that modify the backwoods can cause conflict at the entrance to the cave, be careful !!



NUV 
(New Update Village) is a
fan-made village
added to Stardew Valley. Its
additions
to the game
include
:

Here are the
steps to install the mod
and his
requirements
: 


Follow me
on Social Medias!

 If you want to
collaborate
with the creation, and with
everyone involved
, feel free.
Collaborations are always very welcome
.
Donate me
via 
Pix (BR)
 -


We added
new Locations
for you
play CHESS 
on Stardew Valley!
Chessing Land has Chess tables and pieces and a FULL locate for chess tutorial!


The
furnitures are the pieces of chess
. It
can be place
on
all map
. :)

Special Thanks
to who helped me to make it all Possible!