File information
Created by
Lizzie
About this mod
Family Ties reimagines the relationships between the vanilla inhabitants of Pelican Town. Some of the town folk have new jobs or live in different locations. Many of them have additional or changed relationships with others in the village.
Requirements

Permissions and credits

Changelogs
Family Ties is a retelling of the vanilla Stardew Valley story, focusing on the family relationships that often drive where people live, or return to live. In this mod, you will find all the familiar vanilla characters...but you may not find them in the house where you expect them to be! (Also, they may look or dress a bit differently!)  Family Ties is best enjoyed with a
new save file
, and it may not play well with other expansions (for example, it will not work with SVE (Stardew Valley Expanded)).
In short, if you are in love with the base game characters exactly as they are right now, this may not be the mod for you.
New Buildings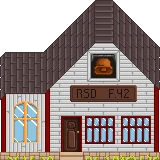 Pelican Town now has a school for Jas and Vincent! You will see the school on the town map between the Community Center and the playground. On the weekends, those who worship Yoba (formerly in Pierre's store) come to the relocated temple attached to the school. School classes are cancelled when it rains.
Two buildings have been relocated.
One building has been removed.
New Relationships

Family Ties reimagines the family relationships in Pelican Town, touching lightly on almost every character, and making larger changes for many residents. Like many smaller real-world towns, in this reimagining, people live near their family or return to the town to be close to family for a variety of reasons. (All of the original marriage candidates are still available to marry.) To learn about the changes, read on.
Robin & DemetriusLeahSebastianShaneMaruJasMarnie
LewisPierre & CarolineEmilyHaleyGeorge & EvelynPennyVincentJodiSamAlexClintPamKentAbigailThe WizardHarveyLinusElliottGusWillySandyLeoKrobusDwarf
New Heart Events

Most of the vanilla heart events are used in this retelling, with minor changes to make them fit the new storyline. The biggest change occurs after viewing Marnie and Lewis' 6 heart event...
Special Thanks To:

Cassie Rain (Instagram)
New Sprites and Exteriors
Jivebaby (Nexus)

Proofreading, Brainstorming, and Moral Support
Pathoschild
, 
Cherrychain
, and the many other mod developers who created the tools that made this mod possible, as well as those whose work inspired me to try creating my own mod.