Tractor Remodel - Customized Tractor Mod
Tractor Remodel - Customized Tractor Mod
File information
Created by
HAMS
About this mod
Customize your tractor with an added exhaust pipe and cargo bed and 8 custom colors to suit your taste.
Requirements

Permissions and credits

Donations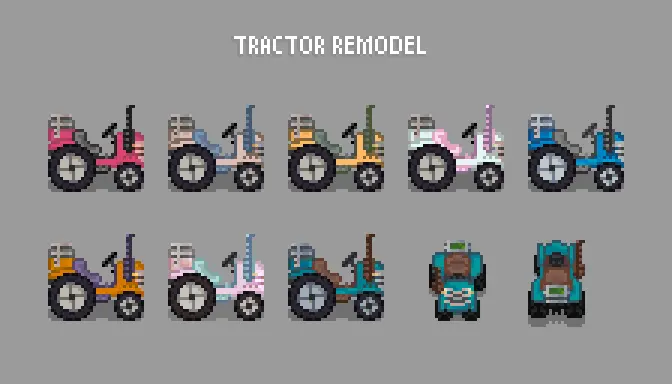 INSTALLATION:

1. download and unzip the file.
2. copy your preferred model (example: tractor_M01.png) and place it inside your Mods\TractorMod\assets folder.
3. remove the old tractor.png by deleting or renaming it to something else (example: tractor_backup.png).
4. rename the new tractor model (example: tractor_M01.png) to tractor.png to replace and apply the new model.
OPTIONAL:
Rename 4 tractors with seasonal prefixes, so that you'll have 4 variations that changes every season.
Important that you delete the default tractor.png, and only have the 4 seasonal files inside the folder.