File information
Created by
Kallipsoul
Virus scan
Some manually verified files
About this mod
Most of novices, some experienced and few master stalkers turn females. Clock on HUD, bug fixes, Blowout and sleeping bag, more weapons, new traders. Use with vanilla SoC.
Permissions and credits

Changelogs

Donations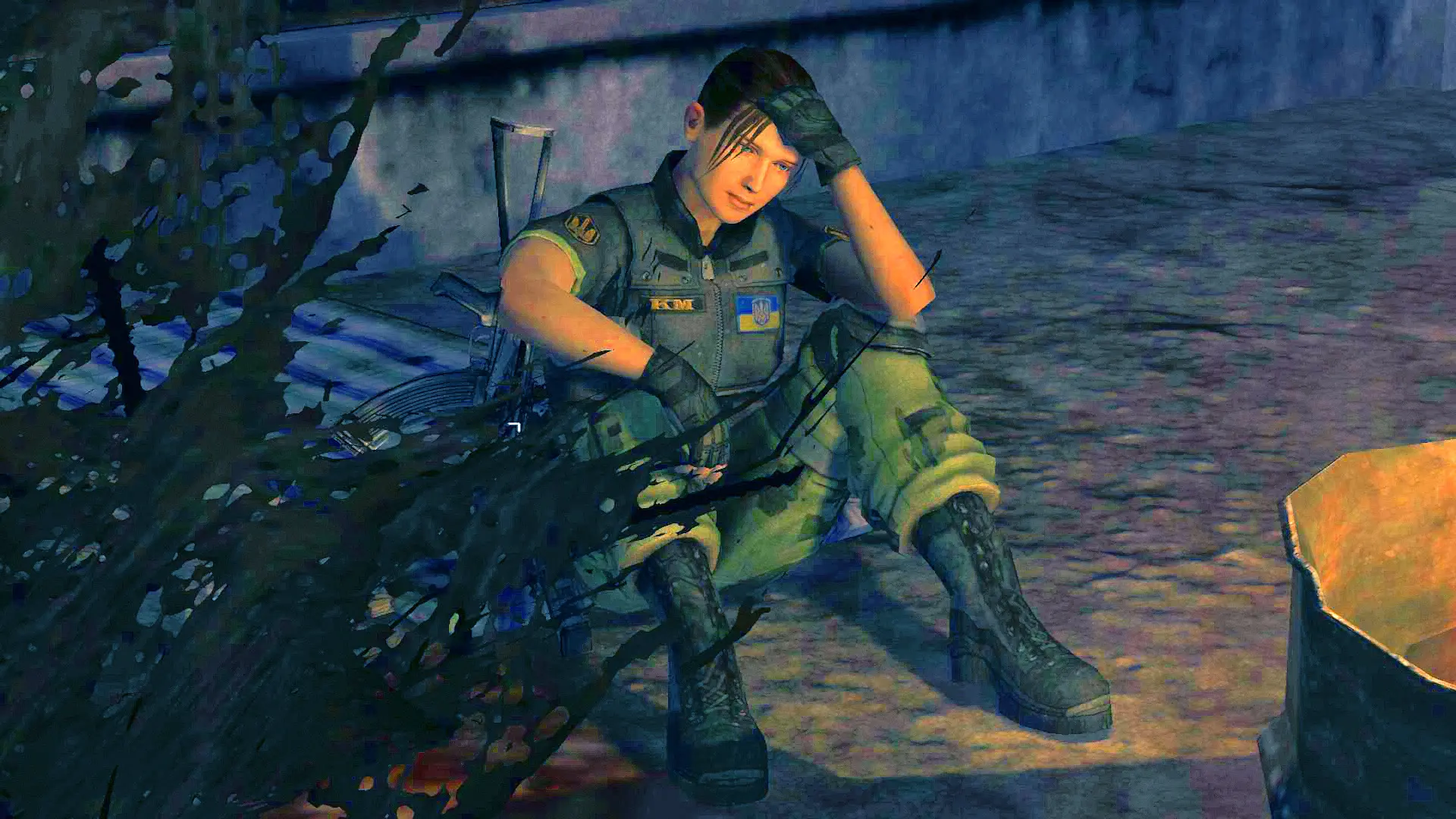 Dedicated to PUSSY RIOT
The Girly SoC mini-mod does not change vanilla storyline, and the gameplay is changed slightly. It is mostly cosmetic: about half of Loner stalkers are converted to nice females. Duty and Freedom got some girl models, too. (That corresponds with real gender situation in Russia and Ukraine.) Most of them are located at Bar and Rookie's village, but you can find some stalkers, shaped and speaking as female anywhere.  The girls  speak and sing in Russian, Ukrainian and English. Some other NPCs have been changed too, Ukrainian and English male voices added (You can at last listen stalker anekdotes in English!). Women's name generation enabled. Posters were substituted with hot military Ukrainian pinup.  Some cut features restored, some bugs fixed.
The mod is intended to be used and has been tested
for vanilla Steam Shadows of Chernobyl
(eng), but may work with Russian as well.
Other   languages: you will have to copy "eng" or "rus" folders from '...\gamedata\config\text\'  to your local language folder or (better) to compare the files and paste extra contents into local files.

Models are compilation of many respected modders' work (thanks to MegaFenix, ОтшельНИК, Aaz, СЯК, DEXXX, Dawnrazor, Greshnik 13rs et al). Voices belong to KitLis (Luda), Турбо Зайчиця, Девушка Играет, Alina Rin, Kallipsoul, Martha Harms, Colleen Clinkenbeard and Lydia MacKay. The songs by Umka, Milla Yovovitch, Nursena Yener and some others.  Kill me if I void your rights.
Files description:
1. Girly SoC 1.5 (All-in-One)
 To be used with STALKER Shadow of Chernobyl Steam English version (will work with Russian, but some translations may be absent).
Female conversion for half of stalkers - at Kordon and Bar primarily
Ukrainian and English voices added
All posters replaced with Ukrainian military pinup and Ukrainian patriotic girls (for more posters diversity - use Dynamic Zone posters)
You can get really important information examining the wall maps and speaking to NPCs
Blowout Mod by DEXX 
OGSM weather and day-night effects (dark nights)
Sleeping bag
Clock and radiation bar on HUD
Dynamic Weather (unpredictable cycles)
New weapons for all factions added:
- Stechkin Automatic Pistol APS   9x18 mm, 
- Sniper bolt-action rifle SV-98 7.62x54 mm, 
- SMG FN P90 5.7x28 mm by gosuke, 
- Pistol Five-seveN FN57 5.7x28 mm by editor46, 
- Assault rifle Fort221 (Ukrainian Tavor 21) 5,45x39 mm, 
- Grenade Launcher M79 for M209 grenades by Piter, 
- SMG UMP45 11.43x23 mm (.45 caliber)
- Semi-automatic shotgun Saiga 12k (collimator attachable) by PSEVDO_STALKER
- Simonov carabine SKS with sniper scope 7.62x39 mm by Buusty
- Famous "Kalashnikov" AK47 7.62x39 mm by PSEVDO_STALKER
- Modified AK-104 (7.62x39) with collimator by Buusty 
- AKS-74u with collimator "Kobra"
- Steyr AUG with under-barrel shotgun from OP-2
- Smith & Wesson Model 29 revolver (.45) by Purke62
- SMG Bizon PP-19 (9x18 mm)
- IMI Galil 5.56x45 and Sniper Galil (Galatz) 7.62x51
- FN SCAR-H 7.62x51
- Walther P99 «Tactical» with collimator sight and long barrel
- New unique weapons based on SIG 550, P90, Tavor
7.62x51 NATO caliber added
5.7x28 and 7.62x39 calibers restored
MP5 (Viper) model replaced with realistic, scope-attachable version; MP5k and MP5sd added
Real names assigned to all weapons
Abakan AN94 mostly substituted with AK 47, AK-104  and Fort 221 (because AN94 has never been imported to Ukraine and canceled in 2008)
New meshes, textures and animations for AK-74 and AK-74u by PSEVDO_STALKER and Real Wolf; AK-74/2 changed for AK-74m
New trader at Garbage (trades add-ons, ammo and armor, artifacts and monster parts) 
New trader at Red Forest (appears after some dialogs and easy quest)
Traders' assortment slightly edited (you will be able to get more ammo from Sidorovich and Barkeep)
You can sell weapons to stalkers, but they will keep only the better one (1)
Additional food items restored. Medicine and food characteristics were changed to hardcore (food cures less, medkits and antirad reduce stamina and satiety, and cures less than 100%)
Some bug fixes by Bardak  and ZRP team
Harmonica and stalkers' greetings restored
More music from loudspeakers 
Secret stashes and task rewards changed for more useful
"Bad" night vision (green) changed for "not so bad", unique suits got "psi" night vision
Easy installation. New game needed
.
2.
Girly SoC 0.3 (Add-on)  
Main file "divided" 
consists of:
 Gamedata folder, that contains textures, meshes, sounds and basic configuration files, that changes many stalkers for girls.  Old vanilla saves may glitch, but may work nevertheless. Starting new game will reveal all features. Could be merged with other mods, based on SoC.
  Clock&Fixes folder (gamedata inside) is recommended to be installed to have clock on HUD and some bugs fixed. New game recommended
  Blowout+SleepingBag_for_Girly_SoC folder allows you to have regular blowout (surge) and sleeping bag to spend night hours (copy gamedata folder to your game folder, overwrite when asked) New game strongly recommended 
You may find this add-on suitable to merge with any other SoC-based mod 
See readme and installation_guide!
Optional files
:
 Girly SoC for ZRP  - patch contains configuration files to merge Girly_SoC 0.3 with Zone Reclamation Project 1.07 by NatVac et al (to be installed after main file gamedata folder of Girly_SoC 0.3). New game recommended, but old saves will work. 
Girly SoC Russian Special  - patch contains files to remove any English speech or signs (to be installed after main file and/or options  of Girly_SoC 0.3). New game recommended, old saves will work. (содержит файлы для исключения англоязычных NPC и надписей для  Girly_SoC 0.3)
__________________________________________
NB! see readmes for each file for details!



Updates compatability for "Girly SoC All-in-one": third digit after dot is just errors fix, second figure change will allow you to play from old saves with some glitches (like female-speaking man), first digit after dot change will apparently make you to start a new game, the leading number change means severe gameplay alterations - new game is  mandatory.


Disclaimer: I do not take any credit for the assets used in this mod. They were created by other modders who have done a great job. All I did was merge all the mods and models, set new configurations,  and test to see if there are no issues.