File information
Created by
Lupus
About this mod
The good old Riverside Lodge by Lupus, ported to SSE. A picturesque and fully equipped player home between Whiterun and Riverwood. Welcome home!
Requirements

Permissions and credits

Translations

Spanish
Portuguese
German
All my three mods are now available for Skyrim Special Edition:
= [ Riverside Lodge,
Mammoth Manor
,
Breezehome
] =
I built this house back in 2012 just after Skyrim Creation Kit was first published. Since then I updated it
once a while for the first couple years and more than a hundred thousand players have used it as their
player home. For the 5th year anniversary, I've brought it finally to SSE. Hope you like it!
I will be making some minor maintenance and small updates, but will not make any drastic changes.
- Cheers, Lupus
A picturesque and fully equipped player home near Whiterun. This lodge should be fitting setting for a prosperous adventurer - like the player, serving as a comfortable reststop between adventures. I've tried to keep the layout easy enough and the amount of clutter and containers sensible and tried to fit the house seamlessly into the world, not looking out of place. The main building includes the kitchen/living room on top floor and a basement with the weapon/armor/equipment storage and an adjacent underground crafting room. The roomy sidewing includes the sleeping quarters, library and enchanting/alchemy space. There's also a true nordic sauna cabin (complete with a hot tub) and a garden. Automatic item sorter scripts makes storing ingredients and other items into containers easy as a child's play. They can also be turned on and off individually, if you do not want to use them.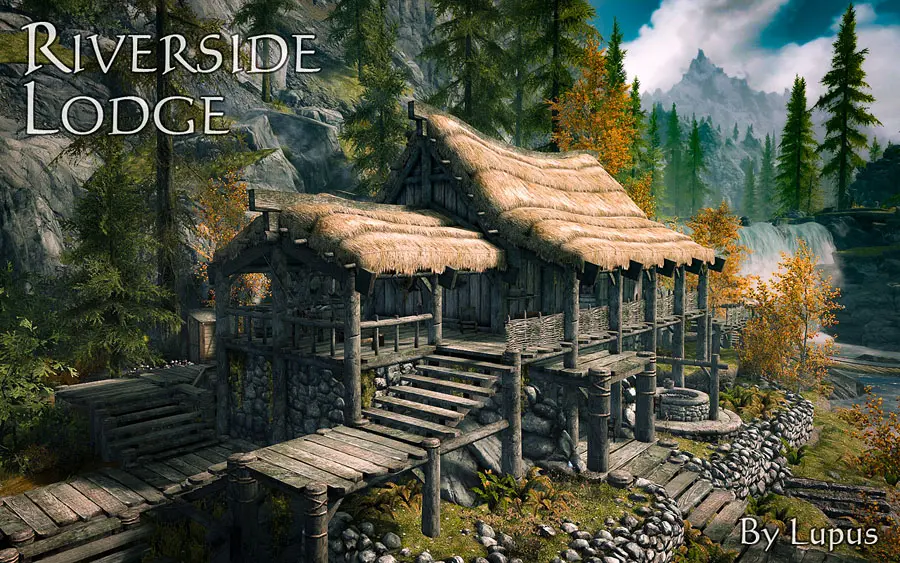 A very nostalgic showcase by Nozi87:
A very nice intro video by SurprisedRook:

Location & Key to the house:
By the road between Riverwood and Whiterun. You really can't miss it. It's where the road loops near the waterfalls. The key can be found from the chest outside the house.
Mods to use with Followers, Spouse & Children:
-
Hearthfire multiple adoptions
- Let's you set the Lodge as the home of your spouse and children. Also works great just for the spouse (assigns her/him to the main bed) even if you don't want to adopt any children. Note that it needs to have the children's room enabled before using the "Bless Home" spell.
-
My Home Is Your Home
- This works great for the followers (other than spouse), so that they can live in your house and you can assign them areas where you want them to sleep and work. Works great with the spouse/kid-related mods.
- 
Multiple Floors Sandboxing
- This is a highly recommended mod for any followers since it makes the followers move more freely around the interiors, not just sticking into a particular area you've left them.
Customizing:
Activator for the different housing configurations is found just over the key chest (look for a book). It's outside on the top floor, left from the kitchen entrance.
IINSTALLING & KNOWN ISSUES:
- If you have any problems, first thing you might want to try is to move this mod as last in the load order (bottom of the list). And make sure you have the LATEST version of Skyrim installed. The scripts are mostly unique to this mod, not overwriting anything.
- The problems with racks is usually mutual to all racks in Skyrim. Some weapons have such a bad bounding/activator boxes that they work like shit with racks. I use the racks only for swords and staffs, which seem to work just fine.
- Mods that has been built on the same spot or is located too close can conflict. There are now so many mods around that are built in this (very popular) area that I'm not going to list them all.
- At the moment save games made inside won't show up always on load menu (from "all saves" they will) even if they still are there, because of a bethesda bug in SSE that won't show saves made in cells that have underscore "_" in their cell names. I'm investigating if changing it will break anything. Luckily this is easy to go around.
Credits:-
Navmeshes generously cleaned up by Scythe42. Huge thanks! (I fu**ing hate navmeshes!)
- Manilla Turtle for his
Automatic Item Storage
that I've modified for my own purposes.
- M3rvin for his
Automatic Light Switch
script that is used to switch on/off the torches outside.
- Special thanks and credits for Eldiabs, for making the awesome '
Modders Resource-Weapon Racks-Bookshelves-Plaques-Mannequins
' mod.
- Stroti for making such a lovely
outdoor toilet
.