I don't own this mod All Credits goes to Alecu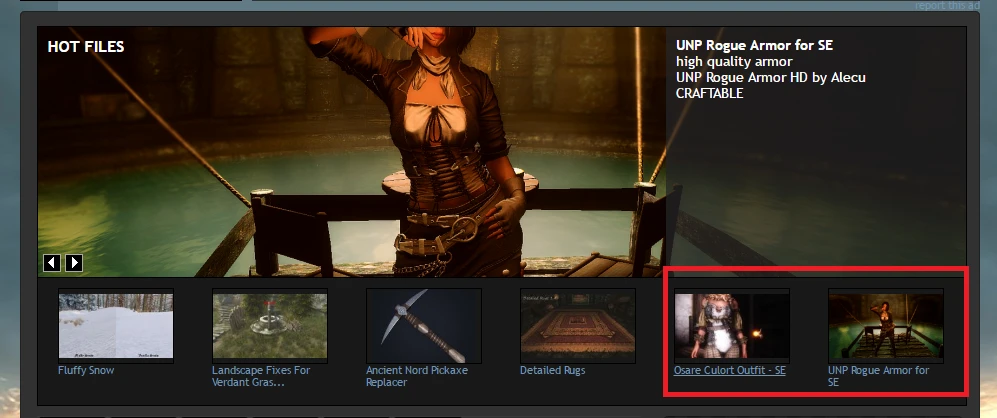 Two of the mods I uploaded are in HOT now. Thanks guys and a special thanks for the mod creators. Good Day!
Name: UNP Rogue Armor HD
Version: 1.01
Date: 29/11/2015
Category: Armor
Requirements: UNP female body latest version
Author(s):
Source: http://www.nexusmods.com/skyrim/mods/71178/?
Description
===========
This is a higher quality remake of my Oblivion Rogue Armor  http://www.nexusmods.com/oblivion/mods/38869/?  . It looks pretty cool and realistic compared to other armor. This is by far my best work so far with a nice details and a really stylish look.
How to get
========
The armor can be crafted under the leather category.
Details
=======
Mod review by me
Avelen Gaming
This is a remake of my old Rogue Armor for Oblivion. I tried to port my old armor but ended up making a new one.
Compared to the Oblivion one it has a lot more details, better textures and it is better in almost any way.
There are a lot of details that I added into this that makes it really unique. I do not like skimpy armors too much. This one looks a bit sexy but not
over the top.
I was inspired a bit by The Witcher 3 but of course I did not take any assets from the game. All the stuff was made by me.
I also took the effort to improve the hands a bit and make them more slender and feminine.
What can I say more? Well it's up to you guys to figure out everything that I have placed in this armor.
REMINDER!!! The armor despite being separate pieces works well only together or with boots and gloves from others sets
Use Nexus mod manager to install
=======
simply download
add to mod manager
double click to install the mod
that's it, good luck. 
Contact
=======
Tesnexus id: Alecu
ElderScrolls forums: Cold Blood
Email:
[email protected]
Credits
=======
Thanks to Bethesda for creating Skyrim.
Thanks to TESNexus.com for the a one-stop-shop resource for authors and players.
Thanks to LHammonds for the Readme Generator this file was based on.
Thanks to people that created the miracle program that is called Blender.
Thanks to myself for making this :P
Tools Used
==========
Blender - http://www.tesnexus.com/downloads/file.php?id=12248
NIFSkope - http://niftools.sourceforge.net/wiki/NifSkope
Photoshop - http://www.adobe.com/products/photoshop/
Maya NifPlugin - http://niftools.sourceforge.net or http://www.nexusmods.com/skyrim/mods/64190/?
Readme Generator - http://lhammonds.game-host.org/obmm/tools_readme_generator1.asp