File information
Created by
Styyx
About this mod
A custom skill that expands Survival mods with some perks that help with the downsides of survival and lean into a hunting theme.
Requirements

Permissions and credits

Changelogs
Description:
Custom Skills that allow you to deal with the downsides of Survival mods easier and also advance the hunting capabilities of your character.
There are perks that allow you to craft items without going to a settlement and perks that offset the health regeneration penalty as well as perks that aid you in hunting and gathering resources for setting up a camp.
The Perks: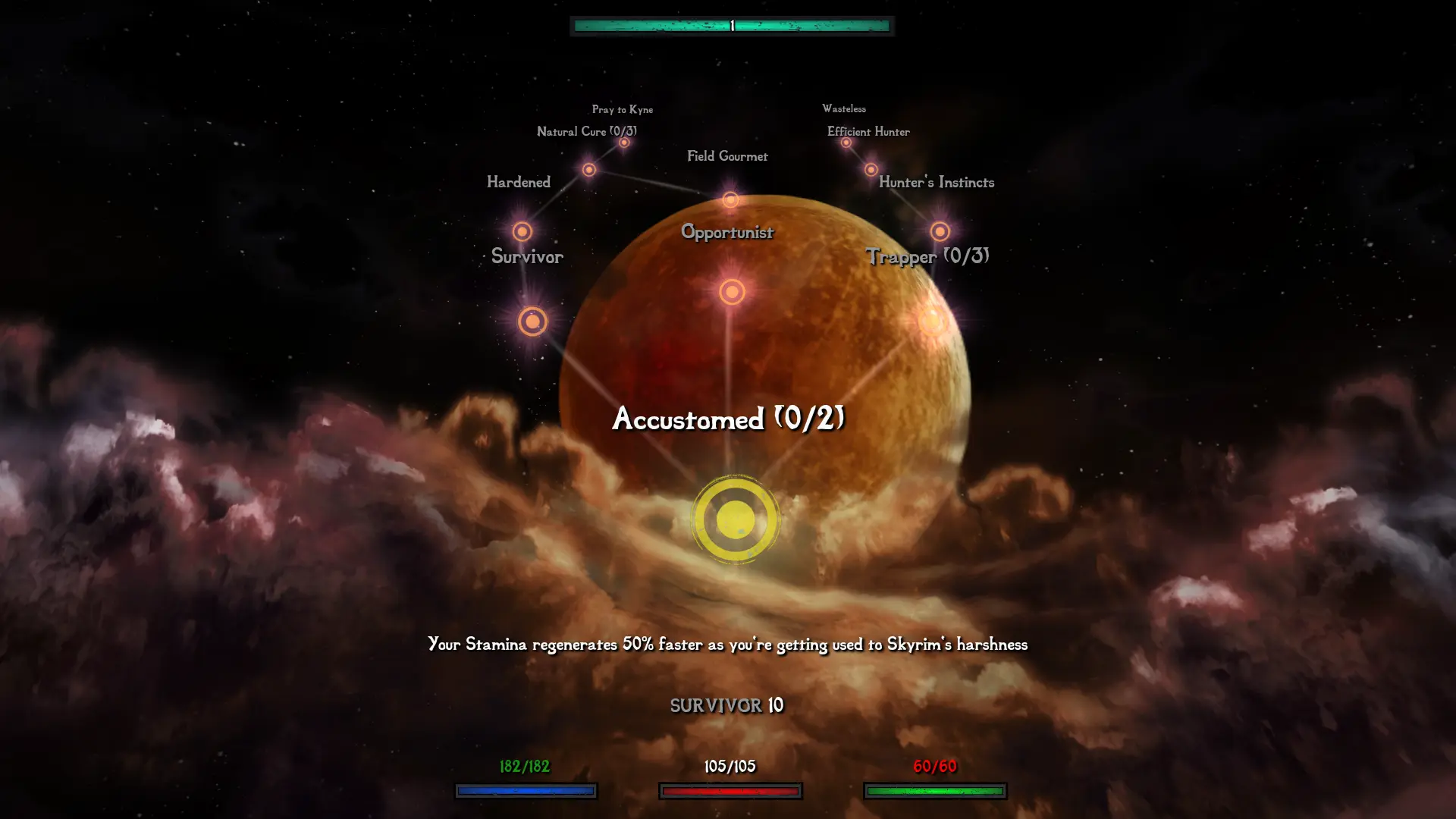 Leveling and how it works:
Once every 6 ingame hours, when you activate your campfire (from CC camping) you are granted some experience.
you get more experience with a low level Survivor skill.
My excuse for that is that you learn more at the start and it gradually slows down the more experienced you are.
Perk Points:
Currently it uses the default perk points, keep that in mind. You might want to use a mod that grants you more perk points. There's a total of 16 points needed to max out the Survivor perk tree.
Open the Menu:
either with
Custom Skills Menu
or by sitting on the crate and activating the campfire
Patches provided for: Incompatibilities:
currently incompatible with: CC's Camping Expansion. I plan on patching it eventually but that'll take some time
Requirements:Mods in the screenshots:UI
:
New Horizons UI
and
TrueHUD
Grass
:
Folkvangr Summer Tundra
and
Realistic Grass Field
Credits:
Parapets
for updating CSF to the game version i use
JaySerpa
for Skills of the wild to get me some ideas of perks to make
aljoxo
for helping me with some balancing and the idea for some perks
All authors of CSF mods that helped me understand how CSF works

Potential future plans:


Expanding perks with better effects after making the skill legendary
Patch for CC's Camping Extended