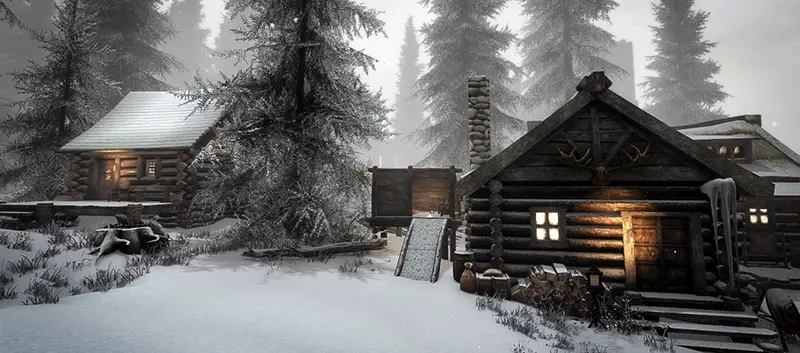 Winterhold is my favorite location in Skyrim, I never found house for my liking near this area, so I made this mod.
Nothing special or fancy, but maybe some of you will enjoy it )
Windyridge cottage is located near entrance of Winterhold. It will cost you 5000 gold. to purchase house click on sign in front of cottage door.
There are two cottages: bigger one for player and his/her family and the smaller one for player's guests or friends.

Recommended mods:My Home is Your Home
Multiple Floors Sandboxing

Features:

Small guest house near player's cottage. (with 2 beds )
Multiple adoption support (up to 4 kids)  - you need to download Hearthfire multiple adoptions 
Themed containers
Static Decor
Mirror for changing apperiance
Various display racks: Daecric artifacts, black books, masks, paragons, dragon claws and so on.
Weapon and shield racks.
Mannequins? NO and don't ask me to add them (I hate mannequins)
All cratfting stations in basement (smelter in yard)
Fully navmeshed
Interior/exterior window lights change according day/night cycle 
Cleaned with SSEedit
And Solstheim music in interiors )
Requirements:
All DLCs
Hearthfire multiple adoptions 
Translations:
Chinese
Compatibility
This mod will conflict with other mods that edit Winterhold area.
I personally checked compatibility with The People Of Skyrim Complete SSE,  it works with no issues , but you'll need to disable via console few trees near Windyridge.
If you are missing purchase sign, it means that some other mod is overriding exterior near Windyridge. To solve this put windyridge near bottom of the load order and check incompatible mods with SSedit.

Install/ Uninstall
Via Vortex or other mod managers
Important!  Before uninstalling mod empty all containers, move your family somewhere else and exit interior cell.
F.A.Q
Q: Can you change "that..." ? because I don't like it. Add "this...", add "that.." ?
A: No
Q. Can you fix this.. issue?
A. Yes, I'll try, thanks for feedback
Credits:
MrDanSG1
, Oaristys, Blarry, Elianora, Insanity,  Jet4571, Harvey2112, Lolikyonyu,Tlaffoon, Runspect,
stroti
 for meshes and textures.
My other mods: