File information
Created by
Janquel
About this mod
Modification to the LOTD mannequins to allow them to use the Cloth Mannequins SE textures
Requirements

Permissions and credits

Changelogs
Let's be honest: vanilla textures on mannequins are a bit....wooden.
Anyway, my favorite mannequin textures, by far, are
Cloth Mannequins SE
by Hanaisse.
I mean just look at this stuff. Mmmmmm.
And of course, like any good kleptomaniac, I like Legacy of the Dragonborn to display stuff. It even has a lot of mannequins, fancy that!
But the mannequins didn't play well with the textures (some plugin stuff I won't get into) - getting the male ones to work was easy. But the female ones, well.....you get the picture.
So I figured I knew enough about meshes to apply the appropriate textures and...
OH GOD WHAT.
Anyway, it took a fair amount of work, and far more mesh and UV editing than I've ever done, but I got something workable.
It's
far
from perfect - I'm no good at body sculpting, so the holes were filled in with flat panels, but....well, it's a mannequin. The UV is jank as hell, so don't look too closely (particularly on the back of the head, my God), there's some weird texture lighting thing going on the mannequin's back end (but it's the....back. Of a mannequin. You'll never see it).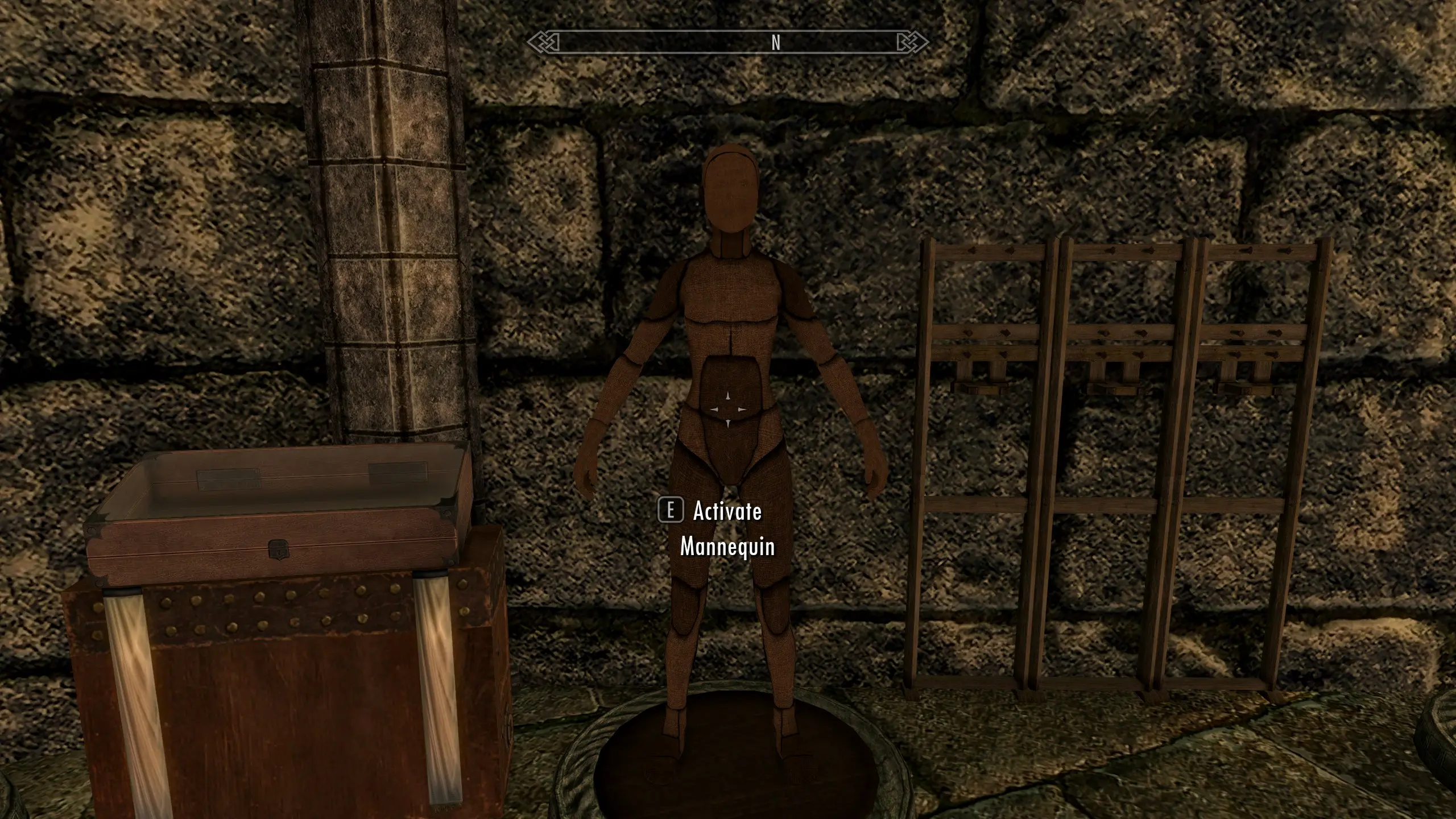 ...BUT YA KNOW WHAT, IT STILL LOOKS BETTER THAN BEFORE SO GOOD 'NUF.
All modifications were done with the intention of not having to deal with permissions on the texture mod since it looked like there was a bit of chain of custody on that (and I wouldn't even know how to BEGIN to go about improving the texture to resolve the UV map that way), so everything is done via plugin/mesh editing. This will not work with other implementations of female mannequins (although it wouldn't surprise me if some of the work could be applied, but I'm sure they're all implemented via different means). So yeah - Cloth Mannequins and LOTD are both hard requirements.