About this mod
Recreated from scratch for SSE, DWARVEN LUGGAGE adds a dwarven spider chest that follows you around and helps hold a near limitless amount of weight within its inter-dimensional space. It doesn't count as a follower, so feel free to keep Lydia or whomever else you feel like having around. The Dwarven Luggage can be found with Sinderion's re
Permissions and credits

Translations

Donations
W
hen Sinderion entered into Blackreach, he didn't go alone. Years later, the Dragonborn can find the Dwarven Luggage still waiting within the depths of Blackreach by its former master.
D
uring Sinderion's quest to find more nirnroots he happened by a strange dwemer device looking much like a spider with a chest on its top. He found it to be operational and took it along with him to help carry his ingredients and other essentials. When Sinderion met his untimely death in Blackreach, the faithful Dwarven Luggage stayed at his side.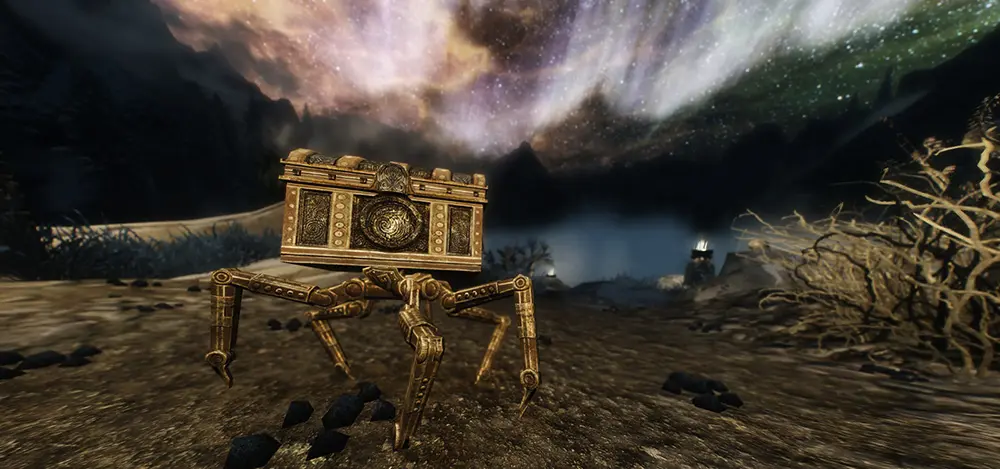 R
ecreated from scratch for SSE,
DWARVEN LUGGAGE
 adds a dwarven spider chest that follows you around and helps hold a near limitless amount of weight within its inter-dimensional space. It doesn't count as a follower, so feel free to keep Lydia or whomever else you feel like having around. The Dwarven Luggage can be found with Sinderion's remains which are in his field laboratory in Blackreach, underneath Alftand. You can tell the Dwarven Luggage to wait for you or follow you around and ignore enemies assist in battles. The Dwarven Luggage has a summon spell which allows you to call it to you along with all the gear you stashed on it, never lose your important gear again!
I'd be glad to create language specific versions if anyone cared to translate.
*May need to save and reload the game after installing the mod due to an issue with dialogue not showing properly.
LATEST UPDATE
Lowered the static volume of the luggage by 80%. Fixed a delay when first accessing the luggage.
***Instantly get to it using the command player.coc blackreachzcell10 ***