Kaldus The Skeleton Companion
Kaldus The Skeleton Companion
File information
Created by
RetroVibe
About this mod
A skeleton companion with his very own race, weapon and set of armor. He even has a custom voice by yours truly. Still a work in progress but I wanted to release a small demo to see how it fairs and if bugs might arise.
Permissions and credits

Changelogs

Donations



Hello fellow skeleton fans and necromancers, I bring you a treat today!
Now this is my first mod and I spent some time just trying to get this whole thing rolling. It is still very early in development as I learn more about Skyrims creation kit and papyrus scripting. If there are any bugs please let me know and I'll do my best to see if I can fix them!
Who is Kaldus?
Kaldus is a skeleton character I made not even for Skyrim a long time ago, and decided he would be a good basis to begin my modding scene for Skyrim. I have always loved the thought of a more in-depth skeleton companion rather then just grabbing a skeleton creature and adding in some follower dialogue. 
Who he is in the game is quite the mystery though, as of now you don't really get to learn more about him but that will change in the near future. Cursed with immortality this warrior of old now guards the gates to an unknown land simply known as the Boneyard (not the most creative name I know.) This Boneyard place will play a much bigger role in the future but for now you can't access it quite yet.
What makes him stand out more?
Aside from the very obvious fact he is a damn skeleton, he has plenty of cool features right now. His own skeleton race so now he can move like an NPC. His very own TRI. skull so his jaw moves, (insperation from the oldrim mod 
Jarek
 who also had a TRI skull very similar, I used the tutorial he provided to make it 
TRI. Tutorial
.) He contains his own armor I made myself (very badly, it is just a mashup of ebony and dragon bone with a retexture.) His own sword (also a retexture). And a custom voice that I probably have to redo because of low quality. He also has his very own skeleton texture curtosy of myself of course. Along with all this he has glowing eyes and a custom conjuration spell you can also find in the Bannered Mare.
(Also thank you a lot Abbalovesyou for allowing me to use her skeleton mesh and race for my companion here, That was the one thing I dreaded most.
Extra Playable Skeletons
)
What else is to come?
A WHOOOOOOLE lot more is to come, I've got big plans for this companion mod. I want this companion to be someone you can bond with in game, really get emotional if he was to die type of bond you know? I want to add a questline that isn't just fun but also artistic, a quality story. I want you to be able to level up Kaldus in your own way to make him fit to your needs while also retaining some of his own built in character traits you can't really change. In short terms there is a lot else to come in the future. And it'll only get better the longer I work on it as everything should.
Installation/Uninstallation
He is a standalone mod and really shouldn't affect anything so you can install anytime via downloading the raw files and putting them in your data directory, or using a mod manager such as Vortex.
To uninstall you should dismiss him and wait a few days somewhere far from his orginial spawn location and then remove the mod.
Compatibility
He should be compatible with everything.
Troubleshooting
If you aren't able to talk to him then quicksave near him and reload, it should fix that problem.
Q&A
Q: Why is he called Kaldus R. Lily?
A: R. is my initial and Lily is the name of my cat.
If you have any questions feel free to ask in the comments! I'll try to respond in a timely matter!
Some extra details:
Kaldus can be located at his new custom location west of Falkreath.
Kaldus is mostly a two-handed sword user but on occasian will summon his own custom magicka skeleton to aid him and allies in battle.
He's pretty beefy for a starter companion but if you play on Legendary he'll obviously be more balaned there. I'm trying to figure out how to also make his sword become better as he levels up.
Other Awesome Stuff:


"Skeleton Jealousy"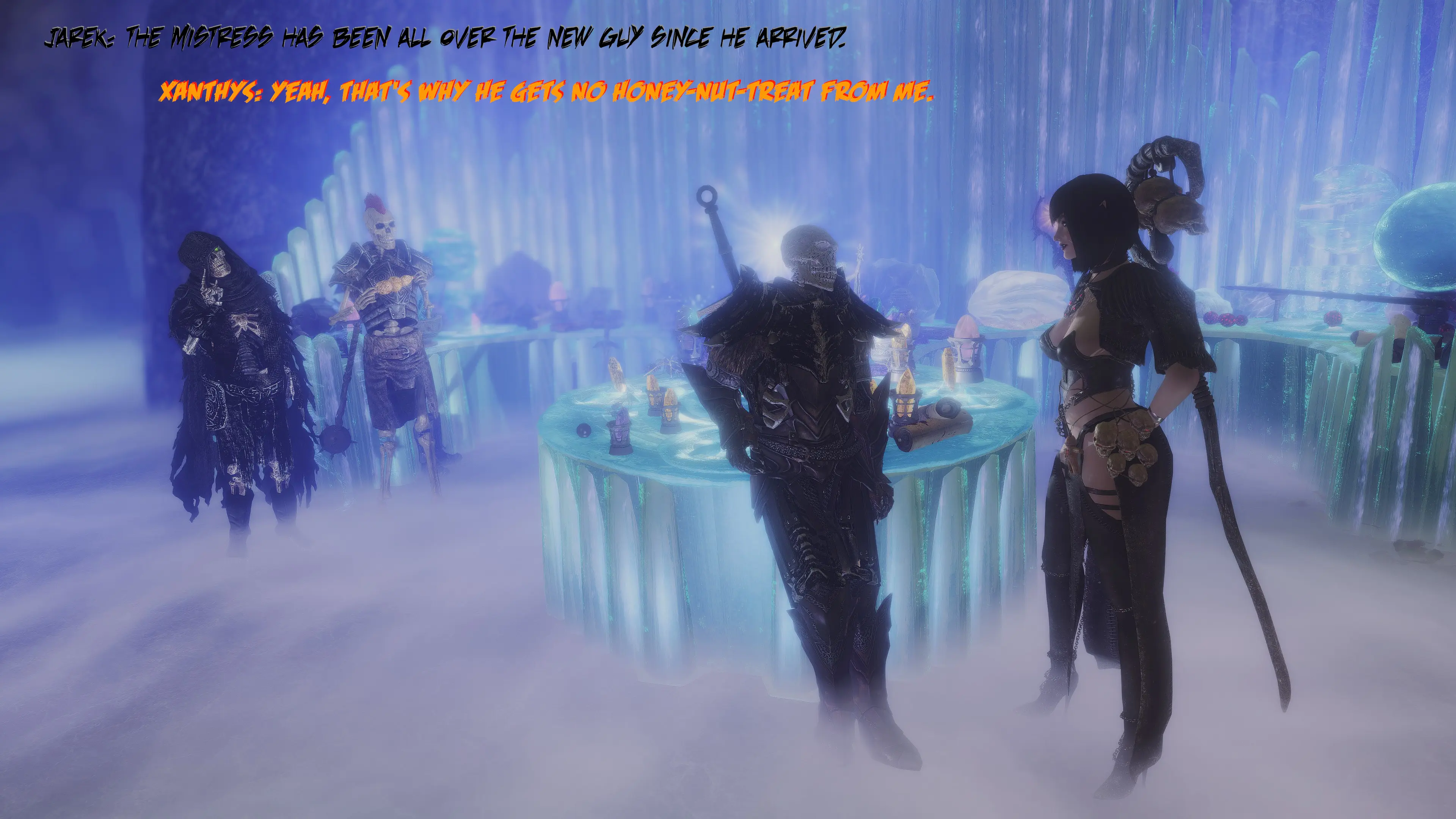 This is pretty cool, thank you Yellowbird11 for the little panel. (Watchout ladies, Kaldus is here to stay B])