Skyrim Revamped - Loot and Encounter Zones - Deutsch
Skyrim Revamped - Loot and Encounter Zones - Deutsch
File information
Created by
Nightman0 - LittleYukariko
About this mod
"Leveled List und Encounter Zone Overhaul" konzentriert sich auf die Dezentralisierung des Spielers von der Welt.
Dies ist die Deutsche Übersetzung des Mods 
"Skyrim Revamped - Loot and Encounter Zones"
. Lasst bei Original-Mod ein Endosement da wenn euch der Mod gefällt.
Der Original-Mod wird NICHT benötigt. Falls Patches notwendig sind die hier nicht verfügbar sind, bezieht sie von der Original-Mod Seite, da sie keine Übersetzung benötigen.Hier gehts zur LE Version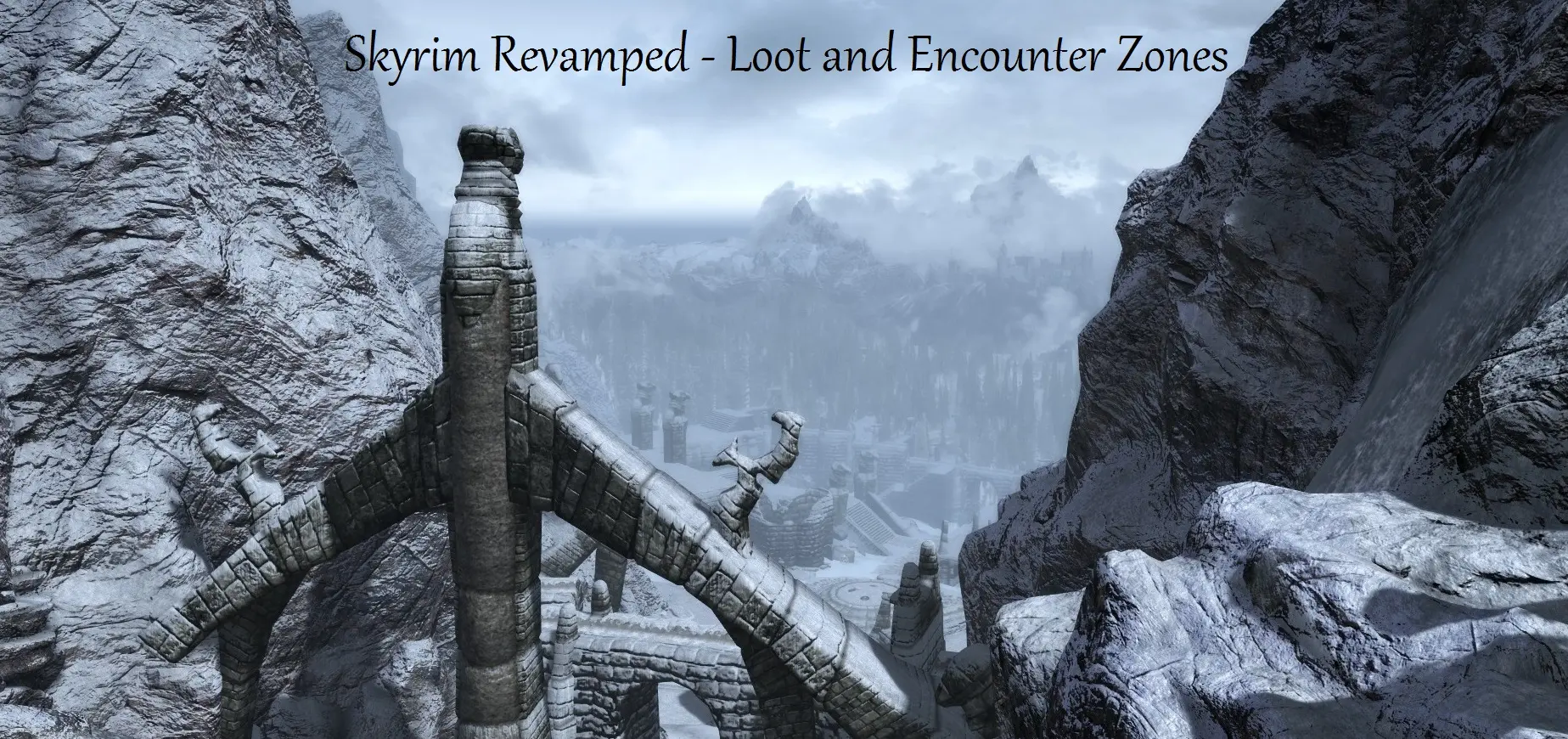 Zusammenfassung:
Dieser Mod ist eine komplette Überarbeitung von Beute und Begegnungszonen. Dadurch wird die Wirtschaft und die Gegnerstufen des Spiels schwieriger und statischer. Die Idee ist, wenn Du in einen Dungeon gehst, nichts von Dir abhängt. Die Level der Feinde skalieren nicht mit deinem Level. Die potenzielle Beute ist unabhängig von deinem Level, aber vollständig abhängig von dem gegnerischen Level. Wenn Du dich also in einem Dungeon mit starken Kreaturen befindest, lohnt sich die Beute, die Du am Ende gewinnen kannst.
Beute:
 Die Beute in diesem Mod wurde komplett überarbeitet. Es ist nicht mehr abhängig vom Spielerlevel oder zufällig. Es hängt vollständig von der Stufe der Begegnungszone oder der eingestellten Stufe des Dungeons ab, in die Du gehst. Fast die gesamte typische Beute hat eine Stufe. Tränke, Erze, Barren, Gold, Waffen, Rüstungen, Gewänder, Schmuck... Mit steigendem Level des Dungeons steigt auch die Qualität der Beute. Meine Level-Einstellungen für Waffen sind unten, damit Du dir selbst ein Bild davon machen kannst, was ich meine.
Eisen: 1
Stahl: 9
Dwemer: 17
Elfisch: 25
Orkisch: 33
Vulkanglas: 41
Ebenerz: 49
Drachenknochen: 57
Daedrisch: 65
Wenn Du also in einen Dungeon der Stufe 25-32 gehst, hast Du das Potenzial Waffen von Eisen - Elfen-Qualität zu finden, aber definitiv nichts über Elfisch. Allen Elementen werden Werte in der Nähe dieser Schwellenwerte zugewiesen.
Die Einzelheiten der Arten von Gegenständen, die Du erhalten kannst, hängen von den Feinden in diesen Dungeons ab. Falmer-Höhlen liefern Gifte, Zutaten, Erze und möglicherweise eine Waffe. Hexenhöhlen liefern Seelensteine, Gewänder und verzauberten Schmuck. Banditenlager enthalten normalerweise Gold, unverzauberten Schmuck und Gegenstände von aufgefallenen Reisenden. Banditenbosse werden auch entsprechende Waffen und Rüstungen tragen. Ich habe versucht, die Beute in Dungeons sinnvoll zu gestalten, wie sie Kreaturen nach Überlieferung und gesundem Menschenverstand haben würden.
Dieser Mod versucht auch ein sehr ernstes Problem mit Vanilla Skyrim zu beheben. Den Massenzufluss von Ressourcen.
Jede Truhe, Kreatur und jeder Behälter scheint Gold oder Edelsteine ​​im Original-Skyrim zu haben. Um dies zu bekämpfen, habe ich einen Großteil der Goldmünzen entfernt, die Du beim Öffnen jedes Behältnisses erhältst. Tiere lassen kein Gold oder Edelsteine mehr fallen, die meisten Feinde haben kein Gold bei sich, wenn Du ihre Leiche durchsuchst. Truhen haben eine Chance von 25% auf Gold, enthalten aber andere Gebrauchsgenstände, die viele andere Mods als Materialien verwenden.
Dietriche in der Beute wurden drastisch reduziert. Jetzt musst Du möglicherweise einige Dietrich kaufen oder herstellen, wenn Du einen Mod hast, der dies zulässt. Dietriche werden viel mehr zu einer Ressource und nicht zu einem entbehrlichen Vorrat. Dies gibt dem "Schlossknacker Skillbaum" auch mehr Wert.
Seelensteine wurden insgesamt reduziert, aber in Dwemer- und Hexenverliesen findet man immer noch eine anständige Menge. Wo es Sinn hat.
Heil-, Magicka- und Ausdauertränke sind ebenfalls weniger verbreitet. Sie sind immer noch da, aber viel weniger wahrscheinlich. Möglicherweise musst Du jetzt zu einem Heiler oder Alchemisten gehen, um Heiltränke zu bekommen.
Begegnungszonen:


In der ersten Version dieses Mods waren Begegnungszonen abhängig von der Position des Dungeons und dem Feindtyp im Dungeon. Ich habe mich von dieser Idee entfernt und es hängt jetzt mehr vom Dungeon ab, wie Bethesda es vorgesehen hat. Damit meine ich die Länge des Dungeons und die besonderen Quests, die er hat. Die Dungeons, die wirklich kompliziert und interessant sind, haben normalerweise ein höheres Level, aber nicht immer. Ödsturzhügelgrab zum Beispiel ist Level 12. Saarthal ist 16. Da sie die Anfangsdungeons im MQ und Akademie sind, werden sie auf niedriges Level gesetzt, aber die Schützburg ist ein Level 71 Dungeon. Dies liegt daran, dass es ein langer Dungeon ist, der einzigartige Feinde hat, und Bethesda hat ihn auf ein Mindestlevel von 24 gesetzt, was ihre höchste Stufe für einen Dungeon ist. Es wurde darüber hinaus skalieren, aber sie wollten einen Charakter auf höherer Ebene, um es durch zu spielen.
Der Gegnertyp hat immer noch ein gewisses Gewicht bei der Auswahl für die Dungeon-Stufe, ist aber viel weniger wichtig als bei Version 1.0. Diese Liste zeigt die Level-Varianz für Dungeons zwischen den Feindtypen:
Dwemer-Ruinen - 35-57 
Falmerhöhlen - 25-42
Abgeschworene - 12 - 29
Riesenlager - 20-40
Hexenrabennester - 22-38
Schleierhainen - 15 - 30
Vampirlager - 18 - 65
Magierverstecke - 20 - 53
Werwolflager - 30 - 40
Rieklinge - 6 - 25
Banditenlager - 6 - 32
Tierhorte - 2-21
Drachenhorte - 25 - 65
Drachenpriesterhorte - 45 - 71
Draugr Krypten - 12-48
Wie ihr sehen könnt, werden Banditen oder Abgeschworene nicht sehr hoch im Level. Aber Draugr, Magiermeister, Dwemer und Vampire werden alle einen guten Kampf gegen hochrangige Charaktere liefern. Aber offensichtlich werden einige dieser Feindtypen immer noch Dungeons mit niedrigem Level haben. Es hängt wirklich von dem Dungeon ab, in dem sie sich befinden. Vampire in einer kleinen Höhle werden nicht so hoch sein wie Vampire in einer großen Nord-Ruine. Die Idee ist, die Dungeons so unterhaltsam wie möglich zu gestalten. Ein kleines Banditenlager sollte nicht allzu schwierig sein. Aber eine lange, komplizierte Draugr-Krypta wird schwierig, lustig und lohnend sein.
Ich habe auch alle Begegnungszonen so eingerichtet, dass Feinde mit dir durch Türen reisen können. Disabled Combat Boundaries, wie "Creation Kit" es ausdrückt.
Empfohlene Mods:
Economy Overhaul and Speechcraft Improvements
 - Macht es zu einen langen Weg, die Wirtschaft in Skyrim zu stabilisieren. Sprachfertigkeit wird fast zur Pflicht, wenn Ihr durch den Verkauf von Beute viel Gold verdienen möchtet. Ernsthaft empfohlen, dies zusammen mit diesem Mod zu verwenden.
Enchanting Adjustments and Price Charge Bug-Fix
 - Behebt wirtschaftliche Probleme beim Verzaubern.
Missing Encounter Zones Fixed
 - Ich würde die Version mit allen Außenbereichen nehmen. Ohne dies sind die Feinde außerhalb der Dungeons vom Spielerlevel abhängig und stimmen nicht mit den inneren Feindleveln überein.
Skyrim Revamped - Complete Enemy Overhaul
 - Dies ist meine Feind-Überarbeitung, die mit  diesem Mod kompatibel ist. Viele Feind-Überarbeitungen skalieren Feinde unabhängig von der Begegnungszone auf den Spieler. Dieser verwendet das gleiche Leveling-System wie Original, sodass diese beiden Mods gut zusammenarbeiten können.
Credits: Alle Credits gehen an Nightman0 für den tolles Mod. Lasst ihm eine Endorsement für diesen Mod da.