Uther The Lightbringer - Warcraft Follower Mod
Uther The Lightbringer - Warcraft Follower Mod
File information
Created by
stg1994
About this mod
Follower mod of the Uther The Lightbringer concept. based on basic vanilla data. You can meet him at bannered Mare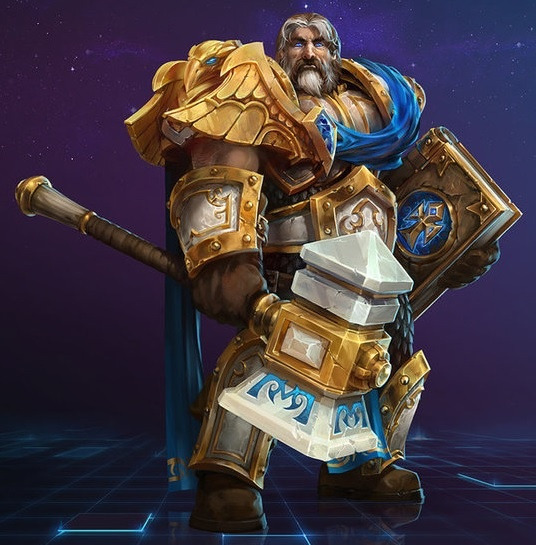 Uther The Lightbringer Follower Mod
Complete standalone follower mod[Basic Information]

Race : Nord Male
Location : Whiterun Bannered Mare
Marital status: Possible
Voice : Brute Male VoiceFor The Silver Hand!
This is Follower Mod the Paladin Uther The Lightbringer. 
I spent many time on face surgery to look as like as possible to look like Uther
I used Enhanced Character Edit for create faces, and Uther uses independent face textures.
* These Armor and weapon shown in the screenshot are mod.
He's basically wearing the armor of the Stendarr Vigilant and Steel Mace with added Fear enchant.
I wanted to use custom Uther voice but I don't know how to add custom voice to Follower.
So he uses the voice of Brute male. If I know how to do it later, I'd like to add custom voice.
Uther's performance is powerful.
He has good stat more than arthas
He basically has heavy armor, one-handed weapons, and two-handed weapons Perks, and he grows to the same level as the player, uses Stendarr's Aura magic like a Paladin, and also uses Vampire's bane magic.
If you want to wear the armor like my screenshot on Uther, here's my mod list.
→
Breton Paladin Armor Set
Pauldrons

Weapon's Collection
- Another Tip! -
His face may be similar to Uther, but Vanilla Human is not as huge as Warcraft's Human. Therefore, 
So If you want to see Strong Big Looking Uther, I recommend Install this mod!
Recommend Mod :  
Racial Body Morphs SE
Beards
Resource used:
Enhanced Character Edit
KS Hairdos SSE
SkySight Skins - Ultra HD 4K 2K Male Textures and Real Feet Meshes
My another Follower Mod :
* Arthas Menethil Follower Mod

* Warchief Thrall Follower Mod

* Grommash Hellscream Follower Mod