Berts Breezehome Remodel - Dreifels SSE Port DV 1.1 (Deutsch)
Berts Breezehome Remodel - Dreifels SSE Port DV 1.1 (Deutsch)
Version

BBR.Final.2.1-SSE-DV-1.1
File information
Created by
LE by berticus0001 - SSE by Dreifels
About this mod
Eine komplett neue Portierung auf SSE von "Berts Breezehome Remodel" für LE - Ein komplett neues Haus mit Keller, Spielzimmer, Außenbereich, Gewächshaus, unterirdischem Höhlengarten namens Dragonsreach Grotto & Dave der Hausdrache & eine Quest, um alles zu bekommen! "
Permissions and credits

Changelogs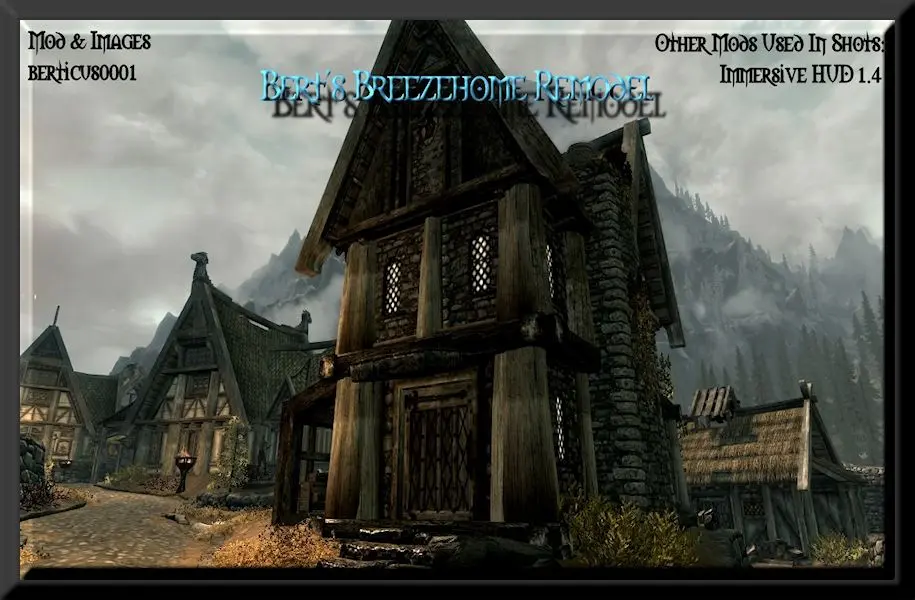 Berts Breezehome Remodel
v. BBR.Final.2.1 - Port to SSE - DV 1.1 - getestet

Mit Dank an berticus0001 für diese beeindruckende Mod - Endorsements bitte an ihn - LE-original ist HIER


Für mehr Information bitte LE-Version sehen
Dies ist die erste korrekte und komplette Konvertierung nach SSE, getestet

Jetzt auch beide Addons (Lydia und Geliebte) zum Download.

Meine Tests, die beiden ESP in ESL zu ändern und/oder alles zu cleanen waren unbefriedigend. Es ergeben sich Grafik- und Triggerfehler, und ich habe nicht ausreichende Kenntnisse, das zu reparieren. Also bleibt es technisch bei dieser Version.
Video bei Dailymotion
(klick mich)

Start:
rein nach Brisenheim. Dort liegen 3 Notizbücher, eines unten direkt auf dem Tisch links, die beiden anderen oben. Eines der drei schaltet den Questmarker für den Höhleneingang auf der Karte und im Kompass frei und die Eingangsquest aktiv.
Im Haus hat man neben der Türe bereits den Siegelsteinständer mit dem Spielerhaus-Reiseknopfstein, mittels dem man zu jedem Vanilla-Spielerhaus teleportieren kann. Gibt es in jedem Spielerhaus, also Rundreise in ganz Himmelsrand per Klick.
Einer der Auswahlmöglichkeiten ist das modifizierte Briesenheim. Hier erhält man die Meldung, dass der benötigte Schlüssel fehle, und damit ist der Grund, die Quest zu verfolgen, gegeben.
Verlässt man Briesenheim, befindet man sich auf der Rückseite des Friedhofes. Der Eingang von Briesenheit funktioniert nur in eine Richtung (rein), der neue Ausgang in beide Richtungen (rein/raus), aber noch das alte Brisenheim.
Die Quest
: Raus aus Weißlauf, links hinter den Ställen, wo das Wasser von Weißlauf rausläuft, auf das Gitter zugehen. Das ist der Zellwechsel zur Drachensteinhöhle.
Drinnen nach einer Quecksilbererzader suchen (rechte Wand) und dafür Spitzhacke nehmen.
(ABSPEICHERN !)
Es öffnet sich ein Durchgang zu einer kleinen Hinterhöhle, aber
ganz vorsichtig und langsam
bewegen! Hier sollen nun Felsen/Geröll runter fallen und geradeaus am Ende sich ein Lock im Boden auftun. Geschieht auch, aber  die Geröllbrocken können sich verkeilen und man kann zwar darunter ein Loch nach unten sehen, aber kommt nicht durch. Spitzhacke versuchen oder letztes Save laden und nochmal versuchen!
(ABSPEICHERN !)
In das Loch rein und runter (
VORHER Zauber Kerzenschein benutzen, unten ist es dunkel
!), und man sieht eine tiefe Röhre und ganz unten Wasser. Also runterspringen und beim Fallen so zielen, dass man im Wasser landet. Immer an der Wand lang ... eine Stelle Suchen, wo man an Land kann.
Es gibt keine Questmarker und Zauber Hellsehen funktioniert nicht. Nun gilt es, zuerst die Hütte des Falmer-Häuptlings zu suchen. Dort drin findet man, von links nach rechts: ein komisches Ei, eine Falmer-Truhe mit Beute, den Schlüssel.
Alles
nehmen, dann zum Ausgang. Der ist indirekt sichtbar durch ein großes Feuer bei einem Turm mit einem Drachenkopt. Durch die Türe links, dann links rum findet man eine Holzleiter, die benutzen. Man ist im Waffen- und Ausrüstungslager des neuen Brisenheim. Vor dort kann man entweder nun mit dem auch dort vorhandenen Spielerhaus-Reiseknopfstein weiter erkunden, oder die Falltüre unter dem Teppich nehmen, um wieder in die Drachfelshöhle zu kommen.
Erkunden - staunen - ausprobieren - Bert ein Endorsement schicken.
Viel Spass!
-------------------------------------


Eigenwerbung
da viele immer nur nach dem Neusten schauen ...
Hier eine Übersicht über alles von mir 
einige ältere sind der Beachtung besonders wert