SimpleColor Map Markers

Fill color to main cities map markers.
Simple - Only main cities, No sea of colors.
Lore-friendly - Using color match with each city.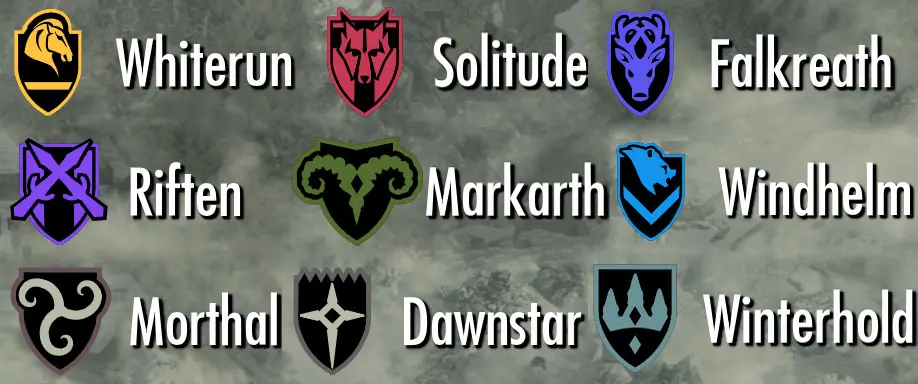 2 Option:
Main version

Desaturated version

Alternative Compass(optional) 
Installation


Simply install with your favorite mod manager.
If you are using
SkyHUD
. Download patch from optional file section. Install and overwrite SkyHUD.
Compatibility

SimpleColor edit map.swf and hudmenu.gfx file. Any mod contains these files conflict with SimpleColor.
Not compatible with map markers color mod. It contains map.swf and hudmenu.gfx.
Example: 
Pastel Map Markers
, 
Colored Map Markers
It does the same thing as this mod. Choose only one.
Partially compatible with HUD mod. It contains hudmenu.gfx.
Just load it after SimpleColor. You will get Vanilla compass color.
Compatible with a mod that adds new map marker or change map textures.
Example:
Map Markers Complete with DLC and OCS
, 
A Quality World Map
Compatibility Patch: 
SkyHUD

Download from optional file section.
Credit
Thanks to
lavigne77
for giving me permission to use his/her compass in my mod. 
Thank You
MisterPete
,
Forsaken32
,
Mardoxx
- Creators of
Colored Map Markers Updated
.
This mod is an inspiration to me. Very clean and simple. I used their mod for a long time in Classic Skyrim before decide to make my own mod. Thank you all. 
xeightballx 
for a tutorial video. Without you, This mod would have never created. 
My Mods