File information
Created by
DoxMAZz goatk
About this mod
A remake of ProudspireManor in Solitude to make it look more elegant and Functional than Vanilla.
Requirements

Permissions and credits

Changelogs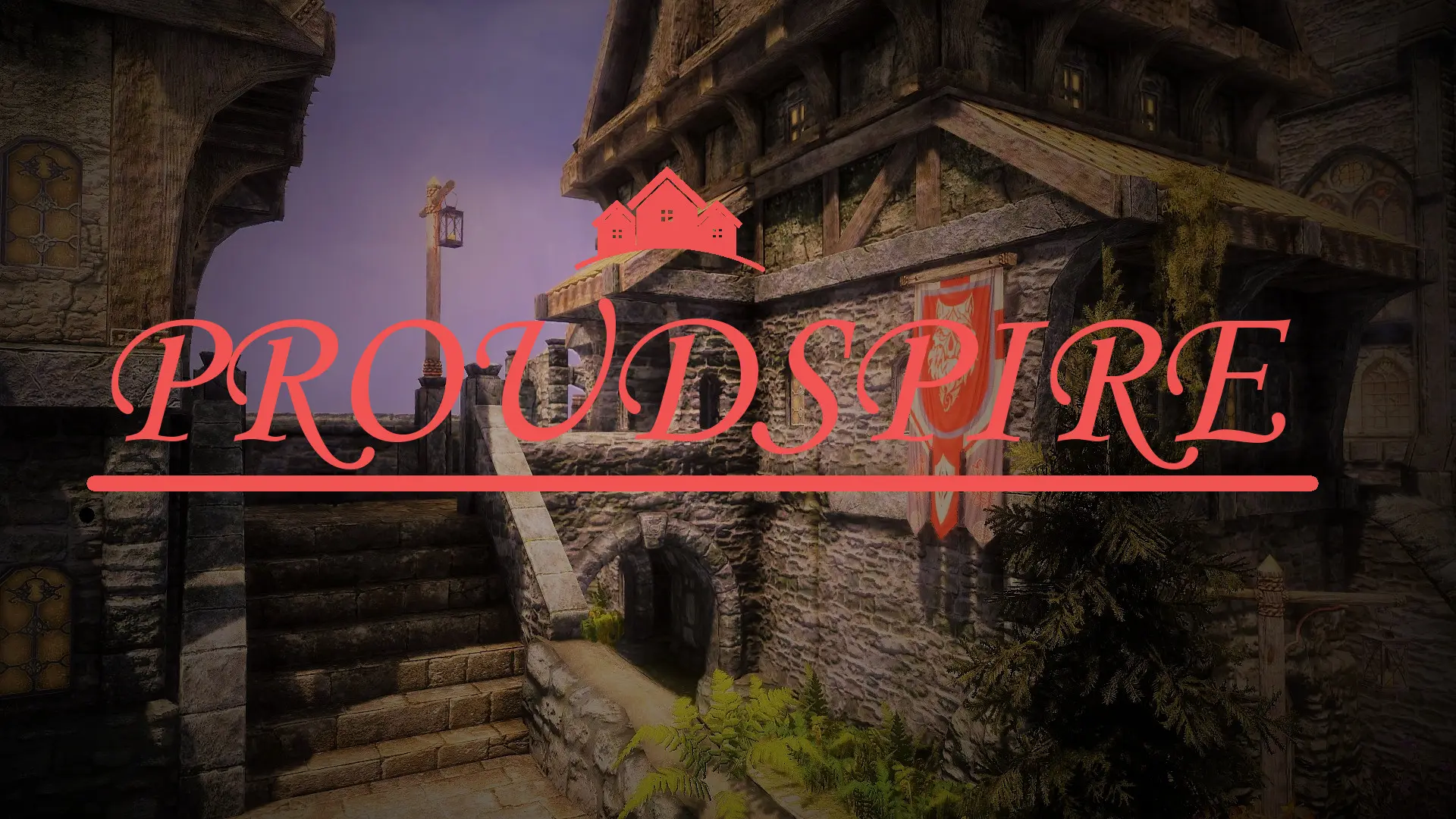 FEATURES
 Main Hall and Kitchen
Redesigned Main hall with Large Dining
Wine Bar Counter
Trophy pedestals
Alchemy Lab
  Top Floor and Bedrooms
Redesigned Player's and Child's Bedroom
Arcane Enchanter table for your weapons
Four Armour Mannequins
Weapon Racks for Swords and Daggers
Book Shelves 
  Basement
Blacksmith workshop
Bathroom
:: WARNING ::
You have to purchase all available upgrades before entering into Proudspire House otherwise it will cause catastrophic changes.
I recommend installing this Mod before Purchasing or Entering Proudspire Manor.
WAIT!! What if I already purchased the house and using it, Can I still install this mod?
Well Yes you can but don't expect everything to go well
Take this steps
1. Pick up all items you want to keep in the game and ask every NPC(s)[Includes Housecarl, Wife/Husband, Children(s), followers] get out of the house, then leave the house.
2. Go to any other interior cell. Such as The Winking Skeever.
3. Make a NEW Save, then Quit.
4. Activate this mod "ProudspireManorTNF.esp".
5. Load up the NEW Save, enter the house, check if everything works fine.
Check OK? Play!
Anything wrong? do the following
a. Reload the NEW Save(by step 3).
Open console, type 
press Enter.
then type
press enter,
Leave console. 
b. Save game. Play!
INSTALLATION
First, make a backup SAVE until you are sure this mod works fine for your game.
If this mod fails eventually, delete ".esp and .bsa" and any save file which is made after the backup one.
Install Normally with NMM or Move Files from Data folder manually to : Skyrim Special Edition/Data/
Also, you can copy the Patch included in mod to Data/
DO NOT FORGET TO SORT YOUR LOAD ORDER AFTER INSTALLING MOD
Uninstallation
Take Everything you need from House
Uninstall with NMM or Delete .esp and .bsa files from Data
KNOWN ISSUES
1. Two cooking pot :
Unofficial Hearthfire Patch added a cooking pot to PM too. If you are using Unofficial Hearthfire Patch, after purchase kitchen, you will find there are two cooking pots, but we just need one here.
Choose just one of Solution A or B.
Solution A : console command "markfordelete".
Open console, left click on the pot(xx10c205), type "markfordelete", enter, then go outside and return.
Solution B: Load Unofficial Hearthfire Patch in CK or TES5Edit delete(remove) the pot.
2. NPCs lost their way at PM. 
NPCs may be stuck from time to time. Seems after couple days in a game the situation would be better, but I'm not sure how much they will recover. Making sure your latest save is clean before installing this mod, or deleting dirty saves would really help, in my game, I did this and it's working. 
About other typical bugs of PM, Please check this wiki first :
http://www.uesp.net/wiki/Skyrim:Proudspire_Manor
Compatibility:

Compatible with Lighting Overhaul mods
RLO Patch is Included in the mod.

ELFX Patch is Included in ELFX Installer (Select No Proudspire)
Also in Your Load Order Put the Patch before this Mod or you'll face floating candle issue (Thank you Borhan800)
Should be like this:
ELFX - NoProudspireManor.esp
ProudspiremanorTNF.esp



Open Cities Mod is not fully Compatible


Mod is not compatible with any other mod which changes the Proudspire Manor.


Credits
Check Perm and Credits TAB