In light of recent changes to Valve and Steam workshop and Paying for mods.
My mods are free to download and will remain so.
I do not  give my permission for my mods to be uploaded to Steam Workshop or uploaded for Gaming Consols. This is not me being PC elitist. I don't own a gaming consol so I can't troubleshoot, maintain the mod or in any way be helpful to a user - if someone wants to do all that they are welcome to get in touch with me and ask to do so.  
I do not under any circumstances give my permission for any assets I personally have made for this mod to be used in a mod which then charges users money to download them.
Other permissions remain as listed at the bottom of this page.
Requires Hearthfire DLC.
Located in rural Eastmarch just behind Cradlecrush rock and midway between Whiterun and Windhelm this free house and farm is a small distance off the main road. Fast travel is either to the front door or to the farm area close to the stable block.
The house contains a total of fourteen rooms and an additional galleried balcony. It is reasonably lore friendly but does have plumbed water. Decorated throughout in noble style the house has a lot of decoration and clutter but nearly all of it is statics.
Much of what looks like clutter or decoration is actually themed storage. It is fully navmeshed and follower friendly and comfortably sleeps 9 followers.
The house would suit a player who likes rural life in beautiful scenery in a property which accomodates followers and who appreciates crafting, mining and being able to grow and harvest their own food, the house is fully staffed so it never feels totally empty.
The staff are not recruitable (by choice - I like to come home to a lived-in home and they are there to protect my property and kids whilst I wander off doing Dragonborny things).
More details and extra pictures can be found on the original mod pages at
http://skyrim.nexusmods.com/mods/23987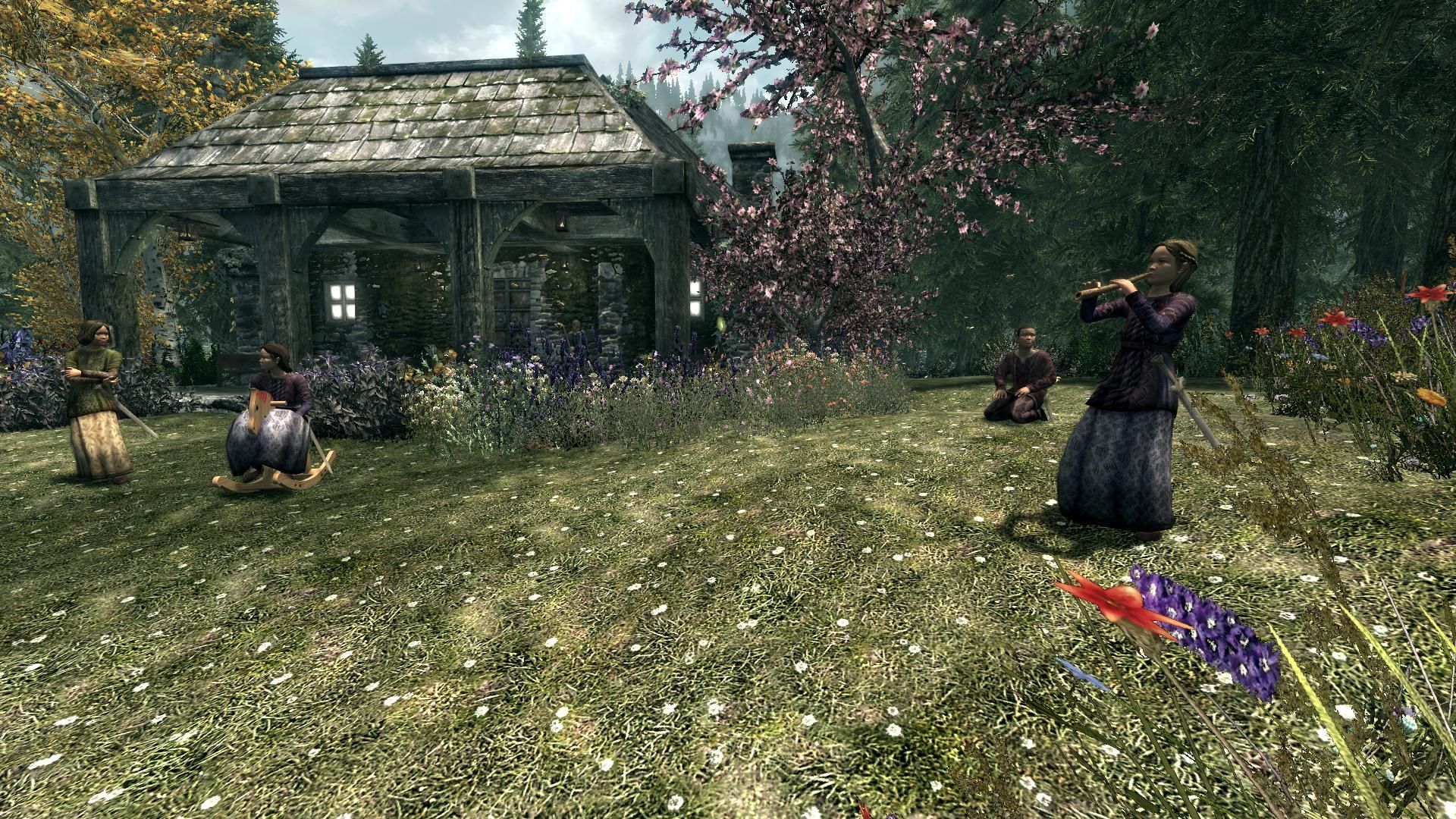 This house has a childs room which will sleep 6 children. If you wish to get your children to move in you must use
TMPhoenix's Hearthfire Multiple Adoptions Mod for SE
This mod is not dependent on it – if you don't use it the house will work perfectly well but the children's bedroom will remain unused and they won't move in.
That mod will ensure your spouse and children will move in and use the house as a home. The children will go outside to play and your spouse will go in and out throughout the day and sleep in the master bed (the one nearest the window in the master bedroom).
However the mod will run perfectly well as a stand alone, in which case the children's room will not be used, for those who want the planting mounds and other hearthfire attributes without adoption
There is a hearthfire crafting oven.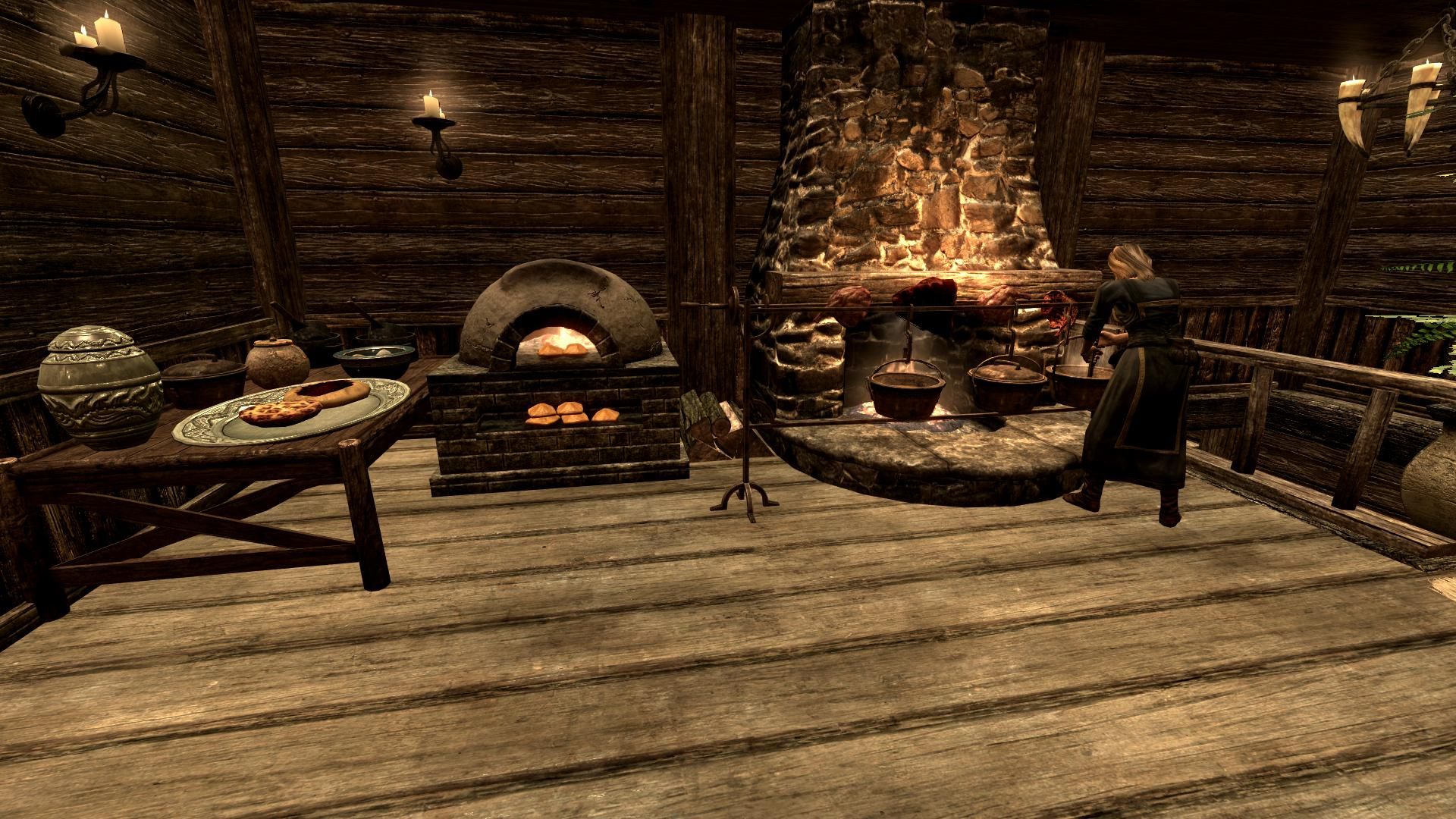 Additionally it has hearthfire planting mounds, both inside on the gallery and outside in the fenced farm area and greenhouse.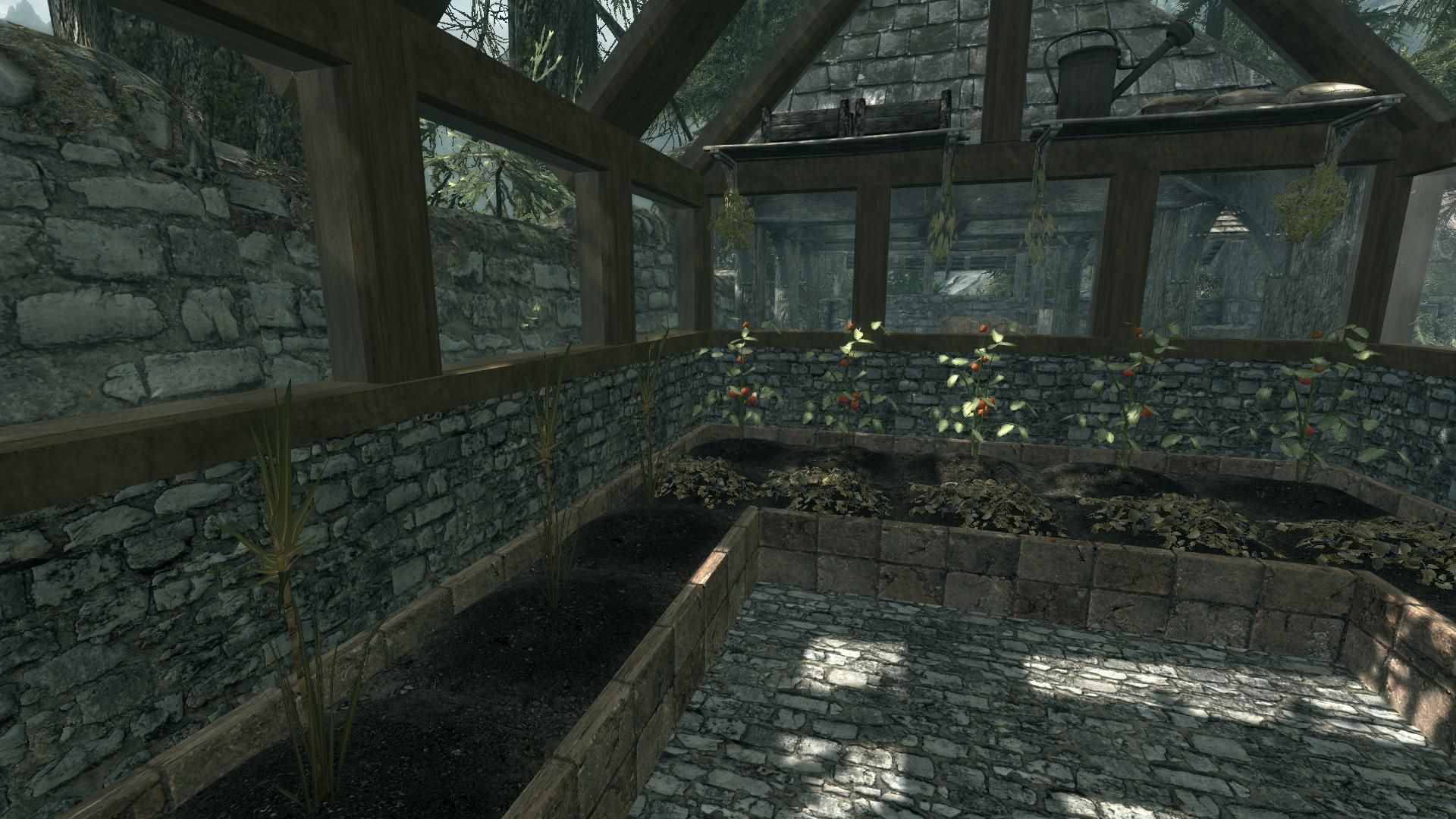 The cows are milkable and produce a jug of milk and cream daily.
Hovver the cursor over their flank and press E, the animation will take over.
There are chickens for eggs and bee hives for honey.
Also a farm well and grain mill.
In addition it has all the crafting that was in the original mod, a large smithing area with storage, forge and smelter outside together with the inside Alchemy and Enchanting.
Your followers will undress to use the bath and will redress as they exit the area and before they get to the bathroom door.
Known Issues
It will conflict with any mod which alters the landscape near Cradlecrush rock or any other house in the same spot.
For those experiencing the "floating" grass issue, this is a Bethesda bug and nothing to do with this mod adding anything strange. This fix is:
Open, in your documents folder, the Skyrim.ini AND SkyrimPrefs.ini with notepad or other similar text editor and in the [grass] section
add the following
bAllowLoadGrass=0
bAllowCreateGrass=1
bDrawShaderGrass=1
that will fix the issue for you after adding those lines save the files and reload the game and it should be sorted.
Credits
Artisanix for paintings and frames
Berticus for the milking and undressing scripts
Blary for Booksets, food container meshes, open books and potion shelves
Brendan62 for the greenhouse
DarkRider & team CelticDecor for paintings and frames
Daemonjax for lighting ball scripts
Insanity Sorrow for a curtain and a watering can
Lilith for stew gathering and toy chest
Oaristys & Tony67 for various meshes in the Modders resource pack
Phaedra for the meshes and textures for cream
Runspect for a model ship
Tamira for the rocking horses and teddy bears
Tonynarko67 for Shelf Scrolls
yourenotsupposedtobeinhere for new rugs
You may use anything from this mod provided it was made by me although credit would be nice.
For all other resources please check with the modders concerned (unless it is a modders resource in the first place).
You may not upload this to SteamWorkshop (or to any other site) without my permission or do anything to change the esp and reupload it.
If you want to translate the mod that's fine, but please let me know first.
Manual installation
Place Candle Pond Ranch Hearthfire.esp and Candle Pond Ranch Hearthfire.bsa in your data folder at steam/steamapps/common/skyrim. Check that Candle Pond is ticked in the launcher.
Manual Uninstallation
Move your spouse, followers and children out of the house and set another house as their home, remove all goods that you want to keep. Remove the esp and bsa from you data folder.