In light of recent changes to Valve and Steam workshop and Paying for mods.
My mods are free to download and will remain so.
I I do not  give my permission for my mods to be uploaded to Steam Workshop or uploaded for Gaming Consols. This is not me being PC elitist. I don't own a gaming consol so I can't troubleshoot, maintain the mod or in any way be helpful to a user - if someone wants to do all that they are welcome to get in touch with me and ask to do so. 
I do not under any circumstances give my permission for any assets I personally have made for this mod to be used in a mod which then charges users money to download them.
Other permissions remain as listed at the bottom of this page.
Aspen Manor
A Home for family and followers by Gentester
This mod requires Hearthfire DLC.
Aspen Manor is next to Merryfair farm outside Riften. Turn left at the stables as you leave Riften.
Fast travel once discovered.
Purchasable 20k septims, see notice on gate.
The house sleep 6 children and 12 followers. It will work perfectly well as a stand alone mod in which case the childrens room will be unused.
If you wish to get your children to move in you must use
TMPhoenix's Hearthfire Multiple Adoptions Mod for SE
This mod is not dependent on it – if you don't use it the house will work perfectly well but the children's bedroom will remain unused and they won't move in.
Please note that if you already have a game running where you have adopted a child already using the vanilla adoption TMPhoenix's mod will only allow you to move the original hearthfire 2 children and your spouse to Aspen. If you wanted more children to live here you would have to start a new game and use his mod from the beginning in place of the vanilla adoption system.
The house and grounds have guards. There are a couple of levelled beasties that may need to be killed before the guards will properly patrol, until the critters are dead they tend to cluster at the point inside the wall closest to the critters - as they want to kill them but can't see them, the beastie in this case is up the hill behind Merryfair farm and near to the corner of the wall surounding Aspen Manor. There may also be something inside the grounds but the guards will probably take care of this themselves whilst you kill the one outside. Think of it as a quest to get the house lol.
Once killed the critters should not respawn. The guards have schedules and will patrol 24 hours a day with rest breaks and sleep breaks, they are all essential, are recruitable as followers, and marriageable, but will obviously no longer guard in the event you take them away from their schedule. They are there to protect your family, all sixteen of the adoptable children in the game have been set as friends to the guards.
Master bedroom and childs bedroom are on main entry floor.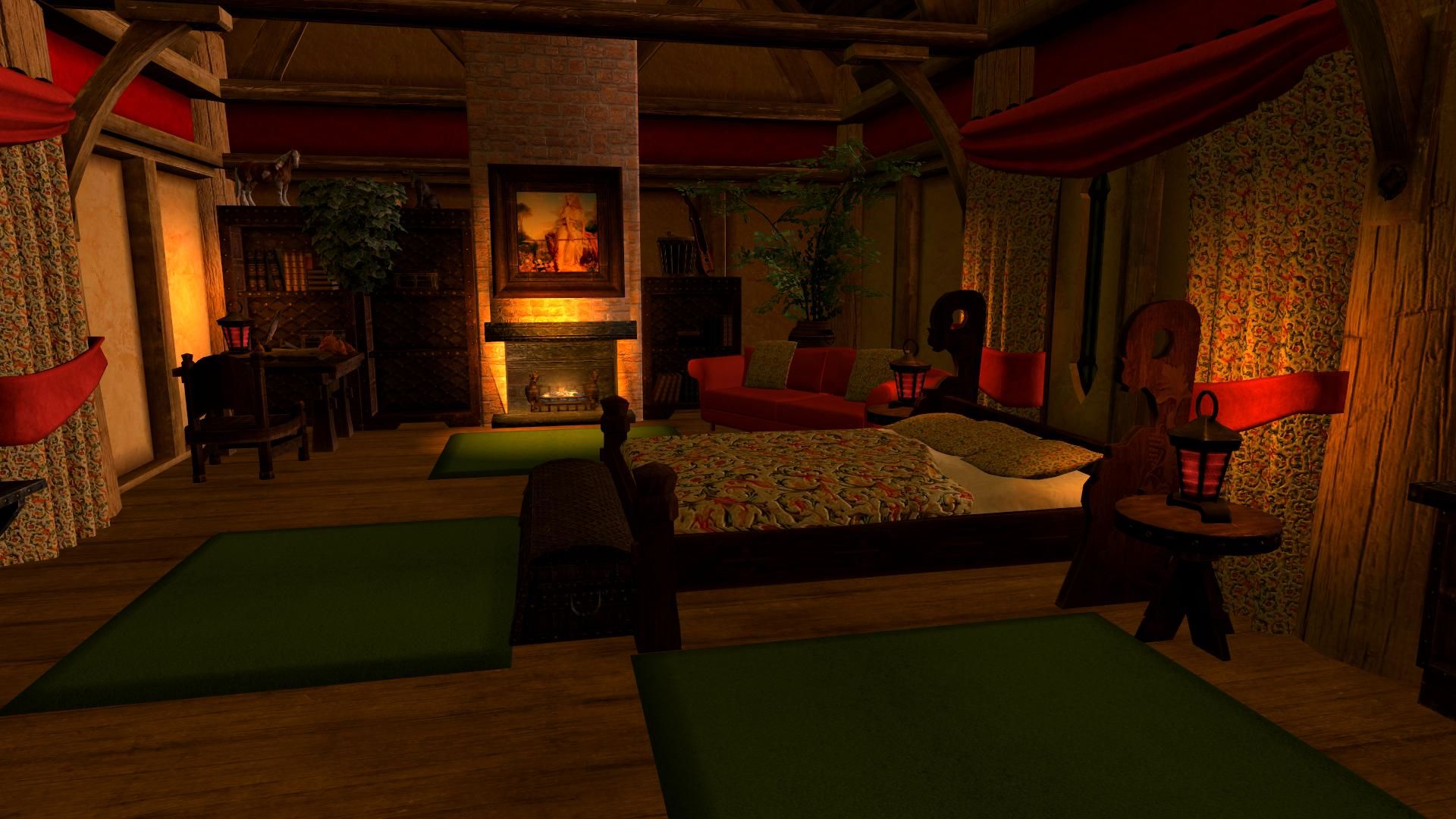 There are masses of bookcases and custom bookshelves to store all the books you have acquired throughout the top floor and also downstairs.
Ladder up to a mezzanine floor with more storage and a door out to a small roof terrace with seating.
All other amenities are downstairs including a lounge; alchemy and enchanting stations with more bookcases, scroll storage, recipe storage and shelves for your spell books; a small armoury with a custom made mask storage shelving unit; kitchen with hearthfire oven, butter churns and custom storage; dining area; toilet; and an indoor pool room with shower, bar and lounging area.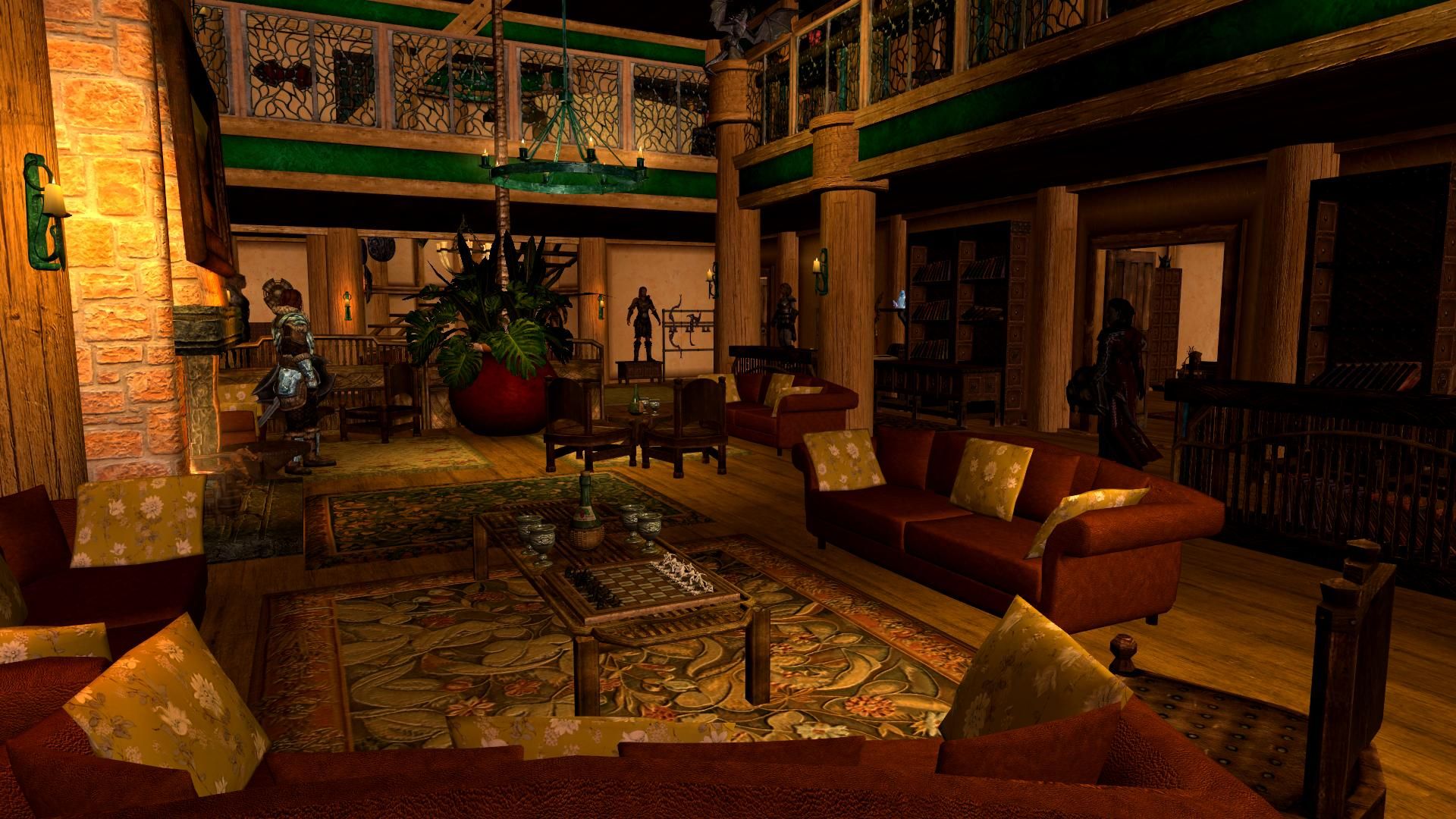 You and your followers can sit on the benches in the pool (get onto the step below the benches to do so), sit on the edge of the pool or on the steps down into the water.
There are two large follower bedrooms each sleeping 6. Depending on the version you are using your followers can undress to sleep.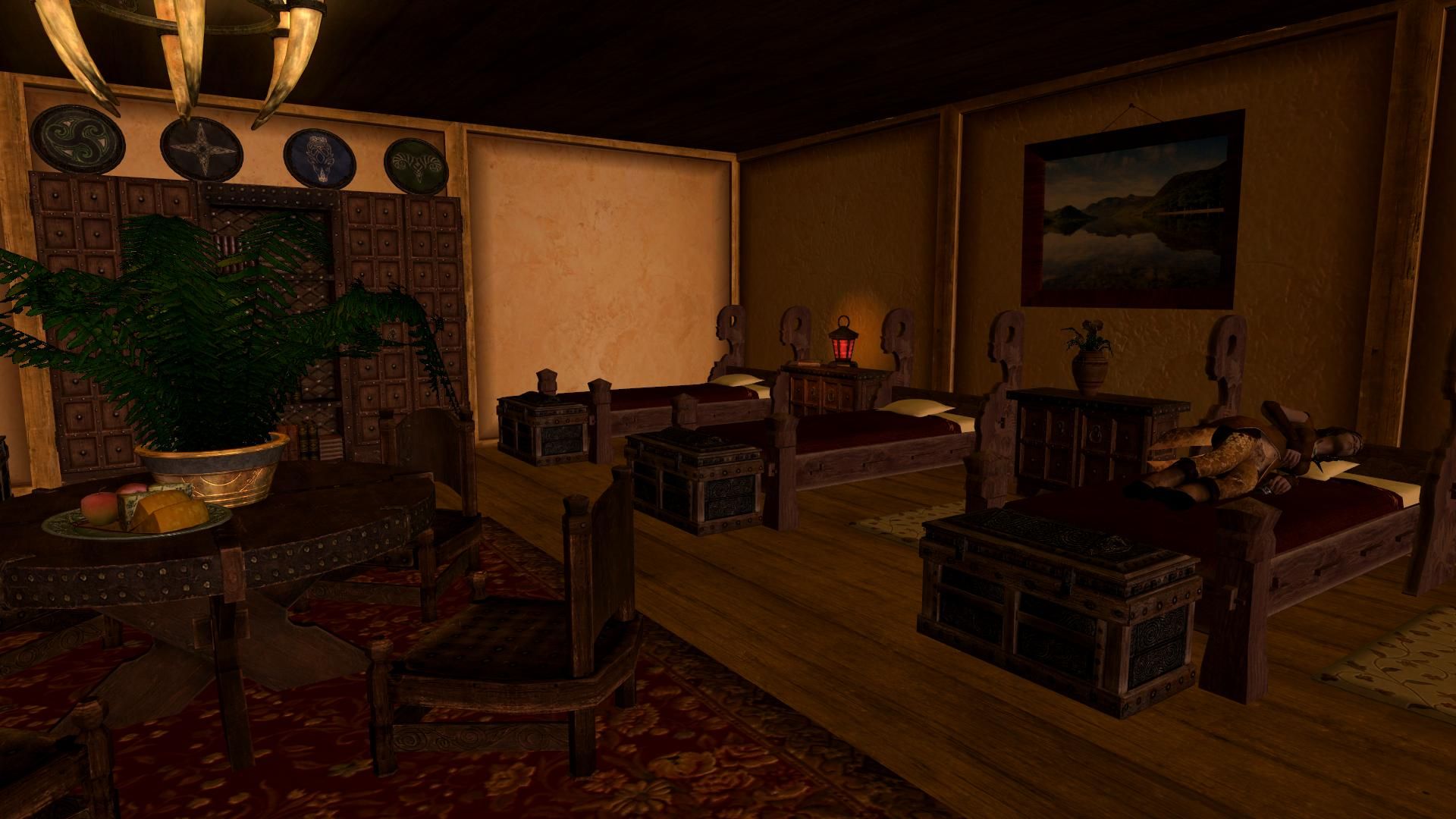 There are 14 mannequins, a lot of weapon racks and storage for armour, display cases and dagger racks, and a place to practise archery.
Pool area will undress your followers and redress them as they leave the room. If you run a nude body mod then your followers will be nude. The children will not undress but will remove their shoes and wooden swords and will get them back when they leave (see known issues).
Outside near the house is the no load door guards quarters with a covered area in between this and the house containing the grain mill and wood chopping. There is a smelter and the ground floor of the guards area has the forge and other crafting needs including plenty of storage. It won't rain on you.
Large outdoor conservatory with hearthfire planting containers and more hearthfire planting mounds just outside.
Bee hives
Stables for your horses.
Two milkable cows, hovver the mouse over them click E and the animation will take over. They produce hearthfire milk and cream daily. As there are only two I made them essential so your milk supply won't run out in case anything attacks them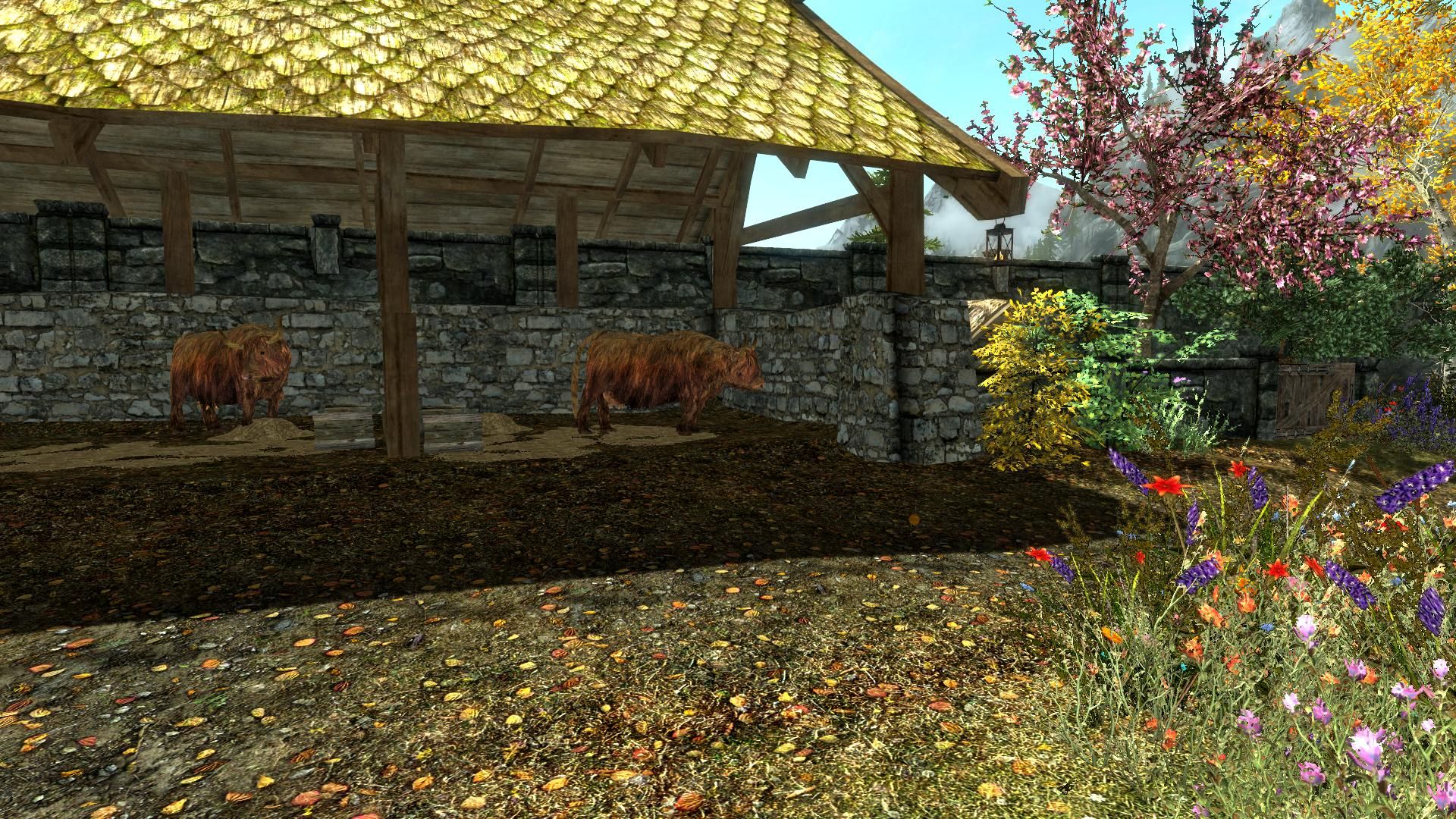 A chicken run with 4 hens.
Well and laundry area.
Outside seating with gorgeous views of the gardens and lake
There is a picnic area down by the lake.
Fish Hatchery on the lake. You may find the tame mudcrabs have been killed by the critters that initially spawn. Consol users can revive them but they will respawn in any case.
Some of the lighting, including the main room central lights and the bedroom central lights are on timers to come on in the day.
Known Issues
The Guards and Shadowmere
The reason they may attack is that Shadowmere is in Dark brotherhood faction. Its a known issue with guards of any type and this horse.Workaround would be to remove Dark Brotherhood faction from Shadowmere. Do the following at a point when the guards are either not there or not hostile.
1) Open console while standing in front of Shadowmere
2) Click on Shadowmere.
3) Type: addfac 1bdb3 -1 
4) Hit enter and exit the console.
Some modded versions of Shadowmere don't have the horse in that faction, those should be fine "out of the box".
If you leave the house for 31 days or more it is possible that your claws may be stuck to the display or vanish altogether (in testing this hasn't happened but it's a known game bug) to reclaim any missing items – for the claws look to the dragon skull above the claw display shelf, hover cursor over it – make sure you are looking at the skull and not the wall or the flames - open the consol (the tilde key to the left of the 1) and type removeallitems player 1. The claws will return to your inventory. With the masks just click on the bust itself and follow the same procedure.
Reported conflict with one of the Dark Brotherhood quests. I can't recreate it myself although I have tried. This quest causes no problems for me. However in case you do get a problem - The quest is "Take the Hidden Treasure" and the reported conflict occurs with the variation called Cancelled Wedding which requires the treasure to be taken from the a tree stump within the grounds of Aspen Manor. If you play this questline and get this particular quest and then get a problem - it would be probably be better to complete it using the consol (its only getting treasure out of a tree stump so not really going to involve much in any case). After receiving the quest open the consol and type in SetStage DBTortureTreasureMiscObjective2 200.
It will conflict with any mod in the same area - this includes the cells it covers (39/-21; 39/-22; 39/-23) and also any cells with shared boundaries (where I have had to connect the navmesh). A mod on a shared boundary cell may run perfectly well but I can't guarantee it.
Please note this is a large mod with a lot of detail which will require a high end machine to run it.
Credits
Tamriel Real Estate modders http://www.skyrimrealestate.com
Umm quite a list, if I have missed anyone out my apologies, let me know and I will correct the list.
Most of the modders listed below are for meshes and textures except where otherwise marked
AARS
Arion
Berticus0001 (milking scripts, house purchase, and endless help and advice)
Bond
Breti
ChickenDownUnder
Clintster (for new housefire oven decals, some other bits and massive amounts of help, advice and tutoring with retextures)
Daemonjax (lighting ball scripts)
Dark Rider
Eraitico
J2547
Insanity
Langley
Lilith
Merilia
MJY
Oaristy's
RIP88 (pool furniture scripts)
Runspect
Stroti
T_F
Tamira
Varlaisaran
WillieSea
You may use anything from this mod provided it was made by me although credit would be nice.
For all other resources please check with the modders concerned (unless it is a modders resource in the first place).
You may not upload this to SteamWorkshop (or to any other site) without my permission or do anything to change the esp and reupload it.
If you want to translate the mod that's fine, but please let me know first.
Manual installation
Place Aspen Manor.esp and Aspen Manor.bsa in your data folder at steam/steamapps/common/skyrim. Check that Aspen Manor is ticked in the launcher.
Manual Uninstallation
Move your spouse, followers and children out of the house and set another house as their home, remove all goods that you want to keep. Remove Aspen Manor.esp and Aspen Manor.bsa from your data folder.