A Beautiful Sofia Visual Replacer OR Siri Custom Follower High Poly and Standard Versions
A Beautiful Sofia Visual Replacer OR Siri Custom Follower High Poly and Standard Versions
File information
Created by
Smaffs
About this mod
An appearance only replacer for Sofia - The Funny Fully Voiced Follower created by John Jarvis and Christine Slagman.
OR adds Siri as a custom standalone Follower to The Bannered mare Inn, Whiterun. Siri is a Spellsword.
High Poly and Standard Versions available for both Sofia and Siri.
Both use your body type and body textures
Requirements

Permissions and credits
Update: Versions 1.1
SIRI - (no changes to Sofia) Tweaks to spells/perks/stats and cleaned .esp - Voice changed to FemaleSultry- Kindly provided by ff7legend

Permission has been given by John Jarvis, the original author of "Sofia - The Funny Fully Voiced Follower" to make this appearance only replacer,
"Yeah that's fine, I have no problem with that. Just post me a link once you upload it."
My personal thanks to John Jarvis and Christine Slagman. I love using Sofia on my playthroughs. 
She always makes it 100% more fun, and it is all down to their hard work. 
Much appreciated and thanks for letting me release this replacer for her.

Want Sofia as a Racemenu Preset instead?:
Sofia A Beautiful High Poly and Standard Racemenu Preset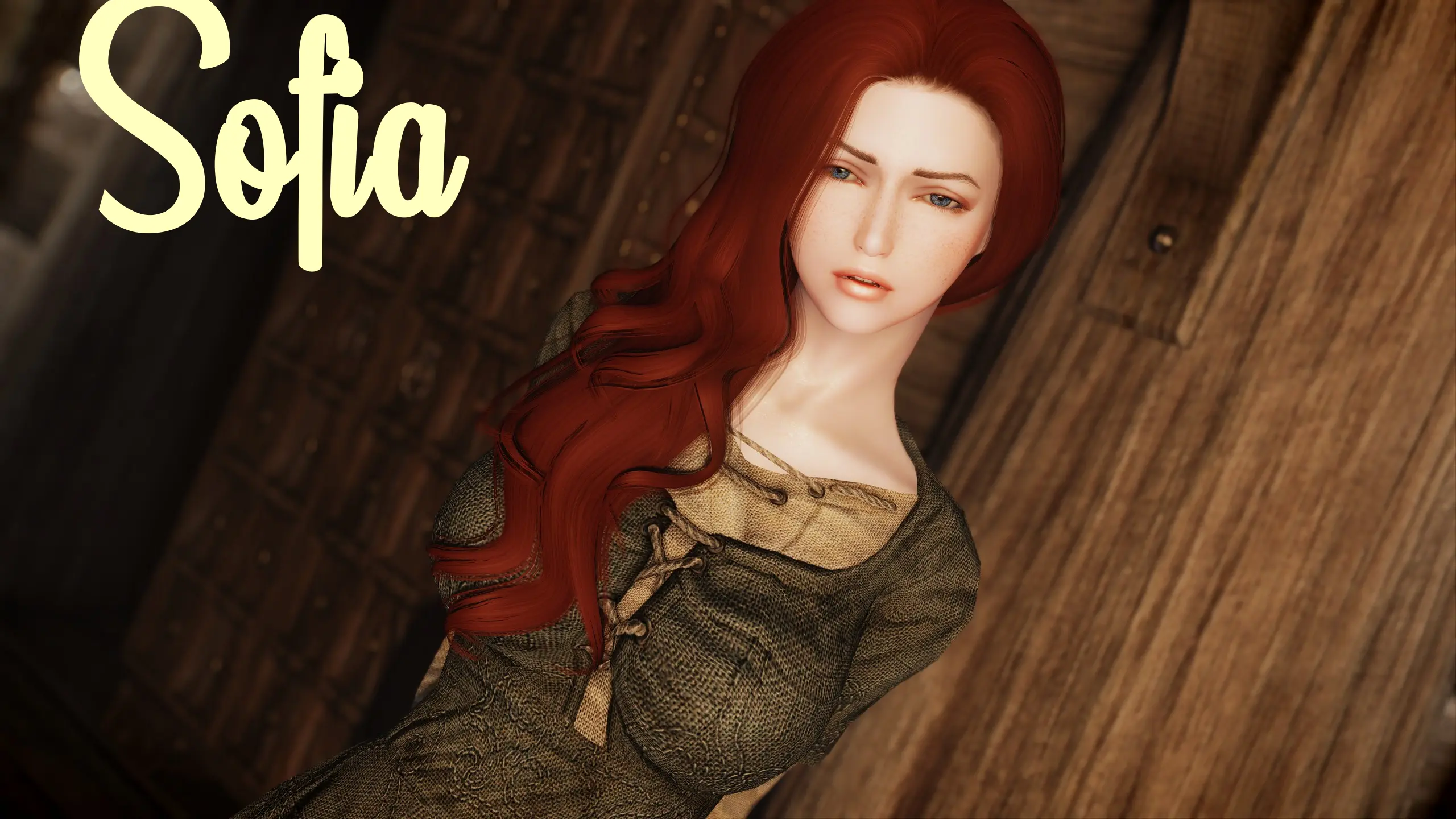 Details
There are 4 main files to choose from:
Sofia Replacer - High Poly Version
Sofia Replacer - Standard Version
Siri Follower - High Poly Version
Siri Follower - Standard Version

Sofia and Siri look identical. 
Both Sofia and Siri use your body meshes and textures, so should be compatible with all the various body types across Nexus.

If you are going to download one of the High Poly Versions, please make sure you have High Poly Heads, by KouLeifoh installed, along with any requirements that mod needs. 

Sofia Replacers
will replace only the appearance of Sofia -The Funny Voiced Follower, by John Jarvis and Christine Slagman. No other changes have been made. These files require the original Sofia -The Funny Voiced Follower installed to work! 

ORUse Siri a Custom Standalone Follower instead. This is independent from Sofia, Sofia original mod NOT required to work.Voicetype: 
FemaleSultry
Race: 
Nord
Bodytype: 
Uses whatever body you are using
Skin Texture: 
Uses whatever skin texture you are using
Weight: 
0.5
Height: 
default
Combat Style:
 Spellsword.
Marriable Armor/Outfit: 
Naked as the day she was born!
You can find her in
The Bannered Mare, Whiterun.
Installation
Recommended Installation
Install via Nexus/Vortex -
Sofia Replacer: When prompted, let this file overwrite Original Sofia Follower.
Make sure it is lower in your load order than sofiafollower.esp. Try to put towards the bottom of your load order where possible.
Manual Installation
IMPORTANT:
 If you are going to manually install Sofia Replacer, please make a backup of original Sofia's FaceGenData files
Back up the following two files:
Data\Meshes\actors\character\FaceGenData\FaceGeom\sofiafollower.esp\000012C4
Data\Textures\actors\character\FaceGenData\FaceTint\sofiafollower.esp\000012C4
To install Manually, unpack, then drag and drop data folder into your Skyrim Special Edition main game folder (where  skyrimSE.exe is)

Consider supporting me by becoming a Patreon:

Remember to Endorse if you like this, and Enjoy!
Check ou
t my other files!