File information
Created by
Relinquish
About this mod
Adds 29 standalone weapons and a shield.
Requirements

Permissions and credits

Translations

Changelogs
More Weapons Please SE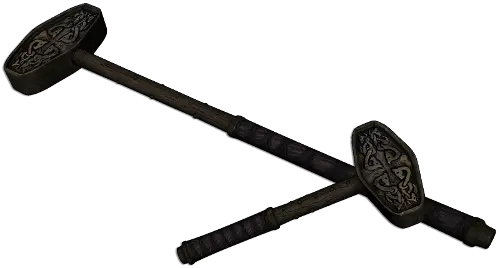 More weapons please adds :- 
4 Daggers
12 One handed Swords
8 Two handed Swords
1 One handed Hammer
1 Two handed Hammer
1 Battle Axe
1 Great Axe
1 Bow 
1 Shield
Description


  All weapons and the shield are
standalone
( no replacements ) and can be forged in the
steel
category. This is so you don't have to be as good as
Eorlund Greymane to be able to forge them. That being said most have more expensive recipes to reflect their level. All weapons and the shield can be tempered.
 This is a port of
Ghosu's weapon pack
, all credit to him for the excellent models and textures!! I have removed some of the content of that pack to try and keep a constant level of quality and balance. 
Scabbard
have been added to most Daggers / Swords / Greatswords  and Axes. All game stats changed for better balance and spread of weapons through the levels. The Weapons have been added to the level lists so npc's will use them to, depending on your level. Plug-in has been through the 64 bit CK and SSEedit for clean and functionality.  
Install
Use NMM.
Really just use NMM 
Compatibility


More Weapons Please is standalone and compatible with
EVERYTHING
.
If you are using another mod that adds weapons to the level lists the .esp lowest in the load order, will be the one added to level lists. To have your cake and eat it make a Bash Patch.   
Version History
1.1 Added Weapons to the level lists. Small changes to some crafting recipes.
1.0 Release to the wild. 
Credit / Permission


All credit to Ghosu for the excellent models and texture. Check out the original mod http://www.nexusmods.com/skyrim/mods/28545/?
Ghosu gives full permission for use on his mod pages.