Beyond Skyrim - Bruma Upscaled Textures (BSBUT)
Beyond Skyrim - Bruma Upscaled Textures (BSBUT)
File information
Created by
kartoffel
Virus scan
Some manually verified files
About this mod
Upscaled and cleaned the textures of clothes, weapons, armor for Beyond Skyrim - Bruma SE. If diffuse is equal or less than 1k I upscale it by 4x. Environmental, Glow, Normal, Specular, Cubemap, Diffuse larger than 1024x1024 are cleaned.
Requirements

Permissions and credits
Will write a better description
later
 maybe. If you look at my profile you can see I upscale a lot of stuff and info, blah, blah.
This:
I upscaled textures of clothing, armor, weapons of Beyond Skyrim - Bruma SE with ESRGAN. I made this for me, but since the mod authors are gracious, I can share this with you. Theoretically, I might do the rest of the expansion, idk. Cleaned Textures of the whole expansion now available, only tga. So you need to assemble. 
Is this a flawless masterpiece?

No, this is something my computer did while I played animal crossing, because computer smart. If an actual texture artist made something at 4x resolution of the original, it would be better than mine. But alas, there isn't, and I am lazy and untalented. Therefore, you get AI textures.
Kartoffel, does this really need to be 4x?
Sure, why not.
Requirements:
Skyrim Special Edition - wow
Beyond Skyrim - Bruma SE
 - as expected
Process:
Extract textures from bsa
All textures:Remove BC1-3 compression with Bc1-smooth2 model.
Diffuse 1024x1024 and under:Upscale 4x with interpolated model Manga109 and WeaponsAndArmor @ 0.8, Alpha channel is box model.
All textures:Compress to BC7.
Modules:
Armor
Clothes
Weapons:This actually includes weapons of the third era, so you can just download this.
All_Cleaned:This is the whole expansion cleaned of artifacts. Only 1x, available as TGA images, so you need to run it through Cathedral Assets Optimizer. Useful as a modder's resource.
Resolution:
4x:Diffuse equal or less than 1024x1024.
1x:Environmental, Glow, Normal, Specular, Cubemap, Diffuse larger than 1024x1024.
If diffuse is larger than 1024x1024, e.g. 2k or 4k, I don't upscale. Just clean like everything else.
4x does not mean 4k. It is the scaling factor.
If original is:
512x512, output is 2048x4096 (2k)
1028x1028 (1k), output is 4096x4096 (4k)
Why are certain things not upscaled?
The quality is improved, but the need to upscale is excessive in my opinion. Quality is improved by removing BC1-BC3 compression. Upscaling something that is already 2k or 4k is pretty pointless and massive. E.g. A 4k resolution, 21MB file upscaled is 16K, 336MB.
Difference of block compression BC1, BC3, and BC7:
In dds texture (the textures skyrim uses), compression via BC1, and BC3 (with alpha), is blocky. Because of this, in original Skyrim, people sometimes leave textures uncompressed. Uncompressed has a big file size. 
With the new block compression, via BC7, it is nearly the same quality as uncompressed, but has the same size as BC1, and BC3. However, this is only supported in Fallout 4 and Skyrim SE.
Bruma Team chose BC1-BC3, probably for compatibility with Skyrim Legendary. So even If I do not upscale, by removing BC1-BC3 artifacts and compressing as BC7, the quality is improved.
TLDR: Even without upscale, there is big difference. NO MORE BLOCKY! @400% zoom, so you can see the difference.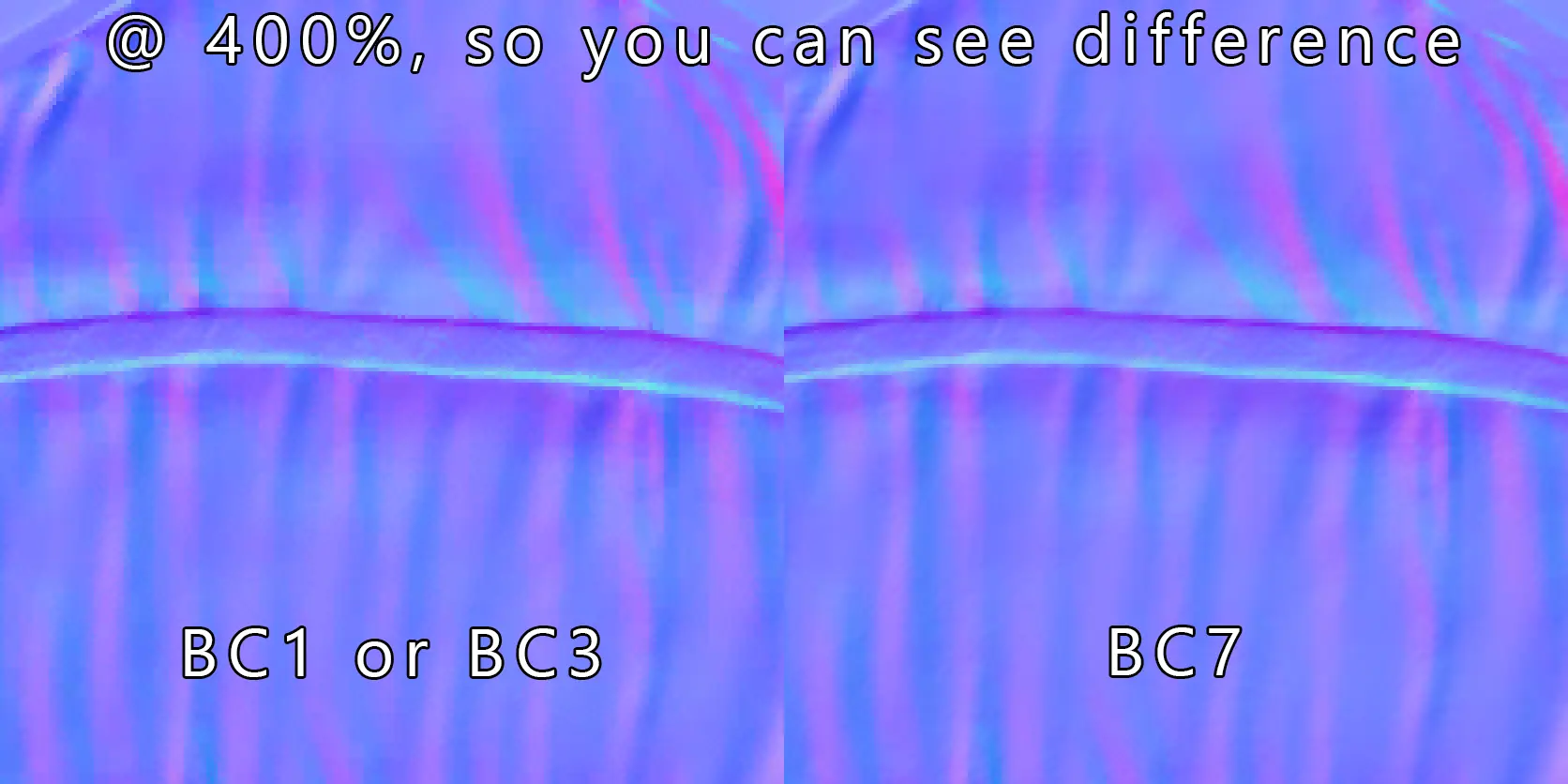 Compatibility:
Cannot use with Skyrim Legendary. See "Difference of block compression" above. If you change this BC7 -> uncompressed or BC1, BC3; then, it will work.
Permissions:
I don't care. Follow rules of Beyond Skyrim team.
Credits:
The Beyond Skyrim - Cyrodiil Development Team;  Beyond Skyrim - Bruma
xinntao; ESRGAN
Honh / ptsruder ; image enhancing utility
Alsa; Models
Game Upscale Discord and Wiki