File information
Created by
Alecu converted and translated by Elmeridyn
About this mod
This is the conversion from the mod "UNP Rogue Armor HD" from "Alecu" in the corrected format for SE and Flagged ESL. (English users).
Conversion du mod "UNP Rogue Armor HD" de "Alecu" dans le format correcte SE et Flagged ESL. (utilisateurs français).
Requirements

Permissions and credits
(English) I don't own this mod. This is a conversion from the original mod "
UNP Rogue Armor HD
" from "
Alecu
" in the correct format for Skyrim Special edition and flagged ESL with the permission of Alecu. Armor for Female only. Go endorse the original mod if you like it. BSA format for more place.  I'm a translator first not a modder, so i can't help you if  you have some problem (but i tested and didn't see problem so all should be fine) The English version respect each words of the originals mods by respect for the original mod. The French translation has an harmonized and more loore friendly translation.

(French) Je ne possède pas ce mod. Ceci est une conversion du mod original "UNP Rogue Armor HD" de "Alecu" dans le format correct pour Skyrim Special edition et flagged ESL avec la permission d'Alecu. Armure pour femme uniquement. Allez endorser le mod original si vous aimez l'armure. Format BSA pour plus de place. Pour la version LE, rendez vous ici. La traduction française du jeu a une traduction harmonisée et plus loore friendly.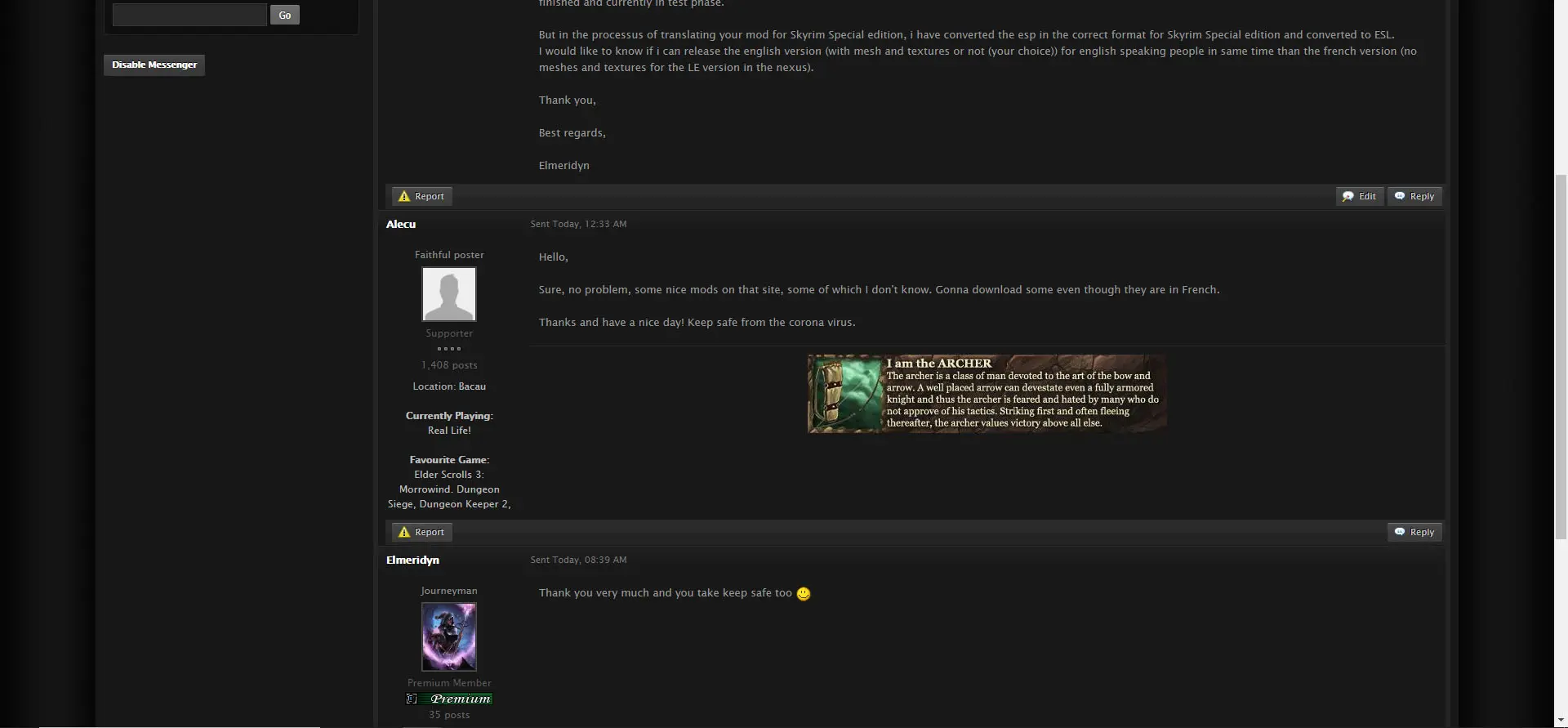 Tk's to Odysseus Gaming (Odysseus1978) for his video. (armor at 5:07)





Original description of the mod from the Skyrim page :
Description
===========
This is a higher quality remake of my Oblivion Rogue Armor  http://www.nexusmods.com/oblivion/mods/38869/?  . It looks pretty cool and realistic compared to other armor. This is by far my best work so far with a nice details and a really stylish look.
Now available for Fallout 4 here: 
Rogue Armor for Fallout 4
How to get
========
The armor can be crafted under the leather category.
Details
=======
This is a remake of my old Rogue Armor for Oblivion. I tried to port my old armor but ended up making a new one.
Compared to the Oblivion one it has a lot more details, better textures and it is better in almost any way.
There are a lot of details that I added into this that makes it really unique. I do not like skimpy armors too much. This one looks a bit sexy but not
over the top.
I was inspired a bit by The Witcher 3 but of course I did not take any assets from the game. All the stuff was made by me.
I also took the effort to improve the hands a bit and make them more slender and feminine.
What can I say more? Well it's up to you guys to figure out everything that I have placed in this armor.
REMINDER!!! The armor despite being separate pieces works well only together or with boots and gloves from others sets
Install
=======
1. Extract the files to a temporary location.
2. Examine the folder structure and make corrections where necessary.
3. Copy files to (install folder)\Skyrim\
4. Start Skyrim Launcher, click 'Data Files', place a checkmark beside the StylishPirate.esp file.
Known Issues or Bugs
====================
The inventory model and ground model are still not done but that won't ruin anything
History
=======
1.01, 2015/11/29 - Fixed enchanting issues
1.0, 2015/11/15 - Final release, fixed minor clipping issues, inventory icon, armor is split into 3 parts, runs a bit faster, can be upgraded.
0.9, 2015/11/6 - Initial beta release.
Cjavascript-event-stripped======
Tesnexus id: Alecu
ElderScrolls forums: Cold Blood
Email: 
[email protected]
Credits
=======
Thanks to Bethesda for creating Skyrim.
Thanks to TESNexus.com for the a one-stop-shop resource for authors and players.
Thanks to LHammonds for the Readme Generator this file was based on.
Thanks to people that created the miracle program that is called Blender.
Thanks to myself for making this :P
Tools Used
==========
Blender - http://www.tesnexus.com/downloads/file.php?id=12248
NIFSkope - http://niftools.sourceforge.net/wiki/NifSkope
Photoshop - http://www.adobe.com/products/photoshop/
Maya NifPlugin - http://niftools.sourceforge.net or http://www.nexusmods.com/skyrim/mods/64190/?
Readme Generator - http://lhammonds.game-host.org/obmm/tools_readme_generator1.asp
Licensing/Legal
===============
You have permission for public mods that can be found and downloaded by anyone or for strictly private use limited to yourself.
Under no circumstances do I agree with any parts of my mods being used for private releases or limited releases.
I don't want to be responsible, even indirectly, for other people wasting hours at a time, desperately searching
for a mod that might not even exist on the internet.