File information
Created by
SavrenX
I will continue update this thread to add more weapons. No need make new post.
Everytime i put my daedric weapons on rack, i keep wondering what so special about this weapons anyway. They look like ordinary one. I know many retextures A-Z  out there but i need more than just HD retextures or similar like that. I want special one for special weapons.
Come on...we finished quest from Winterhold only to get Sh*t of magnus. At least give me lux one not just poor wood stick with ball. 
-------------------------------------------------------------------------------------------------------------------------------------------------------
For now i provide ( i will update this list ) :
- Golden staff of Magnus
- Silver Rueful Axe
- Black shine Volendrung
- Black Chrome Molag Mace ( Terminator style )- Romantic Sanguine Rose- Funky Skull of Corruption- Auriel's Bow Silver Gold
This is special one. I made this bow with Shiny silver gold color but...bit mossy and more detail. You can see Steel pores, Dust on gold, moss on some part...Crack on bow...even rope string. I like Auriel's bow but i need more than beautiful. I want to feel this bow like real Beautiful Ancient bow. See the details in gallery. 
- Detailed Stainless Wabbajack
It's not easy make this stuff but i want it since long time ago. Now Wabbajack looks like powerful staff. We can use it to hit someone too.
- Antique Black Gold Ebony Blade
This blade seam texture become serious issue but i managed to hide it 70 percent with textures. I can say this sword almost seamless and we can ignore that issue now. I like this blade as antique black and gold but not too shiny. Some red spot around the blade too like blood of betrayal XD.
- Bloodied Harkon Sword
Katana actually very good sword and my favorite but harkon sword from vanilla so boring and dull. I need more special characteristic for vampire sword because this sword love blood. Mixed with golden color and blood, this sword now my favorite.
- Silver Elegant Mehrunes Razor
I add extra logo to blade part and change center color to white. Elegant and sweet but deadly. This dagger now very detail too.
- Bloodied Blade of Woe
This blade belong to leader of DB.This time i prefer sadistic looking blade than gold. I tried enhance the material as close as possible to real steel. Not just smooth or shiny. Blood look more wet too not just red paint.
- Miraak Weaponry
Miraak's weapons maybe the worst of them all about quality. Especially his staff. Enhance his weapons not easy but somehow i don't like junk quality in my game. Now his weapons become more organic and wet like true tentacles XD. Tentacles enhanced too.
- Red Black Bloodskal Blade
.
-------------------------------------------------------------------------------------------------------------------------------------------------------
This way, i can use my rack better and take better screenshoots. All textures remastered from original textures and enhanced ( including add more scratch, more depth, ect ) like usual editing. Don't worry, all textures not rescaled with poor famous bicubic. I use my own template learning Ai because i like make high quality screenshoots. I made some custom masking map for environment  too.
This my Remaster sample from Vanilla to new HD Base ( not finish ). Just upscale not enough. We must add extra detail and clean the textures too..bla bla bla. Well, whatever i do in my process actually not important....we only need result.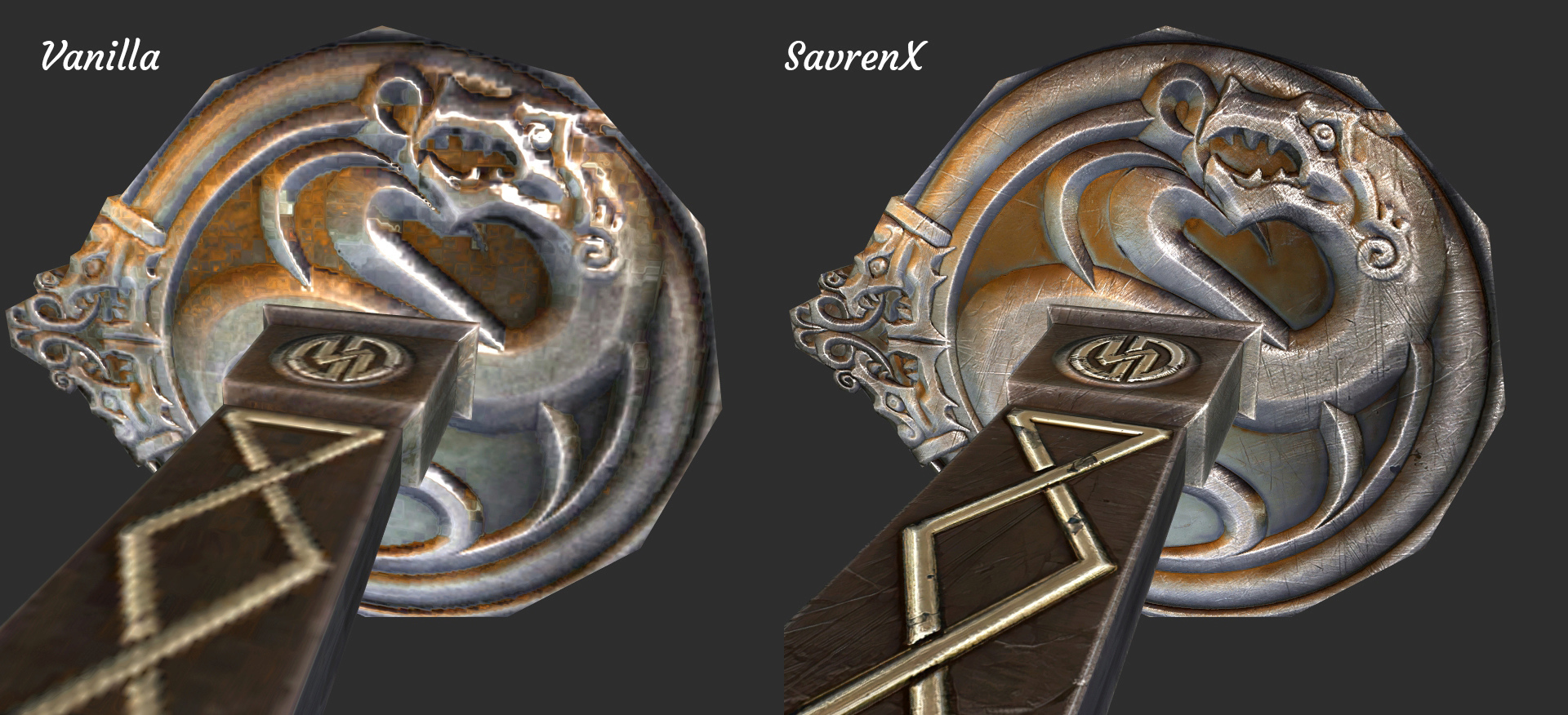 I put rest of screenshoots in gallery as usual. I hope you can enjoy this new looks. If you fans of rustic one, i'm sure many retextures out there with your taste too. 
This mod contain Adjusted MESHES too. Do not replace it or you will get dull weapons.
DO NOT HESITATE GIVE INSPIRATION ON COMMENT SECTION because inspiration always precious.
Credit to
Bethesda
and 
HD CUBEMAPS :
https://www.nexusmods.com/skyrim/mods/95466