Kill The Orchestra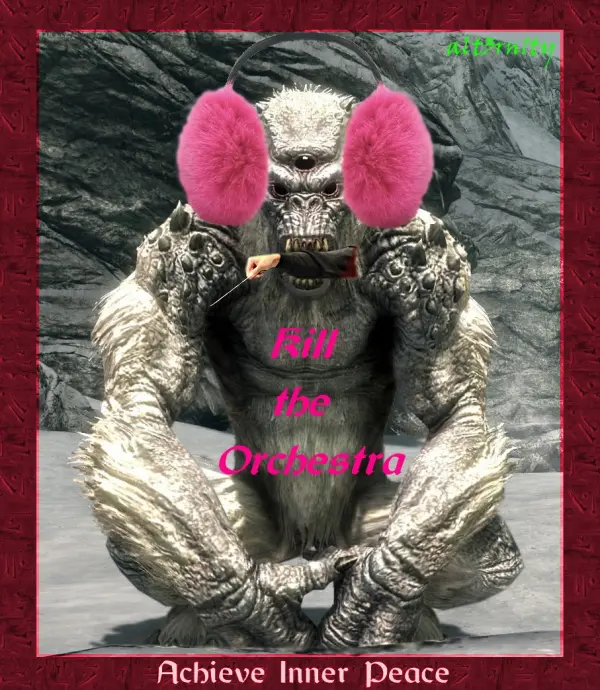 by Alt3rn1ty


Note : This mod can now be considered final, there is nothing needs doing or updating, objectives achieved.
This mod is also available for Skyrim Original ..
Kill The Orchestra
=====Description=====
This mod installs silent music files which the game will load instead of the original music, disabling the music.
You choose which music to disable by type ( personally I prefer to disable everything except Discover Special locations, Reward music, Tavern music, and the two Special music options for the DLCs )
Resulting in no invisible orchestra throughout the game.
You could just turn the music volume down in settings ..
But then you dont get to hear Tavern music for example
( because the music volume turns down all music )
With this mod you selectively silence music by type.
Also you will not get any hints from the music of any danger ( explore music changing to combat music - you cant hear it ), immersively its a better experience. Now you will be a bit more cautious.
You will get to hear more of the games sound effects and ambient sounds a bit more clearly around the game too. Including other mods sound fx such as ..
Audio Overhaul for Skyrim SE
.
(Technically superb, fixes a lot of sound issues nothing else fixes, sound files produced with studio equipment, and its done so well you will come to think of all the sounds as vanilla game sounds = Highly recommended overhaul which Kill The Orchestra is entirely compatible with, they do not conflict in any way.)
For anyone who has the repeating combat music bug, that is a game engine bug which nobody has been able to fix, the same bug was also in Oblivion, FO3, and FONV before Skyrim. The Unofficial patch team are unable to solve that problem soo .. Just kill it with this mod :)
And .. Just maybe .. Trolls might not be so bad tempered if they dont have to wear pink ear muffs to go to sleep in case you wander past with your stupid invisible orchestra keeping everyone awake. Disclaimer : I cannot be held responsible for Trolls jumping up and down wildly gesticulating after you have installed the mod, you may have upset them all too much already.
====INSTALLATION====
In all cases - Install the music types you wish to be silenced
( This may sound weird, but remember you are installing silent music files )
Manual Installation :
Mod Managers - Automated Install :
====UNINSTALLATION====
====TWEAK TIPS - For users of KTO====
====TOOLS USED====
====COMPATIBILITY====
Enjoy.
I will only be uploading any of my mods to the following sites : Nexus, TheAssimilationLab and AFKMods. All other sites including GMOD or ModDrop ( and users thereof ) DO NOT have permission, to upload or redistribute any of my files, images or descriptive content, past, present or future.