BTS - Beautifully Textured Skyrim ReShade Preset
BTS - Beautifully Textured Skyrim ReShade Preset
File information
Created by
godescalcus
About this mod
The aim of this preset is simple: to boost texture detail, while preserving Skyrim Special Edition's original colours and lighting - or those of whichever mods you're running.
Requirements

Permissions and credits

Changelogs
Introduction:
As a long term enb user, but on a heavily modded setup, at one point I had to accept that my hardware struggled to keep performance at a minimum for gameplay with just about any enb preset (to give an idea, that was on my ageing GTX 980, i7 6700K with 32Gb of RAM at 1063MHz and SSE running on a 960 EVO m.2). Enbs with all the juice, including SSAO and DoF, water, complex particle lights, etc... would usually bring me down to the low 30's, and too often dip even lower. So I took to finding alternatives that allowed me to enhance my visuals with minimal performance cost.
Now I can play on better hardware, and I'll often use enb, but I often still miss the look and feel of the original game or weather mod, so I come back to this ReShade for that particular reason - it was built to enhance the game's visuals, not change them, after much experimentation and testing of various other presets in actual gameplay, when I felt that I needed to create something specific to my very simple goals:
i. to sharpen the image and bring out as much texture detail as possible;
ii. to preserve colours and other game visuals;
iii. to have the lowest impact on performance possible, while doing the above;
There really isn't much to add at this point. If you like how your game looks, be it vanilla or after adding the lighting, weather, models and texture mods of your choice, either of these presets may well give you a noticeable enhancement, with next to zero performance cost. It will sharpen the image and bring out all the fine details in every texture - especially if your're mainly using 2k or higher resolution textures. Be it your silverware, furniture, dwemer metal, stone walls and floors, wooden beams, character skin, ground, ice, snow, tree bark or foliage - everything will be full of rich detail.
Thanks for downloading, endorse if you like, cheers and criticism are both welcome.
Classic version:
Sharpening was not exaggerated so as to not create "artificial noise", but simply allow the original detail of your textures to shine through Skyrim's somewhat blurry rendering. This is the main purpose of this preset and is achieved with the Lumasharpen and Finesharp shaders.
Then I wanted to try a very subtle enhancement of colour and contrast that highlighted the original look and feel, instead of replacing it with something completely new. It's neither fantasy nor realism - it's what your mods (or vanilla game) make of your game. Vibrance will very slightly enhance colours, Levels only so slightly enhance shadows - for I found that any type of AO through Reshade would inevitably create weird artifacts in certain scenes.
New (late) 2021 version:
A long due update, since the Pirate shaders from the 2020 version can't be downloaded with the main installer anymore. Based on qUINT shaders, I added a bit of bloom, mostly to enhance bright point lights (candles, etc) and "dynamic lighting" - a subtle eye adaptation effect from BloomingHDR that I find very preasant for gameplay. It's indeed subtle, so don't expect to not need to carry a torch anymore - but it allowed me to darken blacks and shadows a it so as to create a more interesting atmosphere, especially in interiors. The sharpening shader isn't essential for the intended look - especially if your game settings already give you an image that's crisp enough for you. Turn it off in the GUI menu if you don't need more sharpening, it won't affect anything else. McFly's DOF and AO shaders are included and configured, but I have them off by default as both effects will interfere with the interface - a ReShade limitation, no way around it! But tick them if you like, they will add a bit of flair to your screenshots!
Both versions have very low impact on performance (less than 1 fps on a GTX 1080ti). Choose the one that suits you - you can download and install both, and swap them in ReShade's GUI menu.
Tip: you can cycle through your presets at any moment in the game, without loading the menu or pausing, if you define your ReShade cycle hotkeys in the GUI. Also set up a toggle hotkey if you want to be able to easily toggle the effect on/off.
Installation:

Remove any ReShade or ENB files previously present in your game folder. A tool like ENB and ReShade Manager (linked below) makes the process as easy as one click.
download the latest version of ReShade
run the executable and point it to your SkyrimSE.exe
during installation, when asked to select effect packages, tick only: qUINT by Marty McFly; AstrayFX by BlueSkyDefender; Legacy Standard Effects (Standard Effects will always be pre-selected by the installer and can't be de-selected.
you can tick all shaders if you want to experiment, or just choose the following shaders: from from qUINT, choose qUINTbloom, qUINTdof, qUINTlightroom, qUINTmxao, qUINTsharp; from AstrayFX, choose BloomingHDR; from from "Legacy standard effects", choose Finesharp, Levels, LumaSharpen and Vibrance.
download either or both presets from this page and extract the .ini file(s) to your game folder (where Skyrim.exe is located)
run Skyrim Special Edition and, when the main menu loads, click the 'Home' key to call the ReShade GUI menu
from the 'Home' tab, choose 'BTS ReShade classic.ini' or 'BTS ReShade 2020.ini' in the drop-down menu at the top
click the 'Home' key again to close the GUI - you're all set and good to go.
Uninstallation:

Delete BTS ReShade.ini (or any of the other BTS ReShade inis), dxgi.dll, dxgi.log and the reshade-shaders folder from the game folder.

Recommended tweaks:

if you're coming from enb looking for a less perfornance-taxing enhancement, and want to use Skyrim Special Edition's native Ambient Occlusion, set bSAOEnable=1 in SkyrimPrefs.ini, under [Display] - I personally dislike it.
set your preferred method for game anti-aliasing: I prefer FXAA so I set bFXAAEnabled=1 in SkyrimPrefs.ini, also under [Display], but you can use TAA if you like, in which case you'd set bUseTAA=1 (and probably, bFXAAEnabled=0 although you can use both)
I find that Skyrim's bloom is a little too aggressive, crushing very brightly lit snow and many lighting and magic effects, but I still like to have some bloom so I tweak the threshold a little by setting fGlobalBloomThresholdBoost=5.0000 in Skyrim.ini, again under [display]
if you don't like SSE's anamophic lens flares (horizontal flares seen in many light sources) set bIBLFEnable=0 under [display] in skyrimprefs.ini
Recommended tools:

Compatibility witn ENB:
ReShade and ENB can be used together. If your favourite ENB handles things like colours and lighting well, but you feel the textures are too soft, you can add either of these presets to sharpen things up. Toggle the shaders that you don't need off in the ReShade GUI (things like bloom, AO, DOF or eye adaptation are better handled by enb) and your performance hit will be next to nothing on top of the ENB. But first, be sure to check enb's own GUI for many of the modern presets for SSE include things like Lightroom, or equivalent. On the other hand, I find that ReShade sharpening is more effective than enb's if you feel like your image is blurry.
Needless to say, if you use this with an ENB, you don't remove any enb files from your game folder. Just make sure there are no other ReShade files in there before installing this (check Uninstallation above for the files and folders to remove).
Screenshots:
Enhanced texture detail and original game feel (here, featuring Obsidian Weathers and Seasons and BTS Classic):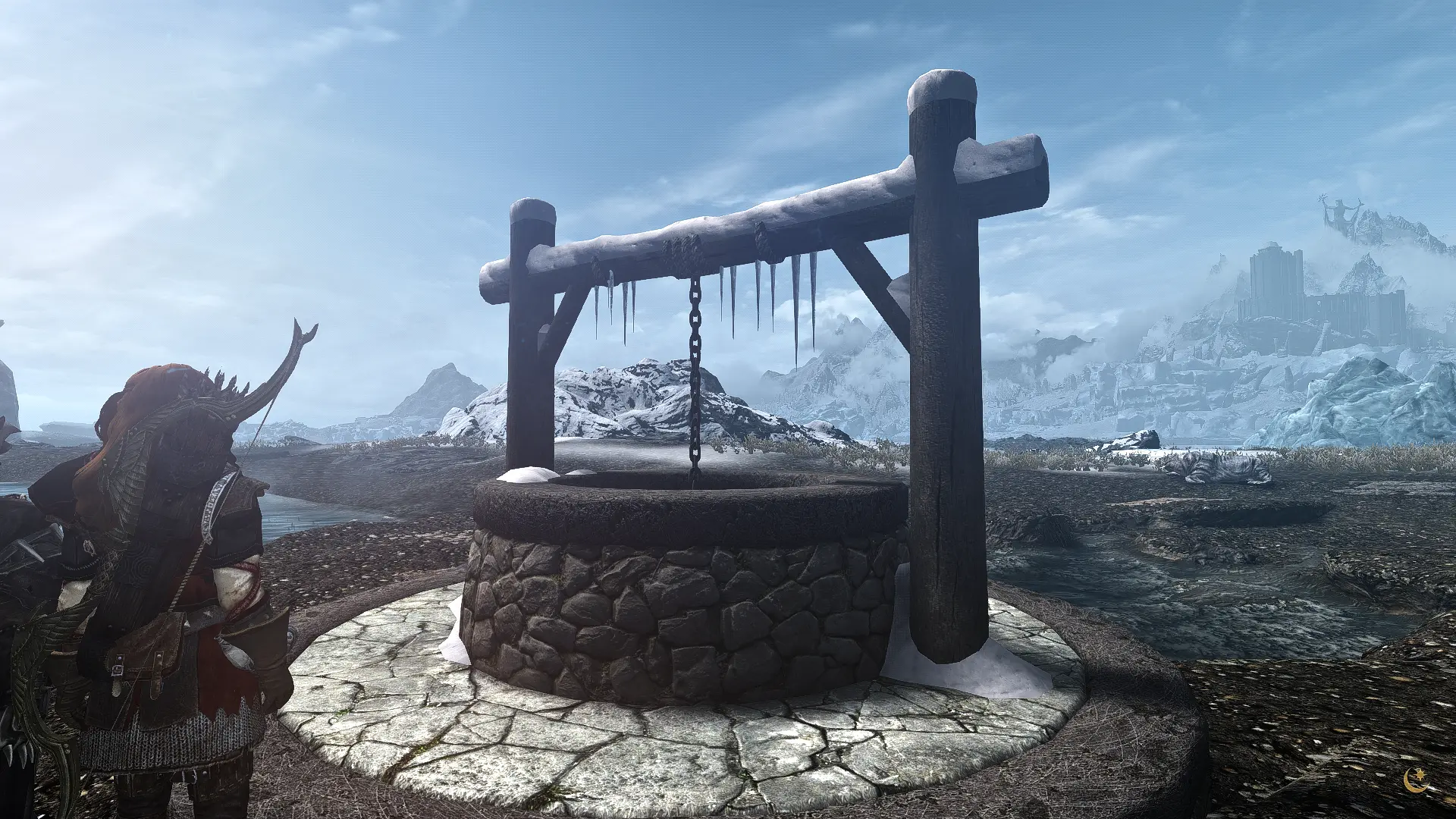 Abuse of colour correction will easily lead to colour-biased or very noisy images. I tried to preserve a full colour range rather than imposing a colour signature: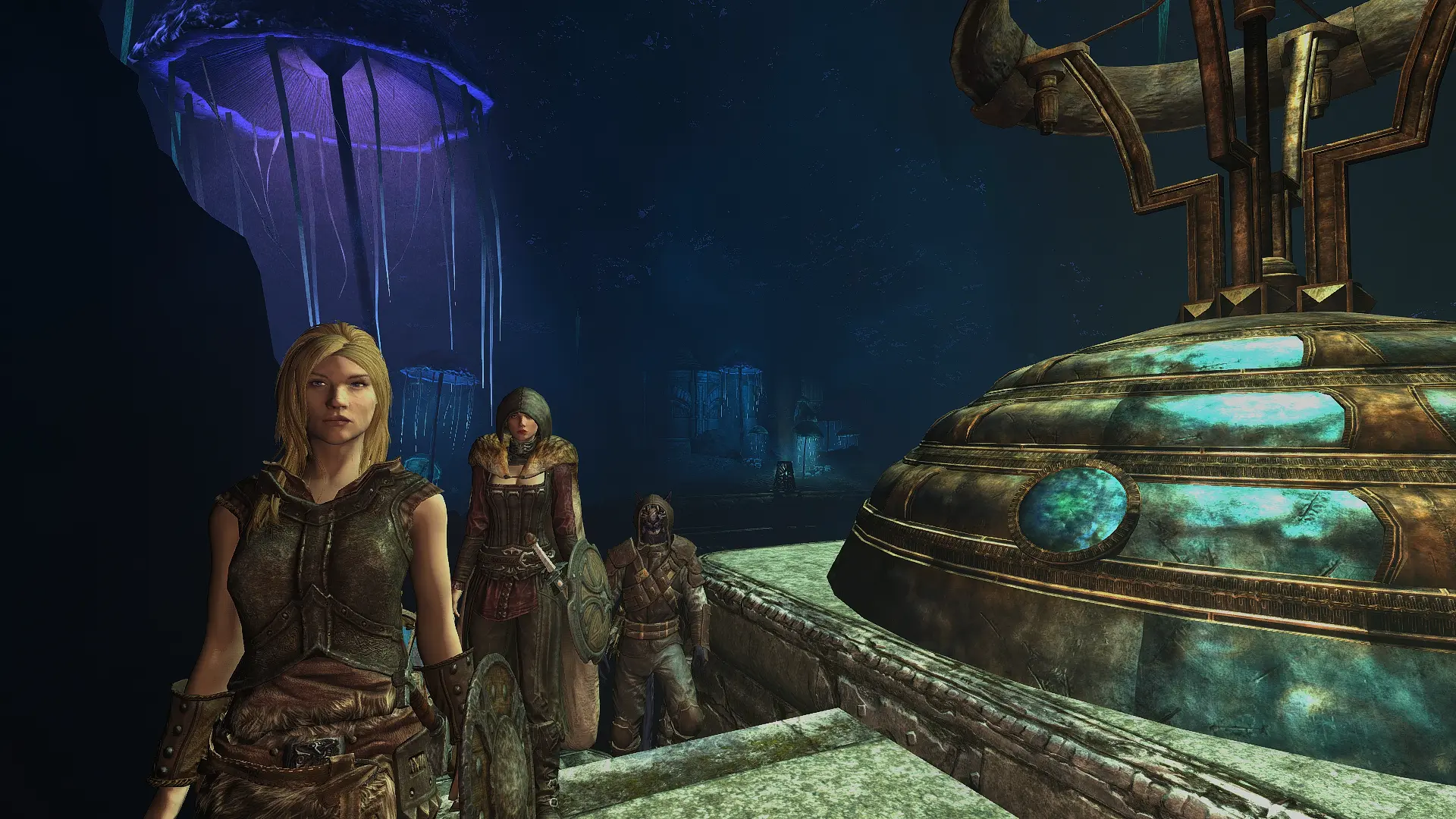 Early morning on a clear day, with Obsidian Weathers and Seasons:
Snowy weather: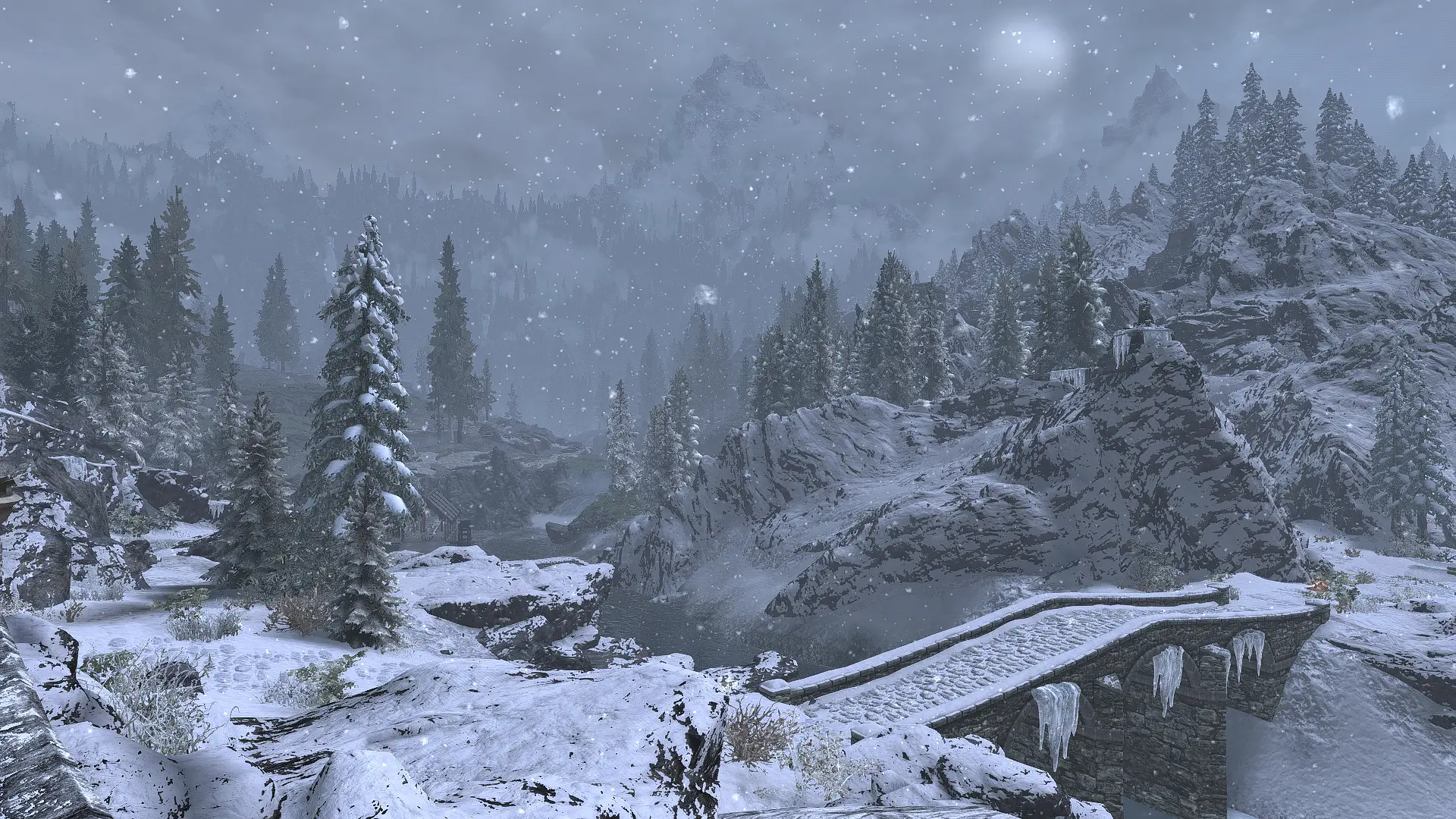 Night time: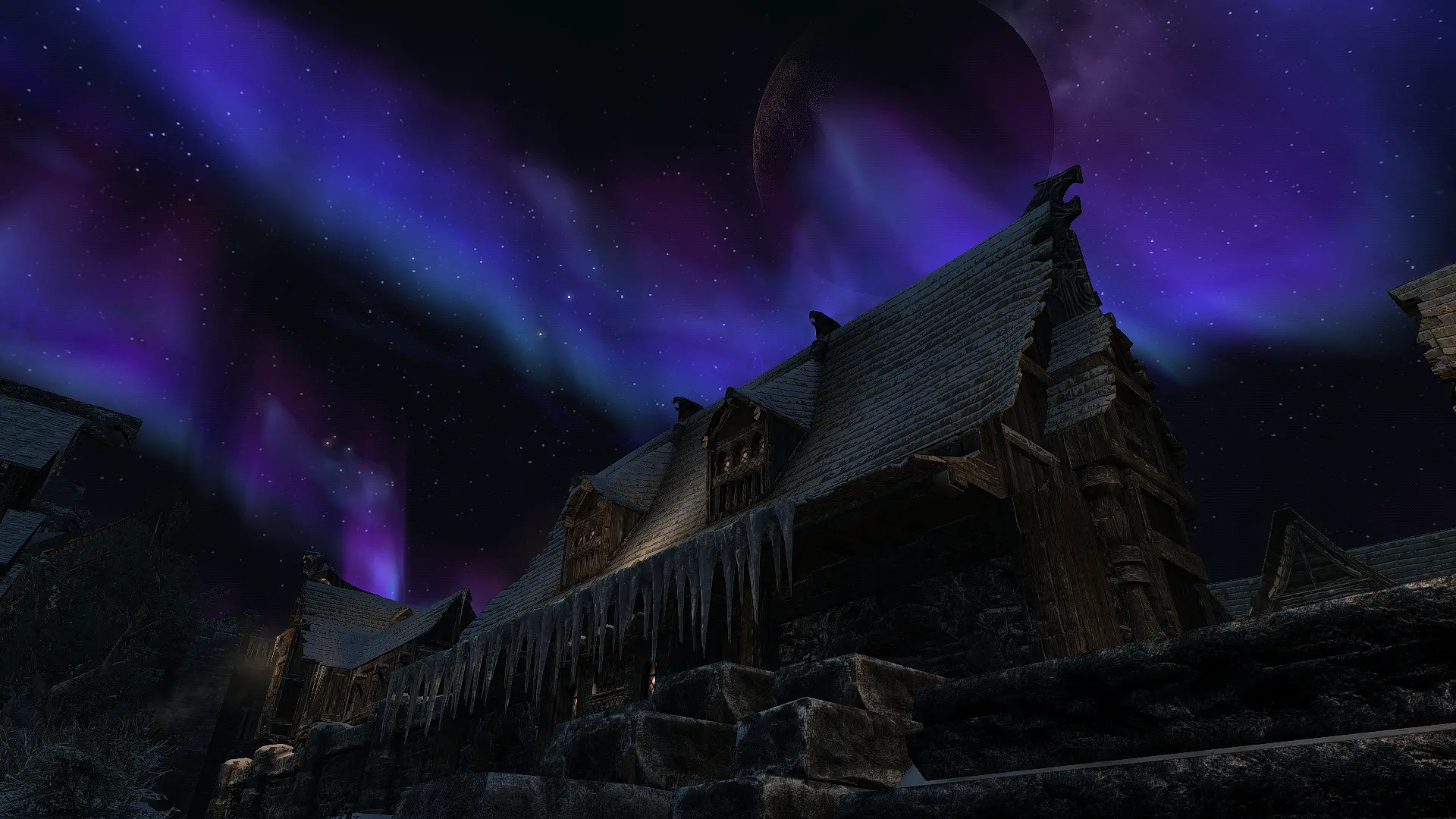 Interiors and character rendering: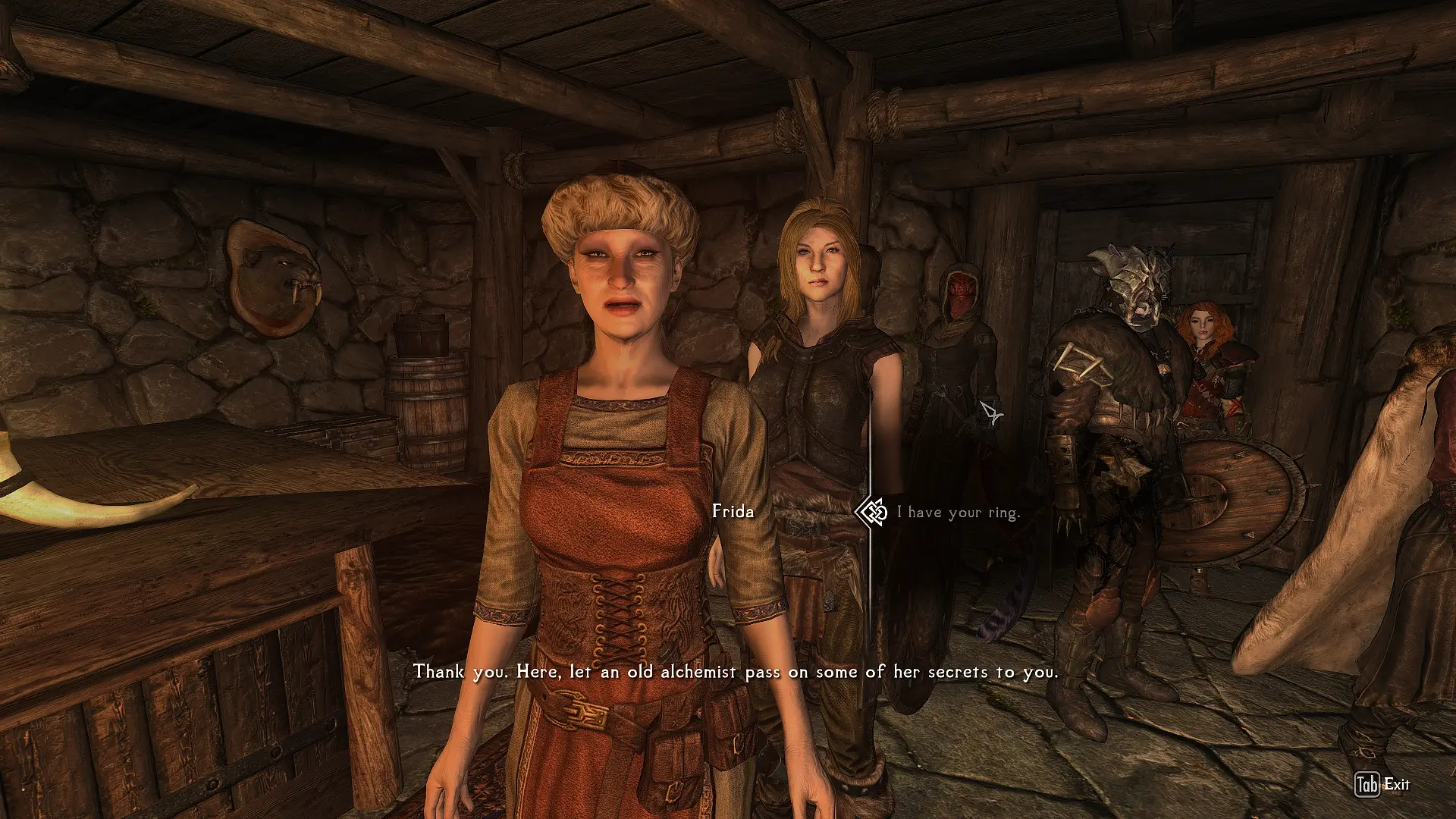 More screenshots in the gallery.
Screenshot credits:
These screenshots feature a heavily modified Skyrim Special Edition. It would be too extensive to list all of the (700+, see below) mods I'm running, but I'll try to name some that I judged to be the most prominent in these pictures. If you're a mod author, whose mod is featured but not mentioned, and you wish me to add it to this list, or if a mod is incorrectly credited, please contact me.
Weather mods:
Obsidian Weathers and Seasons
by Dr Mega Arindel
True Storms
by fadingsignal
Obsidian Weathers - True Storms Merged Compatibility SSE
by Desmera
Lighting (interior and exterior):
Enhanced Lights and FX
by anamorfus
Enhanced Lighting for ENB
by --JawZ--
Relighting Skyrim
 by --JawZ-- and NovakDalton (using a modified version "tailored for ELFX" by neovalen)
Claralux SE - Controllable Lights Everywhere
by MyGoodEye and Scythe42
Texture overhauls:
Noble Skyrim Mod HD - 2K
by Shutt3r
Landscape Overhaul HD
by luxor8071
Windhelm HD
 luxor8071
MystiriousDawn's HD Skyrim Overhaul
 by MystiriousDawn
HQ Solitude
 by MystiriousDawn
Flora:
Skyrim Flora Overhaul SE
by vurt
Enhanced Vanilla Trees
 by SomeRandomGuy83-TechAngel85-Scythe42
Outfits
:
Rustic Clothing
by Gamwich
Immersive Armours SE
by hothtrooper44
aMidianBorn Book of Silence
by CaBaL
Assorted mods (featured):

Legacy of The Dragonborn SSE
by icecreamassassin
Interesting NPCs
 by Kris Takahashi
Interesting NPCs overhaul
 by CyborgArmGun
Oblivion Artifact Pack SE
 by Watcherzero
Deadly Dragons
by 3JIou and Redshift and I2edShift
Distant terrain and LOD:
xLODGen
by Sheson, Zilav and the xEdit team
DynDOLOD
by Sheson