Will you arrive in time to rescue the warriors from the Pit Arena (Windhelm) of the monsters they are fighting ?
Arriverez-vous à temps pour sauver les guerriers de l' Arène de la Fosse (Vendeaume) des monstres qu'ils combattent ?
Restores by modifying it a bit (
but no new scripts
), the
content cut
in the final version of
Skyrim: Windhelm Arena
, with its Pit and its 6 NPCs fully voiced (Benkum, Brond, Edorfin, Huki, Liesl, Fellow Prisoner), and also the 12 Pit Fans.
This mod does not add the actual
arena quest
content back in.
This mod use two interesting unused assets, one for the exterior of the Windhelm Pit, and an alternate version of the 'prison' asset that you can find in the vanilla game. The cut version which would have lead to the arena is much better looking.
You only have to choose the monster to face !
(
One Monster = One Mod
)
Warning: you can download all these mods "Monsters of the Pit Arena", but you must check only one ... otherwise the arena will be invaded by a crowd of monsters !

Attention: vous pouvez télécharger tous ces mods "Monsters of the Pit Arena", mais vous ne devez en cocher qu'un seul ... sinon l'arène va être envahie par une foule de monstres !

Chapter One: Ogrim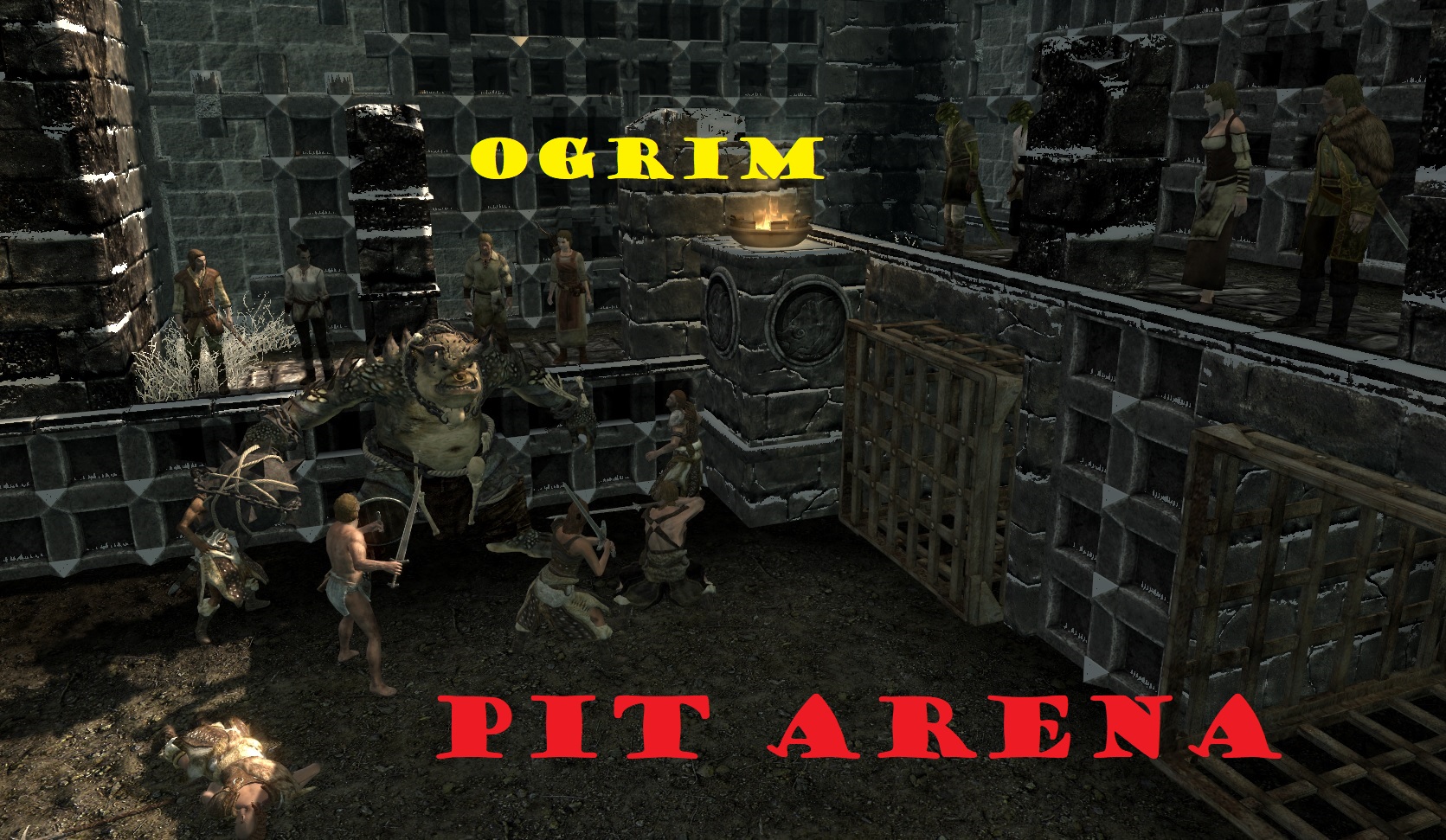 Chapter Two: Abyss Gazer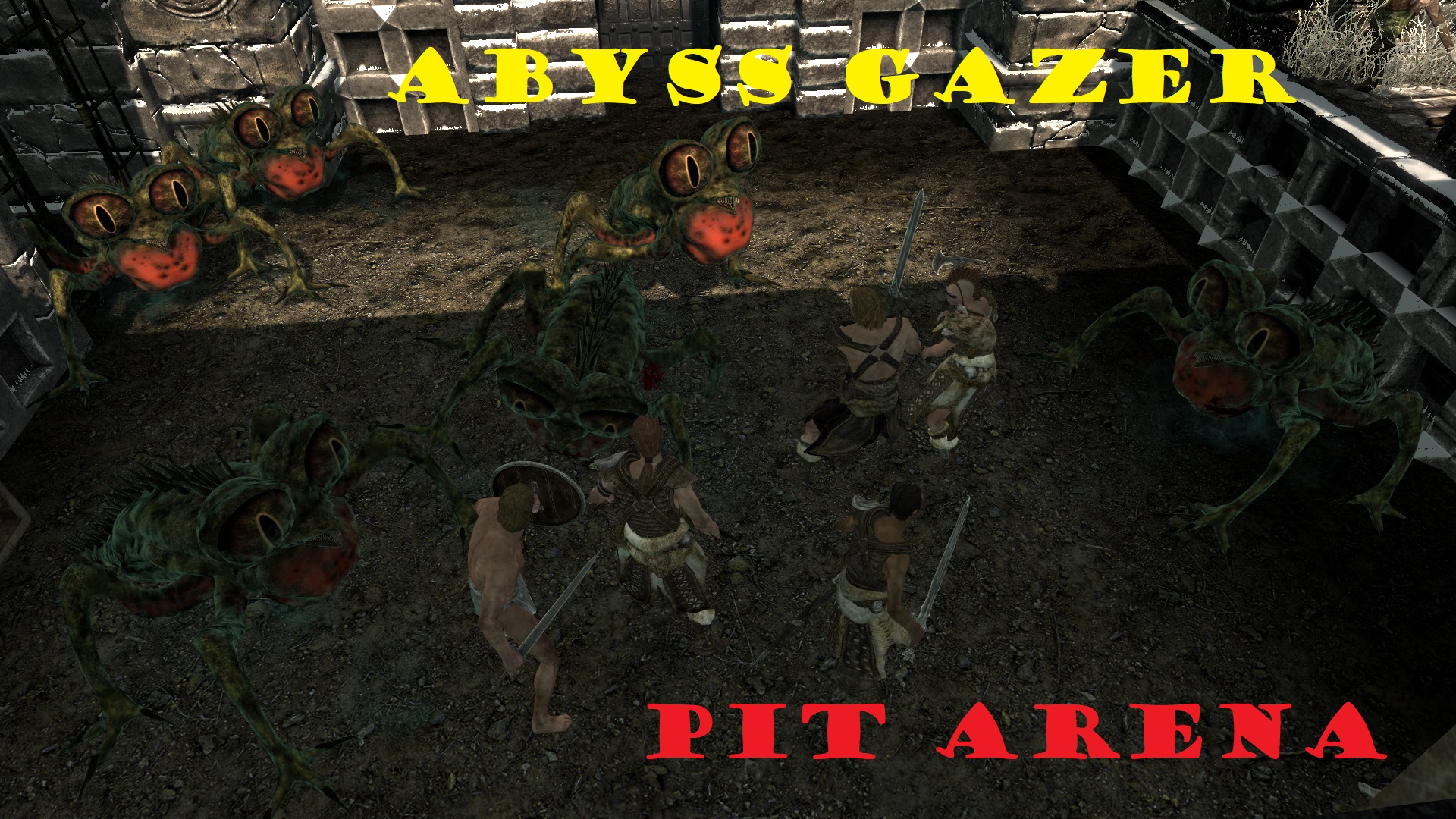 Chapter Three: Old God of the Hunt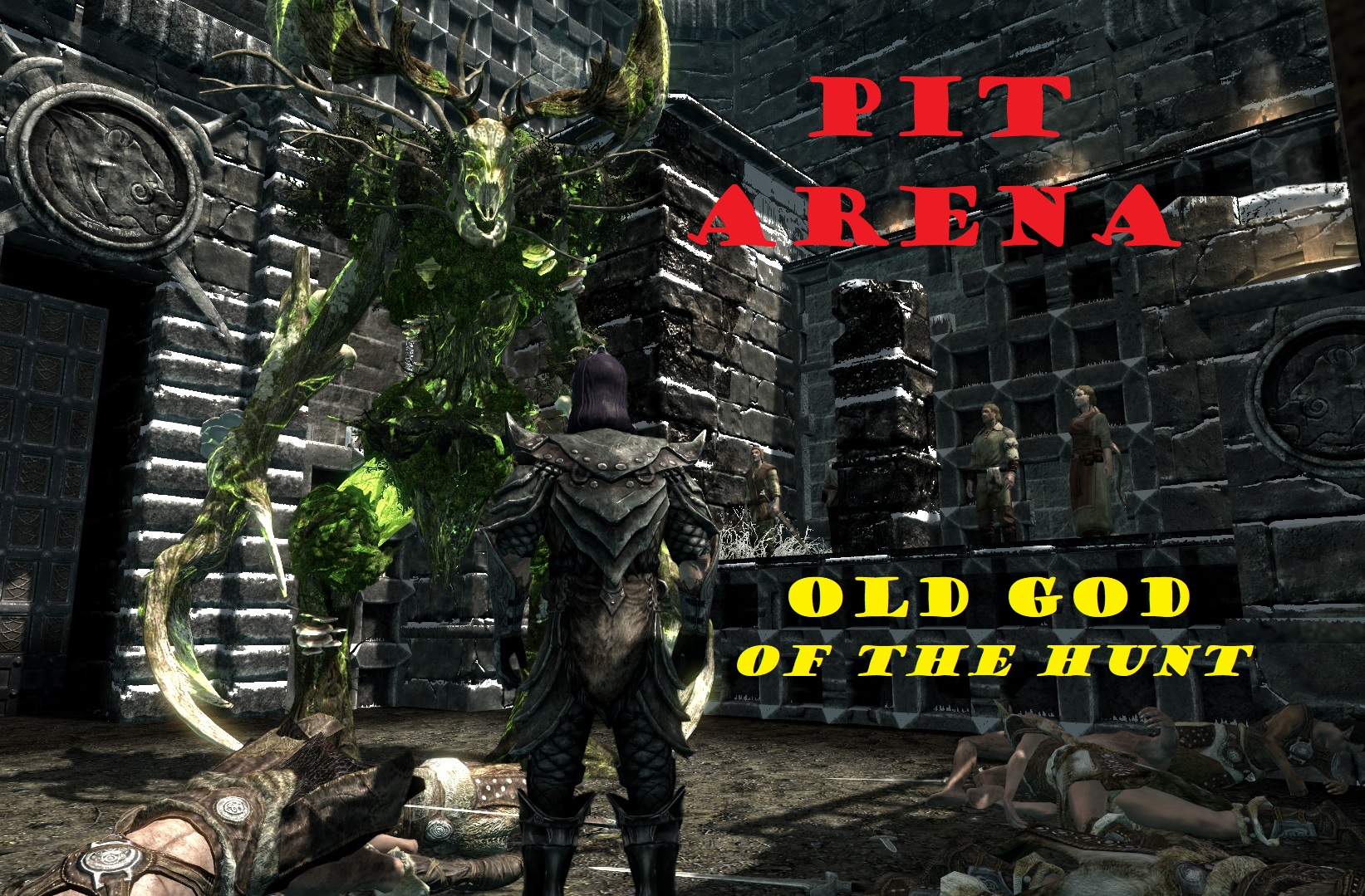 Chapter Four: Ghosts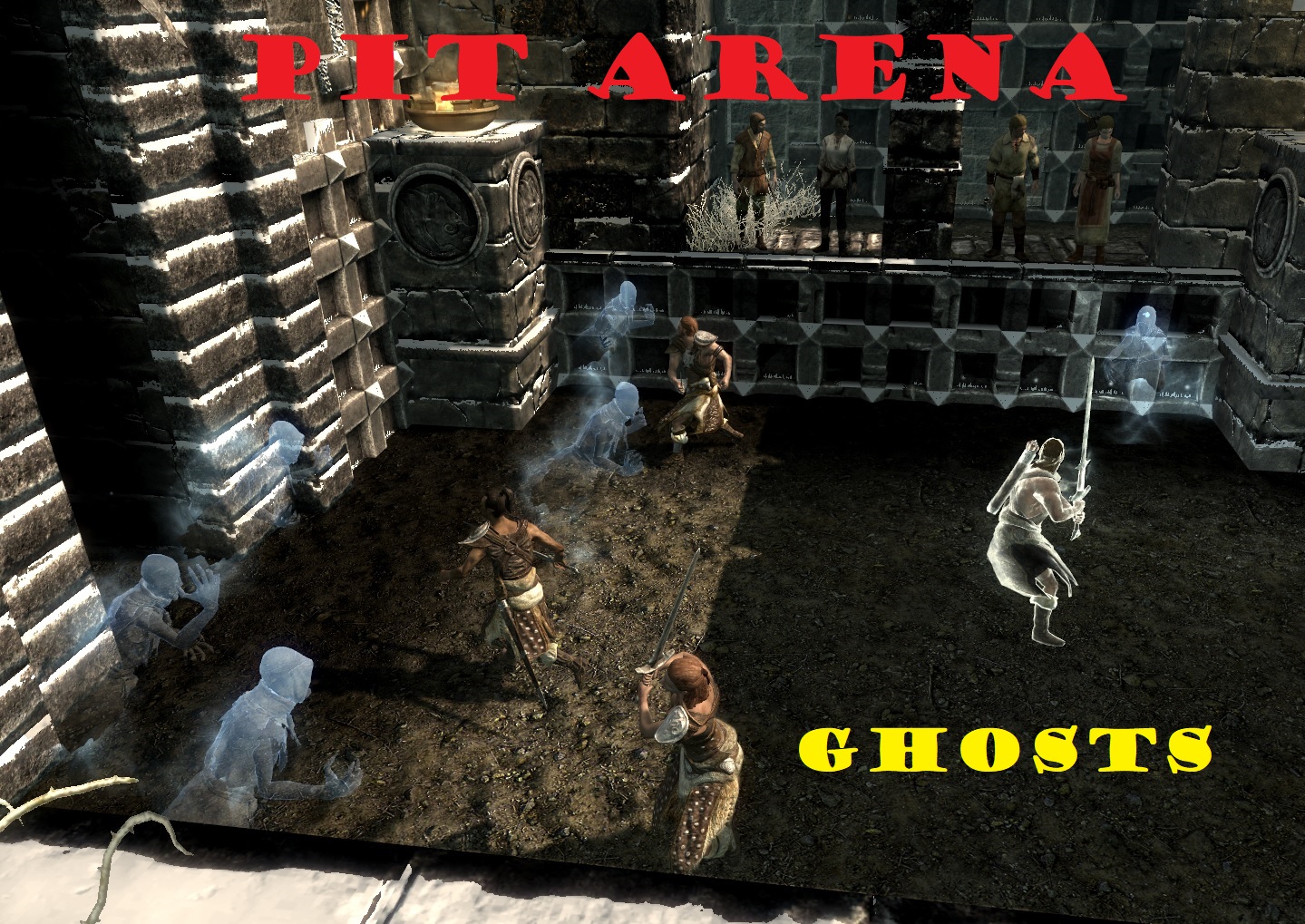 Chapter Five: Chimps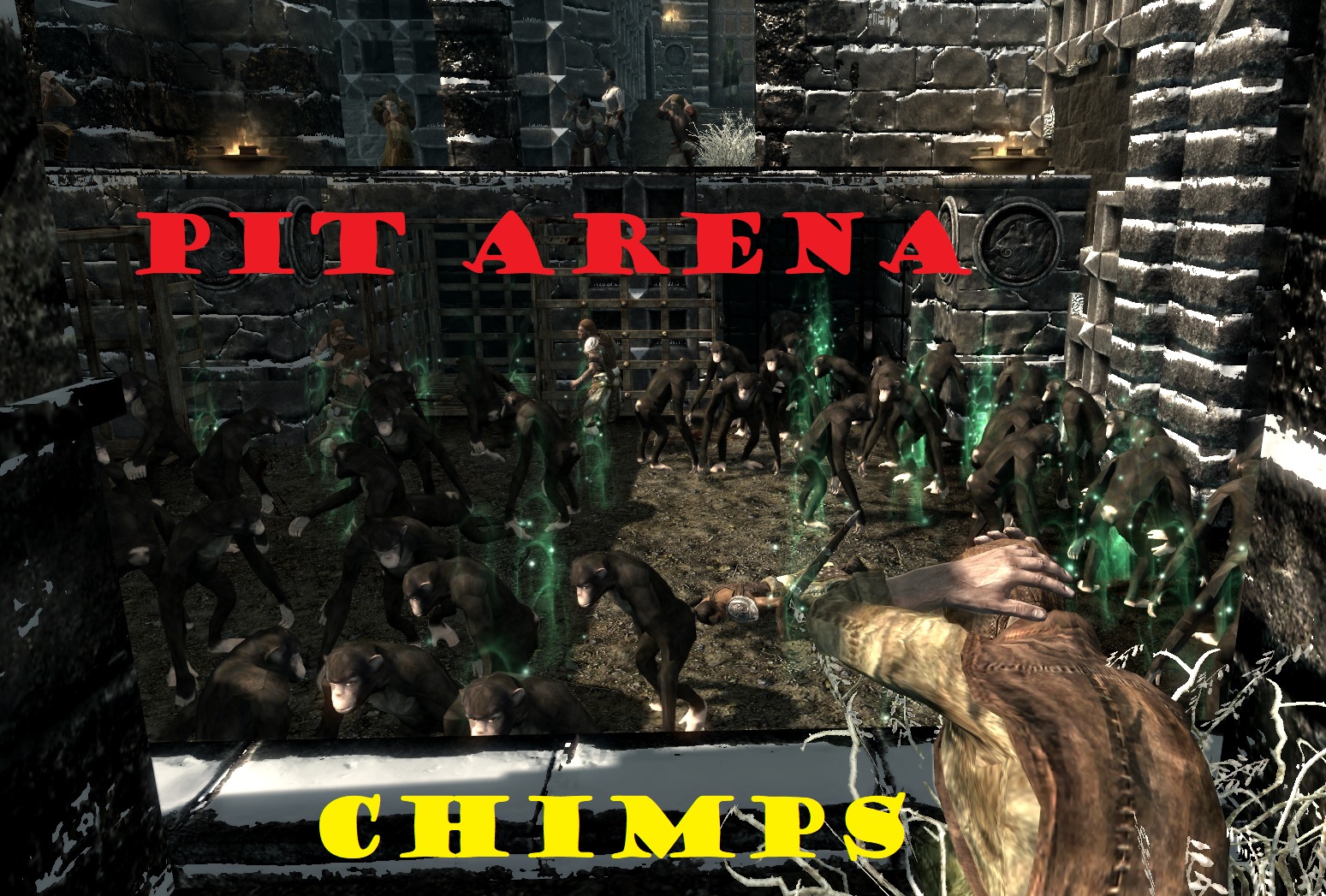 Chapter Six: Imps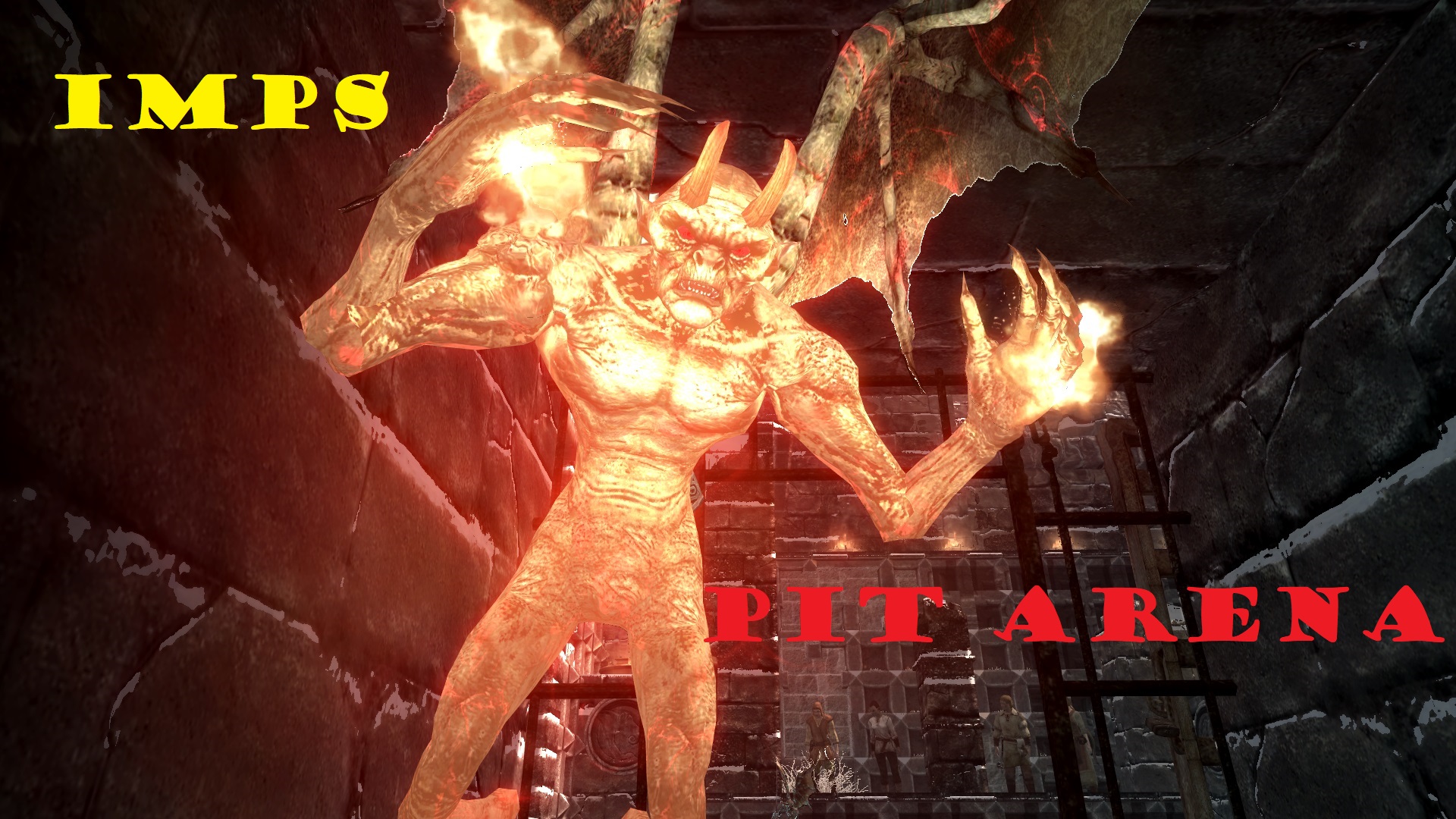 Chapter Seven: Watcher
- BOSS FIGHT -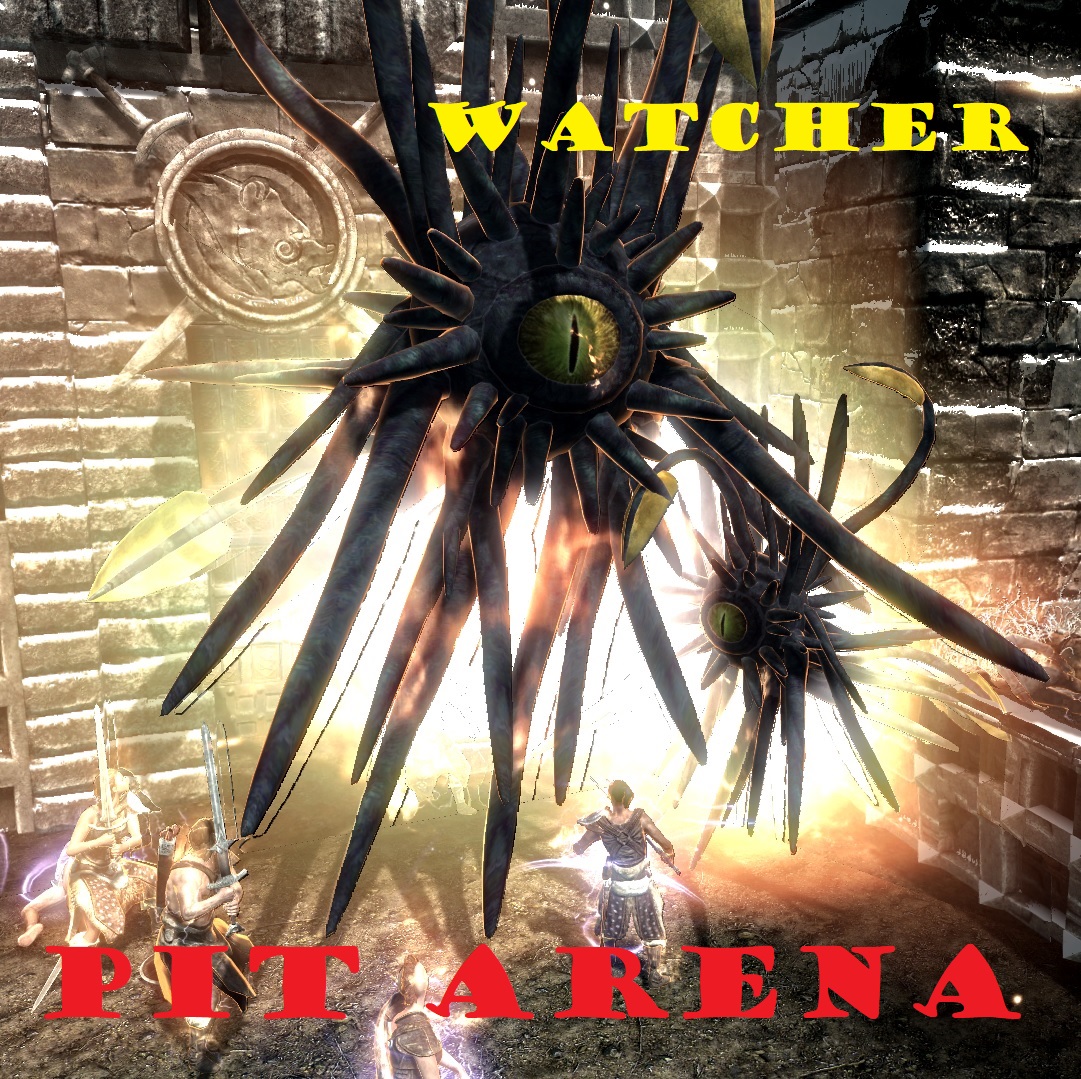 Chapter Eight: Goblins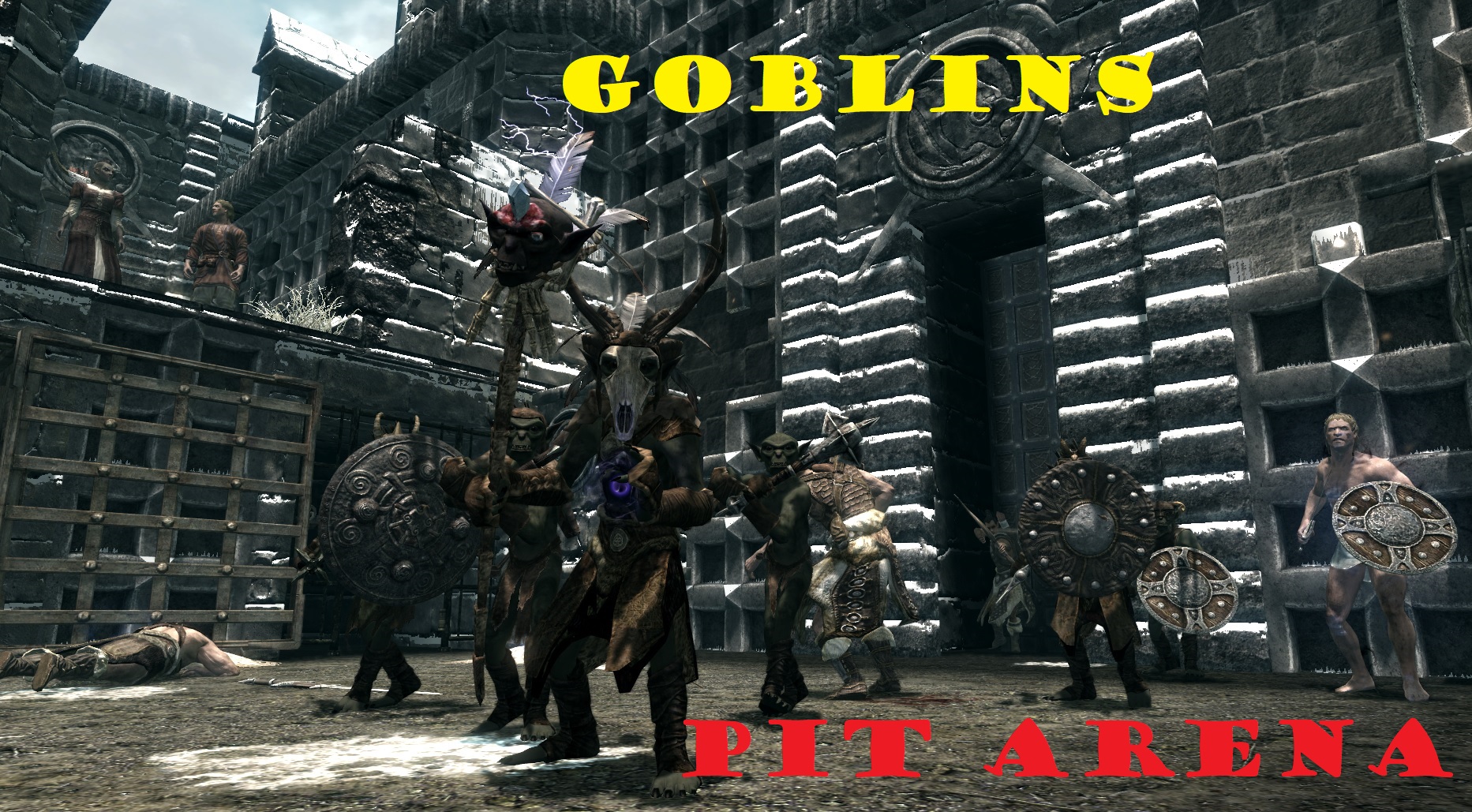 Chapter Nine: Liches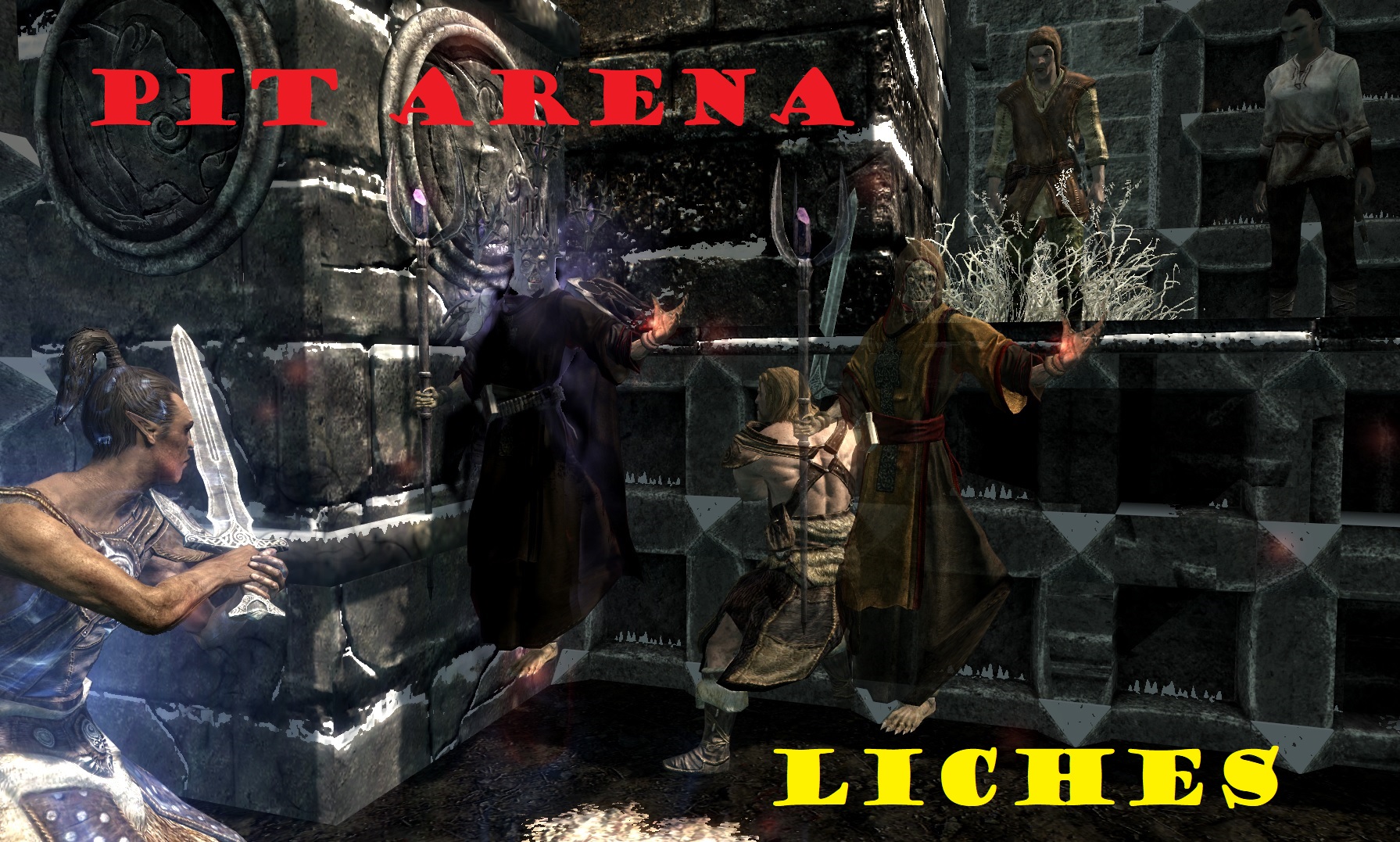 Chapter Ten: Ash Golem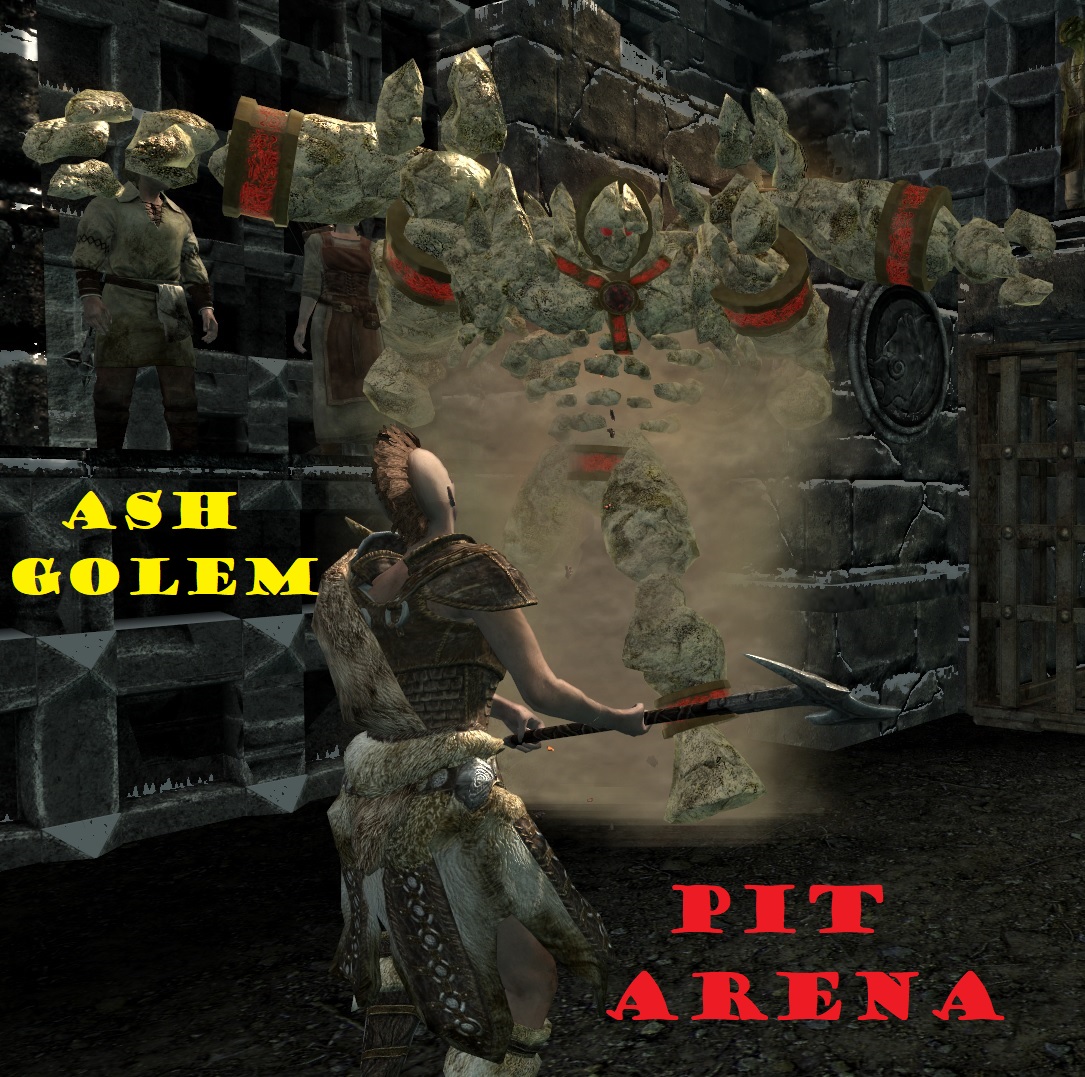 Chapter Eleven: Necrophages
- BOSS FIGHTS -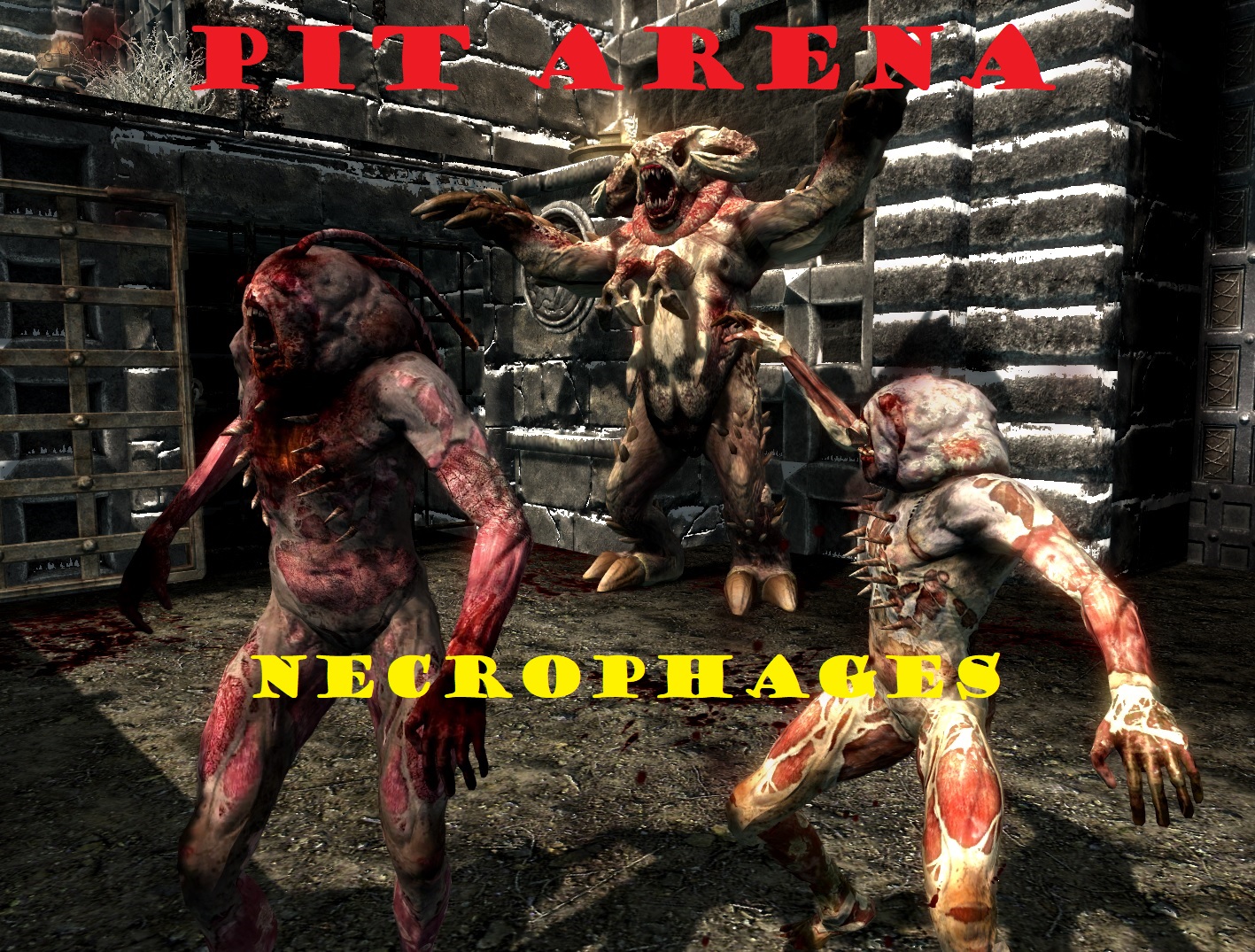 Chapter Twelve: Drakian Hydra
- BOSS FIGHT -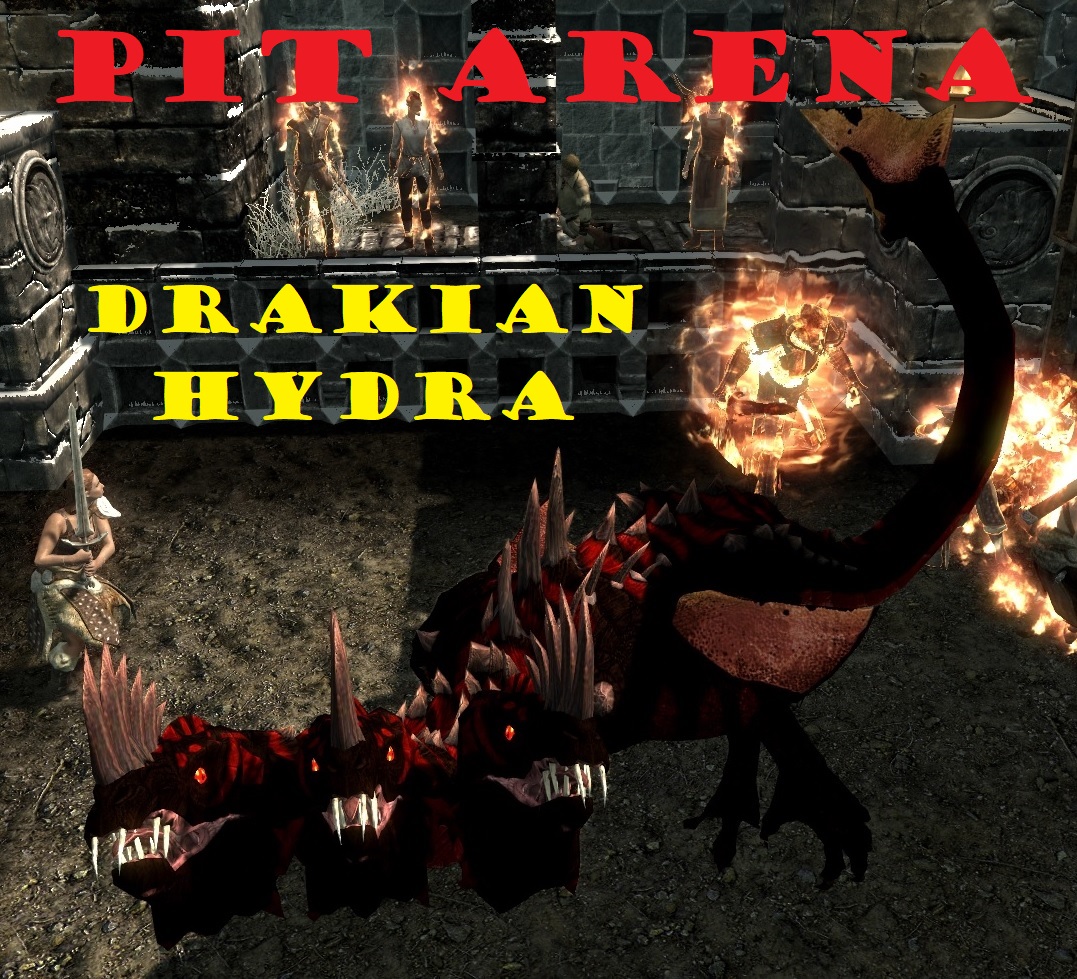 Chapter Thirteen: Dwarven Magetta and Sentinels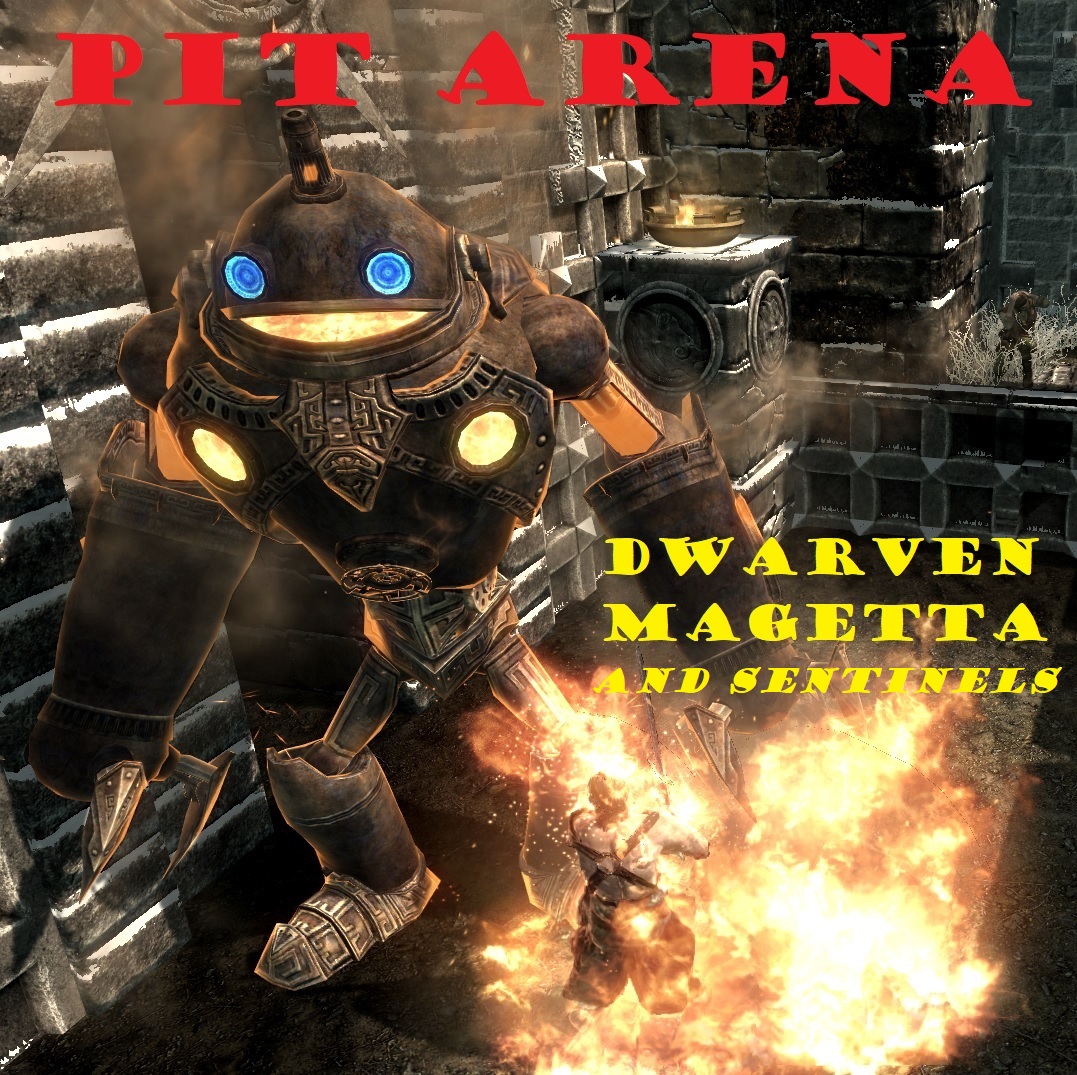 Chapter Fourteen: Ancient Skeletons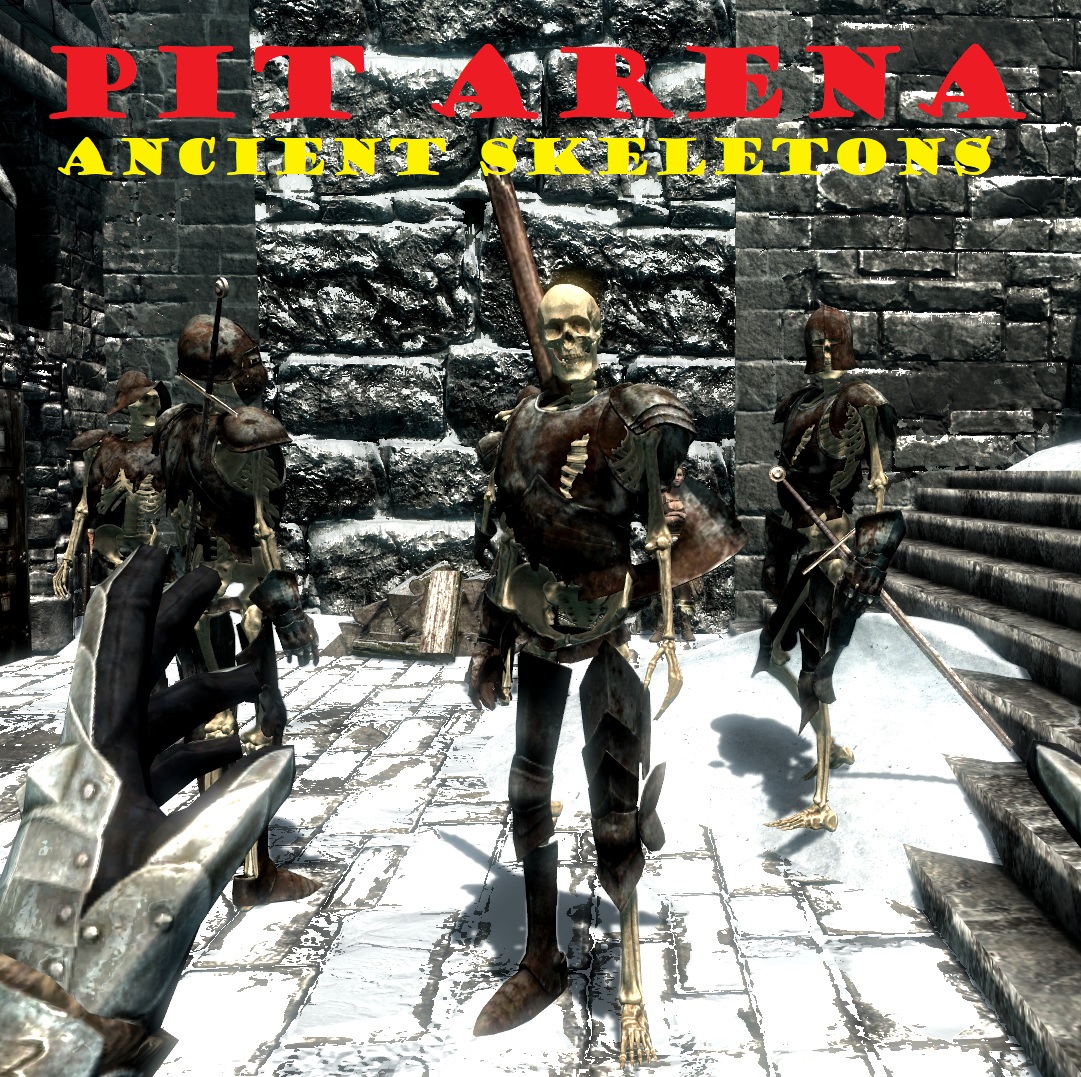 Chapter Fifteen: Centipedes
- BOSS FIGHT -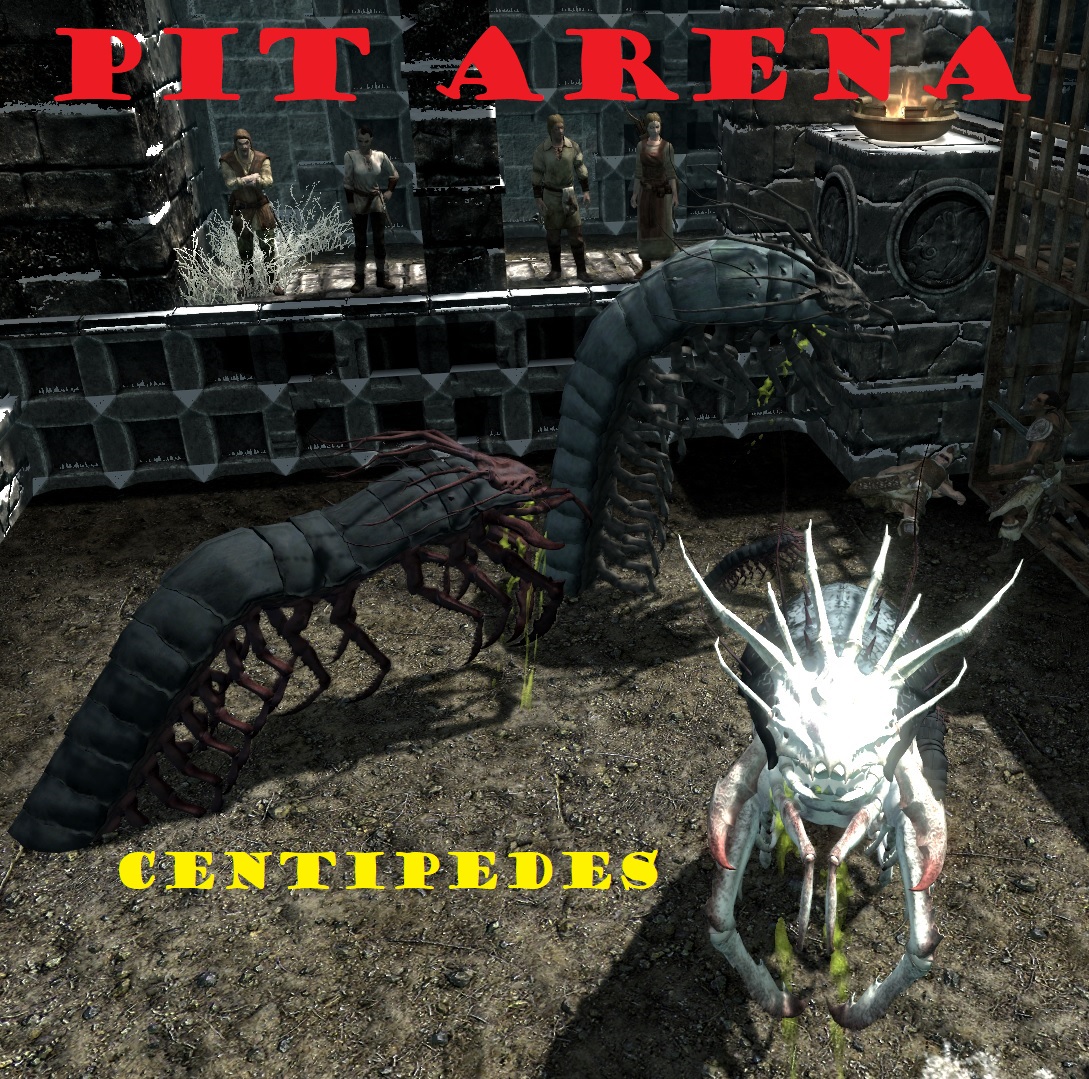 Chapter Sixteen: Gravelord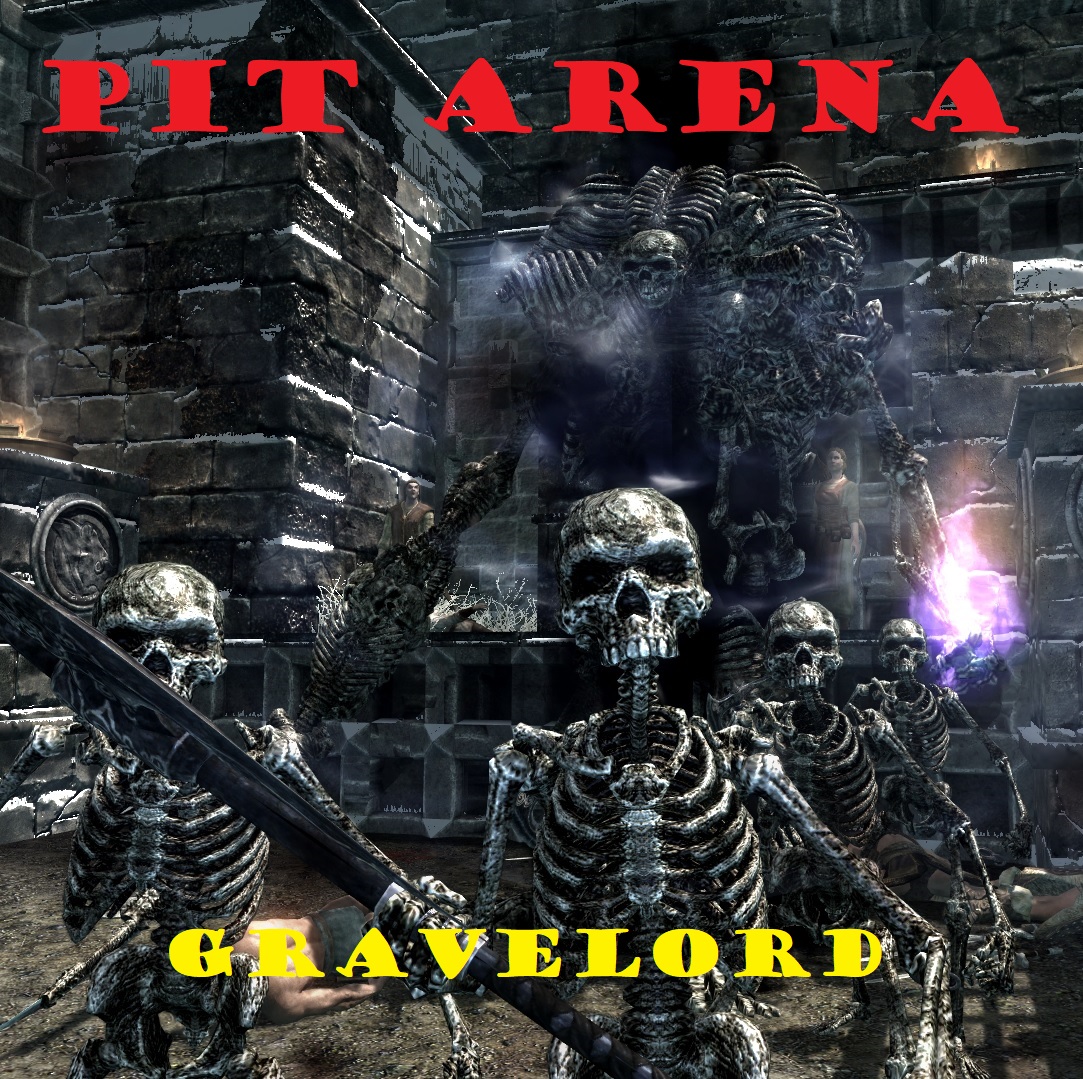 Chapter Seventeen: Arachnids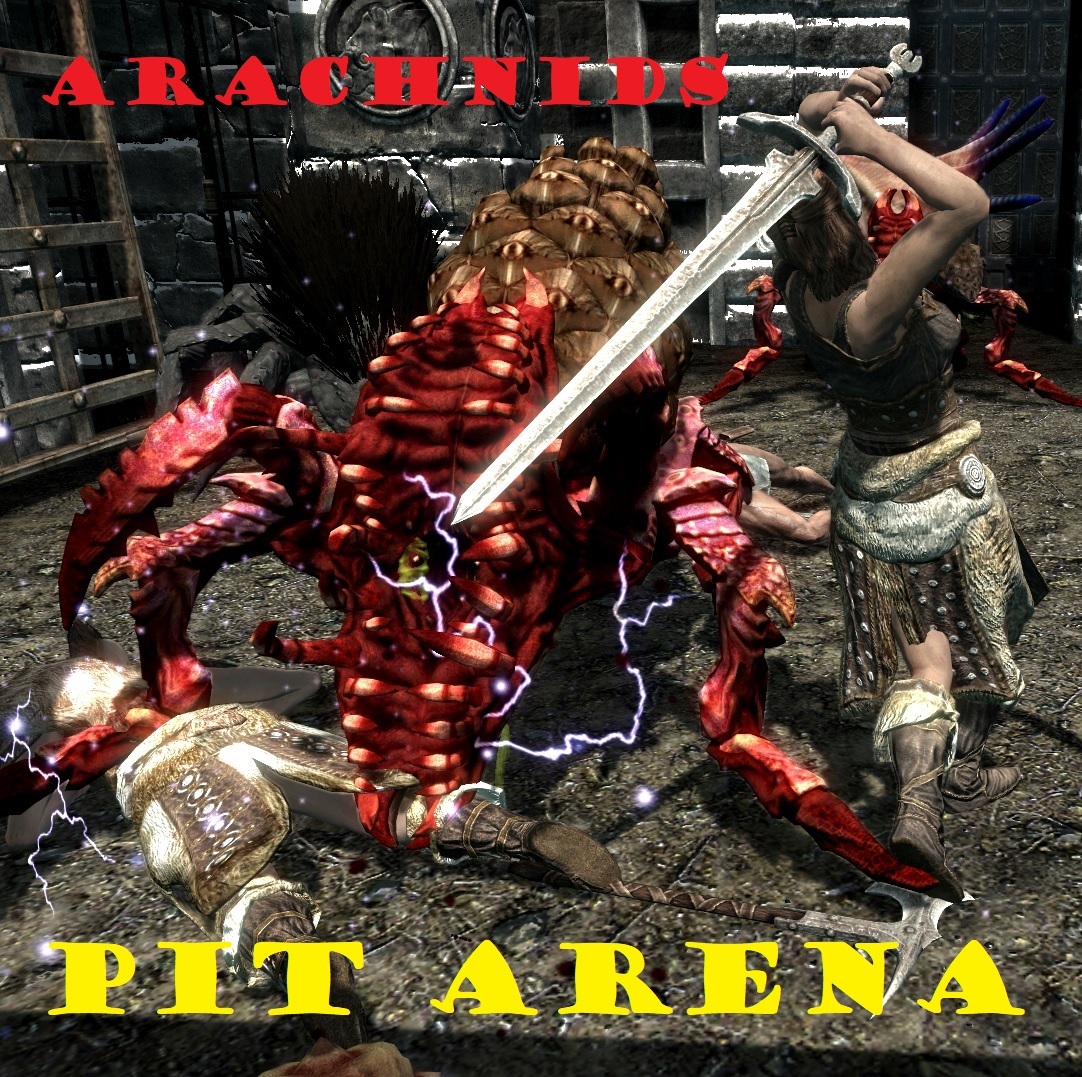 Chapter Eighteen: Yeti and Sasquatch
- BOSS FIGHT -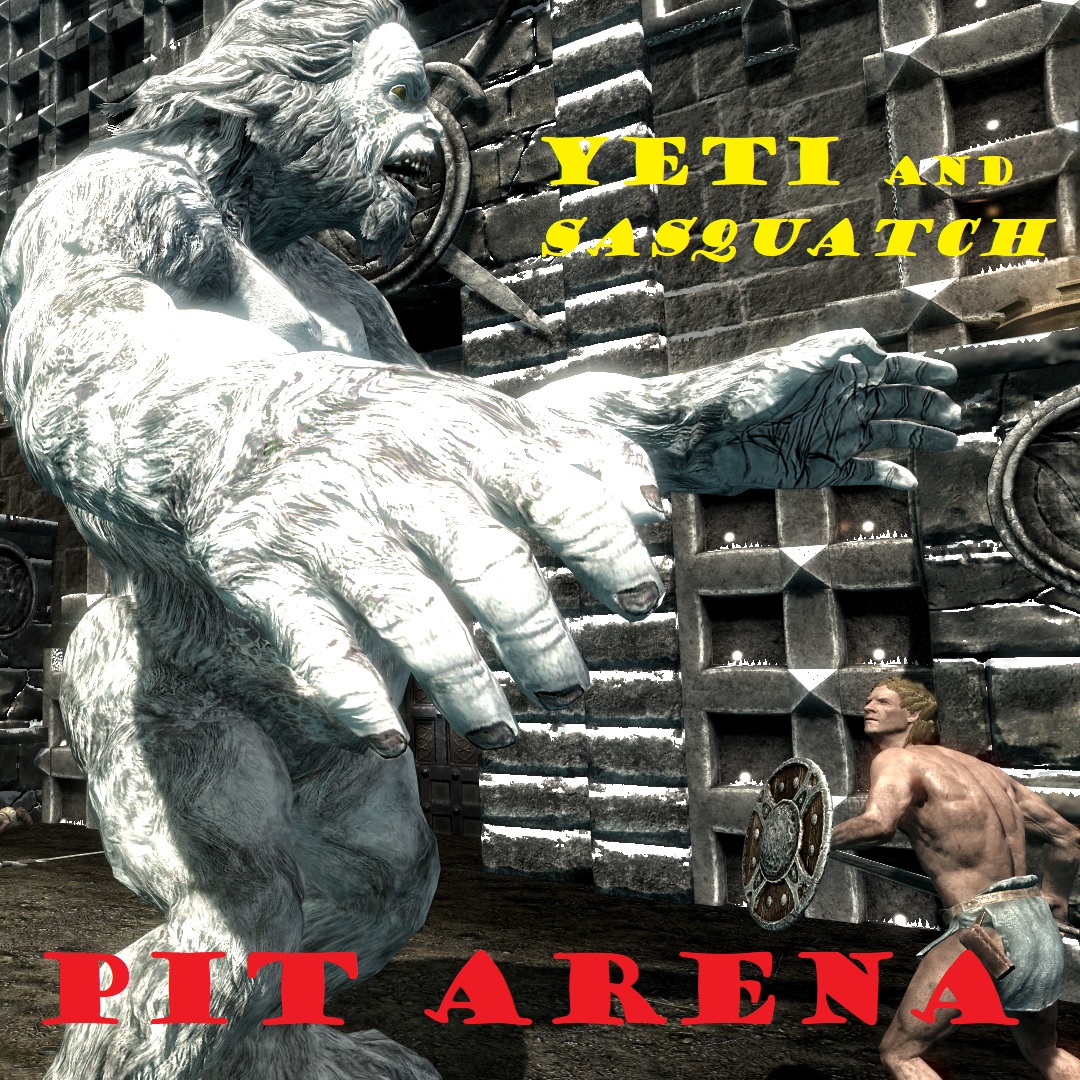 Also think of searching in the corpses as well as questioning the NPCs to retrieve books/spells or scrolls or weapons or …


Pensez également à fouiller les cadavres et à interroger les PNJ pour récupérer des livres / sorts ou des parchemins ou des armes ou …
Compatibilities Compatible with:
Cutting Room Floor
;
The Notice Board
;
Windhelm HD Retexture
(2K version)
Not Compatible with:
Bells of Skyrim
;
Open Cities
In general, any mod which modifies completely Windhelm can (not obligatory) create bugs with my mods "Pit Arena" (for example red textures in the videos of
Killerkev
or big blocks of stone like in the video of
Sah Vulon
)
In my mods, the windows of the Bloodworks are walled ... to give a real atmosphere of prison ! (
Dans mes mods, les fenêtres de la salle sanglante sont murées ... pour donner une vraie ambiance de prison !
)
Presentation of these mods by Sah Vulon :
(Old God of the Hunt + Ancient Skeletons + Ogrim + Dwarven Magetta and Sentinels)
->->->->->->->->->->->->->-><-<-<-<-<-<-<-<-<-<-<-<-<-
Credits
leedsfuzz for
Cut Content - Windhelm Arena SE
MIHAIL for the Ogrim in
Ogrim- Mihail Monsters and Animals (mihail immersive add-ons - eso daedra- morrowind)
; for the Abyss Gazer in
Abyss Gazers- Mihail Monsters and Animals (mihail immersive add-ons- peryte daedra- dark souls basilisk)
, for the Old God of the Hunt in
Old Gods of the Hunt- Mihail Monsters and Animals (Mihail immersive add-ons- Forsworn- Wild Hunt- Witcher)
; for the Classic Ghosts in
Classic Ghosts - Mihail Monsters and Animals (mihail immersive add-ons- oblivion- undead)
, for the Chimps in
Summon Army of Chimps- Mihail Powers and Spells (mihail immersive add-ons- monkey- hammerfell)
, for the Imps in
Imps - Mihail Monsters and Animals (mihail immersive add-ons - Oblivion - Cyrodiil)
; for the Watcher in
Watchers- Mihail Monsters and Animals (mihail immersive add-ons- apocrypha- daedra)
, for the Goblins in
Goblins- Mihail Monsters and Animals (mihail immersive add-ons- oblivion- malacath)
, for the Liches in
Liches- Mihail Monsters and Animals (mihail immersive add-ons- undead- oblivion)
, for the Ash Golem in
Ash Golem- Mihail Monsters and Animals (mihail immersive add-ons- atronach- daedra)
, for the Necrophages in
Necrophages- Mihail Monsters and Animals (mihail immersive add-ons- namira- witcher)
; for the Drakian Hydra in
Drakian Hydra- Mihail Monsters and Animals (mihail immersive add-ons)
; for the Dwarven Magetta and Sentinels in
Dwarven Magetta- Mihail Monsters and Animals (mihail immersive add-ons- dwemer automaton- dragonball)
and
Dwarven Sentinels- Mihail Monsters and Animals (mihail immersive add-ons- dwemer automaton- matrix)
, for the Ancient Skeletons in
Ancient Skeletons- Mihail Monsters and Animals (mihail immersive add-ons- undead)
, for the Centipedes in
Giant Centipedes- Mihail Monsters and Animals (mihail immersive add-ons- witcher insect)
, for the Gravelord in
Gravelords- Mihail Monsters and Animals (mihail immersive add-ons - dark souls - sithis)
, for the Arachnids in
Arachnomorphs- Mihail Monsters and Animals (mihail immersive add-ons -witcher- spider)
and
Arachas- Mihail Monsters and Animals (mihail immersive add-ons- witcher arachnoid- spider)
, for the Yeti and the Sasquatch in
Yetis and Sasquatchs- Mihail Monsters and Animals (mihail immersive add-ons- far cry- bigfoot cryptid)
(with also Dogtown,
AeonVita
,
LoneNorseman
,
DioThallyssom
,
CrisSpiegel
,
Classic Scythe
,
SoN6of6TrediS
,
RustyShackleford69
, Felipe Fabres,
SRW0
,
M150
,
Truong
,
Abakus
,
Nostromo79
,
Oaristys
,
Anton0028
,
Berkian
,
milisot1325
,
Vicn
,
LorSakyamuni
,
metametroid
; and with the permission of
CD PROJEKT RED
for some assets, and a special permission for « ***Yetis and Sasquatchs*** » by
Ubisoft and associates
)
Free sounds :
universal-soundbank
-
Sound Fishing
-
lasonotheque
-
soundbible
-
freesfx
-
xeno-canto
-
The Internet IBC Bird Collection
***MIHAIL DISCLAIMER*** for
Yetis and Sasquatchs
« Thank you very much Ubisoft and associates, specially to Far Cry 4 development team, for the permission to use their assets or part of their assets on my nonprofit, fan-made mods.
Also thanks for the Nexus staff for the recognizement of this permission.

Remembering, as resquested
by Ubisoft, that this content:

It's not endorsed by Ubisoft or associates,
or related to their games, specially Far Cry 4;

It's not made for commercial usage, it's completely nonprofit,
as all of my work, including my fully authoral work;

And i don't own it, so, i don't challenge
Ubisoft's copyright on such assets.

Of course on my mods this assets can be modified or increased in order to fit the lore, mechanic, animations, and other goals, of the The Elder Scrolls mod for the Tes 5: Skyrim, where they are now part here on my nonprofit creative series, but this usage is not endorsed by Ubisoft, just kindly allowed by her.

Ubisoft is showing us again how great and kind she is with the fans.
Thank you very much Ubisoft and associates, and thank you very much Nexus, the only place where i share my work. »