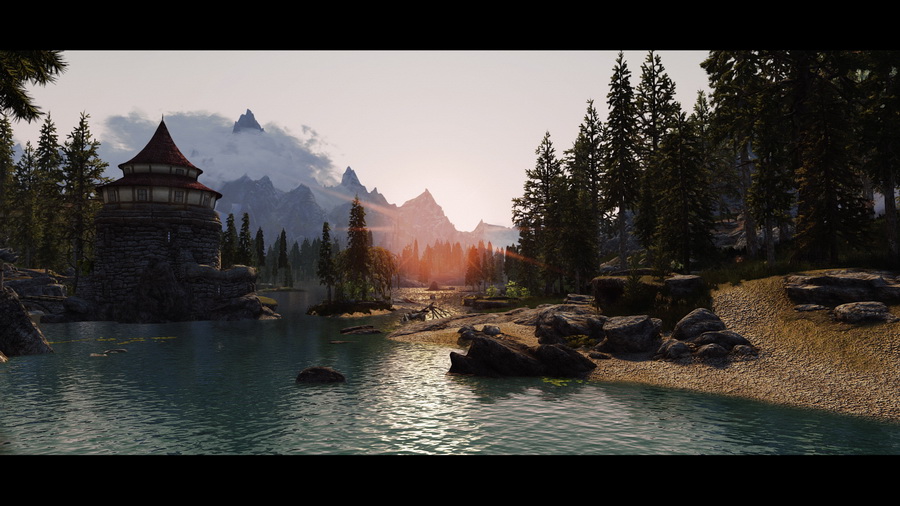 A semi-realistic ENB preset with a touch of fantasy.
this preset provides a beautiful and realistic daylighting, 
awesome sunrises and sunsets, dark stormy weathers, beautiful overcasts,
deep snowstorms, dark nights, interiors and dungeons.
therefore it's a good idea when you are equipped with torches.
All effects are customizable through the ingame GUI.
REQUIRED:
ENB Helper SE by aers.
NAT or
Obsidian Weathers
ELFX + Exteriors, ELE (optional)
High recommended:
SSE Engine Fixes
INSTALLATION:
Download and install NAT - Natural and Atmospheric Tamriel
or Obsidian Weathers.
Download and install Enhanced Lighting and FX.
Download the latest enbseries for Skyrim SE from 
enbdev.com
.
Copy d3d11.dll and decompiler_46e.dll from the wrapper folder
and paste into your Skyrim SE folder.
Copy and paste my Files into your Skyrim SE directory.
open NAT in-game, use the NAT spell and deactivate SSS on the left Side.
SkyrimPrefs.ini:
fGamma=1.0000
Change this lines in SkyrimPrefs.ini:
bSAOEnable=0
bDrawLandShadows=1
bVolumetricLightingEnable=0
if you're using ENB Light disable ComplexFireLights in enbseries.ini.
highly recommended:
Reduced Glow FX SE
thanks for downloading and have much fun with it.
All Credits goes to:
Boris Vorontsov
phoenixfabricio
Guzio
JawZ
Marty McFly
MaxG3D
Kingeric1992
Crosire
Loadus
Ceejay
Prod80
The Sandvich Maker and Adyss