It is a conversion from Skyrim LE for Skyrim SE of the original mod
Horse Branding
by fLokii
I (gg77) am not the author of this mod; all the credit goes to fLokii !
Author's original description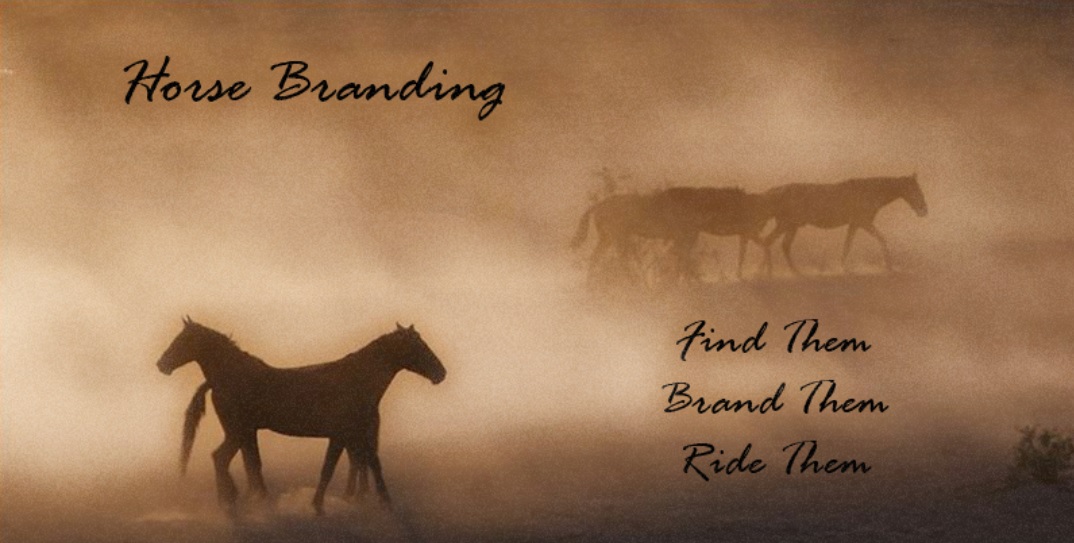 Ever found a horse wandering the Tamriel, mounted it quick and thought to yourself SCORE!!
Than you have also been disappointed when you got of and the beast started wandering off and you couldn't find a way to stop it.
Well NO MORE!! Cause here's Horse Branding.
HORSE BRANDING:
Since ages and ages ago, animals have been branded so one could mark them as their own.
This mod does just that.
When you install Horse Branding you will receive three Branding Irons.
With them you can mark any horse as your own or belonging to your followers. This will allow you and your followers to ride it(them).
TOOLS: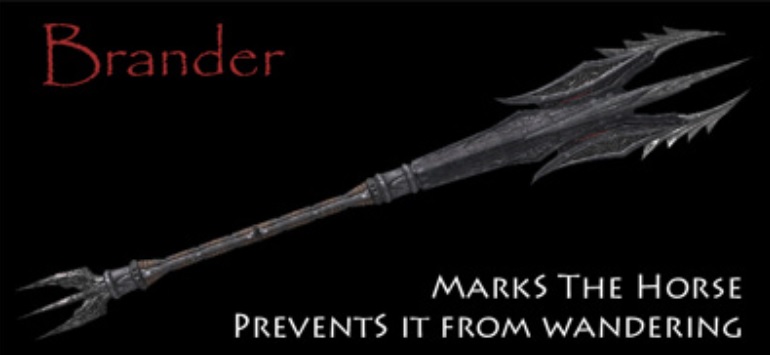 There are two Branders. One with your mark and one with followers mark.
Using it does the following:
Removes STOLEN status (Your Mark)
Prevents horse from wandering off when dismounted (Both Marks)
Allows follower to ride the marked horse (Both Marks)
Allows MULTIPLE followers to ride the marked horses (Follower Mark)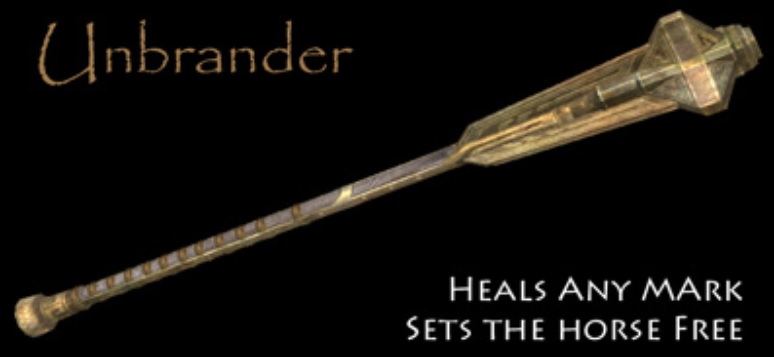 Unbrander removes any mark given to a horse, in essence setting it free to roam and be jolly on its own. Maybe find a mare.. who knows!
Possible use with my ModsThe greatest interest of this mod is to allow your companions to ride on another horse and follow you. Better yet: with my mods where you can summon 2 animals at a time ("Dual Summon Mounts", "Dual Summon Horses", ... recently: "Redguard Traders Mounts and Followers" ), this mod is very easy of use, and then shows all its potential !
Le plus grand intérêt de ce mod est de permettre à vos compagnons de monter sur un autre cheval et de vous suivre. Mieux encore: avec mes mods où vous pouvez invoquer 2 animaux à la fois ("Dual Summon Mounts", "Dual Summon Horses", ... récemment: "Redguard Traders Mounts and Followers"), ce mod est très simple d'utilisation, et montre alors tout son potentiel !
With my mod
Dual Summon Mount SE
With my mod
Redguard Traders with Mounts and Followers SE
With my mods
Gerbils Mounts and Followers SE
,
Companions of Skyrim SE
and
Ravens and Co - Mounts and Followers
or
Incarnate Avians
With my mod
Dwarven Motorcycle SE
With my mod
Bactrian camel and Dromedary Mounts SE
COMPATIBILITIES
(thanks to alexho1982 and hamletsdead)
Nether's Follower Framework SE
:
compatible
« I dropped AFT for it and started a new game. Works perfectly fine so far and no followers were dismissed. It however requires
SKSE64
and
SkyUI SE
, which I was using anyway, but might be off putting to some.
Also,
Inigo SE
works with Horse Branding SE too. However, you have to brand it for yourself and not for followers and than gift it to him through his dialogue options.
Last but not least: You might want to combine this mod with
Wild Herds of Skyrim SE
and
Horse Whistle SE
. I prefer this combination over
Convenient Horses SE
, since I dislike some of its features. »
AFT SE
:
semi compatible

« After installing the mod my currently managed followers are being released except for one. They are also not being properly released and you can't use them afterwards even after resetting AFT (dismissal will be ignored but they do not follow you again). Uninstalling Horse Branding SE resolves this issue.
The same issue has been reported for the original mod and was happening with several follower mods.
Followers that are not managed by AFT like Inigo do not seem to be affected although he did not want to mount the horse I branded for him. You could probably dismiss all your AFT managed followers except for one and use (scripted) followers that are not being registered for the follower limit, but that is about it. Deactivating options for the horse riding feature does also not change above behaviour. »
« It's working with AFT just fine for me. I've got Sofia (not AFT), Jenassa (AFT) and Lily the Vampire (AFT) and the two AFT followers ride their horses just fine, and follow me everywhere as usual. No backwards walking and leaving their poor master in my game. »
Presentation of this mod (XBOX version):
->->->->->->->->->->->->->-><-<-<-<-<-<-<-<-<-<-<-<-<-
BUGS or PROBLEMS
For the Followers :
You can only have one Follower at a time: if you want a different one (in my other mods), you need to dismiss the first one before you recruit them.
If telling the follower to return at home (With message: "Your companion heads home") doesn't dismiss him, or if you have lost the active Follower, you can try this:
Type "²" or "`" or "~" key to get into console, and type:
set playeranimalcount to 0
With
Amazing Follower Tweaks SE
, or other mod with followers, if problem to dismiss the followers, you can uncheck this mod (AFT or other) when you launch the game