RUSTIC ELDERSCROLL - Special Edition
RUSTIC ELDERSCROLL - Special Edition
File information
Created by
Gamwich
About this mod
A rustic retexture of the Elderscroll, available in 4K and 2K textures.
Permissions and credits

Donations
RUSTIC ELDERSCROLL SSE
is a retexture of the ancient elderscroll that features prominently as a quest item in both the main story, and the Dawnguard storyline. I was always disappointed in the appearance of the elder scroll in game. It looked like anything but an ancient artifact. The appearance was too new and clean looking, and not very detailed. Especially when you consider the large size of the elderscroll model in game.
As you can see in the screenshots, the elderscroll's size is as large as an adult in game. It's no wonder that the original textures look less than detailed. For SSE, Bethesda used the high resolution pack 2K textures for the diffuse and normal, and a 1K texture for the emittance. My 2K retexture matches the sizes of the base SSE textures, while my 4K version doubles the sizes. I also offer a 4K-2K version which saves VRAM by having the normal map at 2K, while keeping the diffuse at 4K. The normal map is saved in BC7 compression to eliminate artifacts.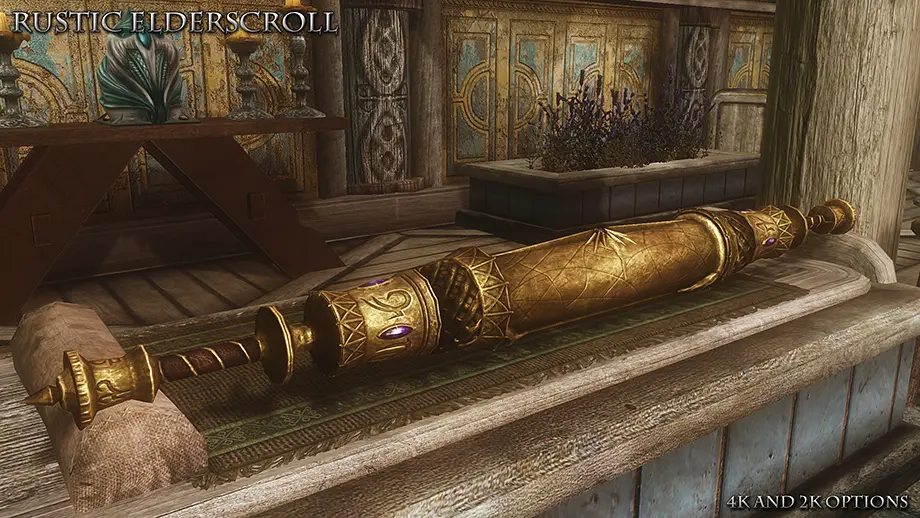 My aim with this particular retexture was to give the Elderscroll a more fitting antique appearance, with real signs of wear. Since the elderscroll casing is made from gold, it wouldn't rust over time, but it would scratch and collect grime in the recessed areas. I made the scroll itself look worn and stained to show the deterioration through the centuries. I couldn't get any screenshots of the scroll inside, but you can see the texture in my comparison photo showing my retexture with both Bethesda versions (regular and hi-res).
Not much else to add, so I'll just say thanks for supporting my mods, and I hope people enjoy this new addition to my RUSTIC mod collection.
Cheers,
Gamwich
OPTIONAL DOWNLOAD:
I added an optional effect texture for the reading the elderscroll. Since the scrolls have a mind altering (destroying) effect on the reader, I wanted to make the effect more dramatic and psychedelic in appearance. Just an option for people who want something more fun than the vanilla effect.