Master Of Time
Summary
What is timescale? Timescale is a scale of time in game relative to real life time. Default timescale value for Skyrim is 20, which means that for every 1 minute in real life 20 minutes pass in game time. Many players like to change timescale value for immersion. Also changing timescale to lower values (lets say 10) makes "need mods" more manageable. You should know that changing timescale values too low (from user feedbacks 6 is absolute minimum, 7-8 safe minimum for smooth gameplay) may break some quests and scripts that depend on gametime updates.
This mod gives you Command Time Ability (it is hidden to not to pollute active effects list) which allows you to bend time at your will with 24 location presets. (Just to clarify this is automatic in-game)
Do want to take your time while shopping? Just lower the timescale for "Store" preset. 
Do you like to spend your time in your house? Lower the timescale for "Player House" preset. 
Maybe for immersion you like to make time pass faster while traveling on the road, adjust "Wilderness" preset to higher values. 
All those 23 different location presets too much for you? You can set mod to Basic Usage and use a single timescale value(configurable) for any location. 
With this mod You are the master of your time.
Each preset has fallback preset schema. For example; 
Vampire Lair Cave
>
Vampire Lair
>
Cave
>
Dungeon
>
Interior
>
Default
This schema tells us that if timescale value for Vampire Lair Cave is using default value (which is 0) it fallbacks to Vampire Lair preset. This fallback goes on as  long as the preset has value 0 until default preset. If default preset is also 0 then games default timescale value 20 is used.
You can check the fallback schema for any preset by checking its info text from configuration menu. See image below.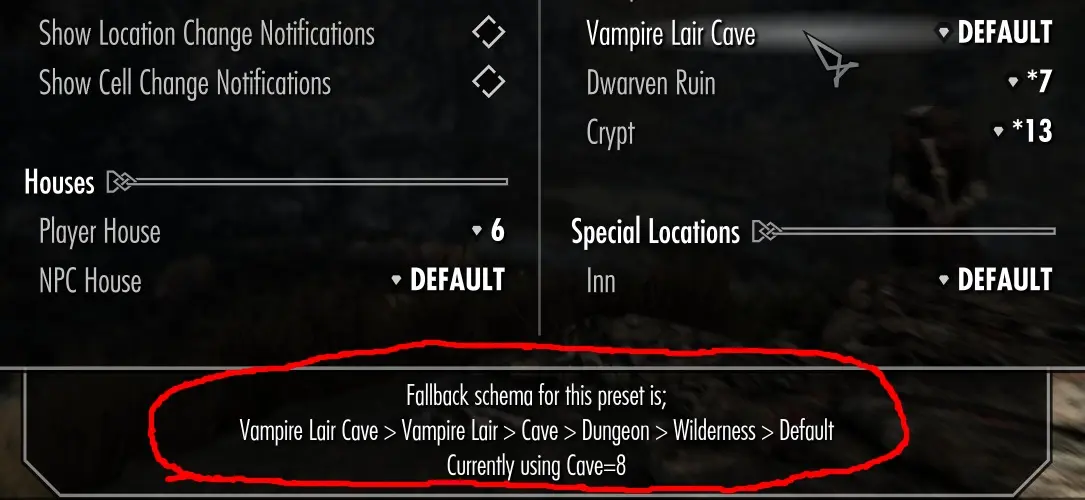 Mod has 4 different usage modes.
 Disabled 
 Basic - You can use single timescale value(Default preset). You can also configure notifications
 Standard
 Advanced
When you install the mod first time it defaults to standard usage mode with default timescale 10. Standard and advanced modes include all the presets. Difference between them is how you can change the preset value. Advanced mode allows you to change timescale to any value between 0 to 20 by using a slider control. On the other hand standard mode allows you to choose timescale value from lookup menu. Values allowed to use are 0(Default), 6, 8, 10, 12, 16, 20. This is to remind people that below timescale 6 game may not work properly (see warnings below). I usually use 8 or 10. You can safely change between usage modes. I did a lot of testing to make sure that it works as intended.
!Warnings!

Timescale values which are lower than 7 or 8 may affect your gameplay and game may not work properly. This is about the design of the game. From user feedbacks 6 is absolute minimum, 7-8 is minimum for smooth gameplay. Some users report that they use lower values such as 3 or 1 without problem, but please note that game is not designed for low timescale values, so it is your own risk to try. 
What's New?

Version 1.2
bug fix: enable/disable "Show Notifications" sometimes not working. reported by MatthiosArcanus
Version 1.1
Configuration support for Cell Respawn Interval and Cleared Cell Respawn Interval added. 
Requirements
 SKSE64 is required. 
 If you want to use translation files PapyrusUtil SE is also needed otherwise it is optional. 
 SkyUI for MCM configuration.
Compatibility
It should be compatible with any mod. If you are using mods that change timescale you may have unpredicted timescale values at startup after loding a save game. For mods that change timescale statically (from esp file) there should not be any conflicts since MoT automatically updates timescale after initialization.
Load Order

You can put anywhere. If you are using "Loot" just let it do its magic.
Features
 Currently 23 location preset + default timescale preset
 Notifications when preset, location or cell is changed. Each has its on configuration option
 Each preset has fallback preset schema. You can view this schemas by checking info text in mcm menu. 
 Optimized for performance. 
 It is very lightweight. Optimized to minimize save data to avoid unnecessary save bloat.
 Using modern techniques. Supports maintanence for further feature updates.
 Easy translation support. Just translate Mot_Strings.json file under Data/SKSE/Plugins/MasterOfTimeData. 
 4 usage modes. You can use all the features or simply use single timescale value for all.
Roadmap
All features and 24 presets mentioned above are implemented and tested. I have plans to add few more features to the mod.
Features currently in my mind are (subject to change after planning, just want to share what is on my mind at the moment);
 Custom locations (also cells)
 Backup/Restore settings
 Import/Export location presets
 If such feature is asked inter-mod communication support
 Maybe power for configuration without MCM?
I can't tell you exact times but I want to update with small steps. I don't want to publish updates without code and in-game testing.
So each step may take couple of days, weeks depending on the feature and how busy I am IRL. 
I am open to suggestions. Happy gaming.
Credits
Thanks to
madamimadam
, 
LupusHegemonia
 and 
Selfishmonkey
 for sharing their knowledge and experience about safe timescale values.
Thanks to 
artos0131
 for warning me and giving advice about cell respawn times.