File information
Created by
gg77
About this mod
This mod adds very many animals* in many places through Skyrim (farms especially, windmills, lakes**, towns, villages ...)
Requirements

Permissions and credits

Translations

Changelogs
This mod adds very many animals* in many places through Skyrim (farms especially, windmills, lakes**, towns, villages ...)
*54 different animals (Boars, Chickens, Swan, Roosters, Chicks, Male and Female mallards, Ducklings, Geese, Cows, Goats, Sheeps, Ram, Pigs, Piglets, Young Wild Boar, Rabbits, Pigeons, Seagulls, Pheasants and Peacocks)
**Lake LLinalta (near Riverwood) - Lake Geir (near Ivarstead) - Lake Honrich (near Riften)
New sounds (boars, peacock with tail, swan, chickens, rabbits, pheasants, ram, cows, sheeps, goats, pigs, goose, pigeon, chick, duckling, male and female mallards, rooster, seagull)
For the «
Pack Goat
» you have
4 companions
with the Dialog Box: Follow - Wait - Favor - Trade - Dismiss (in Half Moon Mill, Karthwasten, Salvius Farm and near the Whiterun Stables) + 3 « wild » !
You can also place all these animals in the place you want thanks to my mod:
Repopulate Skyrim with Farm Animals and Birds SE
You can only have one follower at a time: if you want a different one, you need to dismiss the first one before you recruit them.
If you have any problem with the dialog box, or if telling the follower to return at home doesn't dismiss him, or if you have lost the active follower, you can try this:
Type "²" or "`" or "~" key to get into console, and type:
set playeranimalcount to 0
With Amazing Follower Tweaks , or other mod with followers, if problem to dismiss the followers, you can uncheck this mod (AFT or other) when you launch the game
If problem with the Dialog Box of the followers/ companions (Wait - Follow - Trade - Favor - Dismiss) you can also enter / exit a house or make a fast travel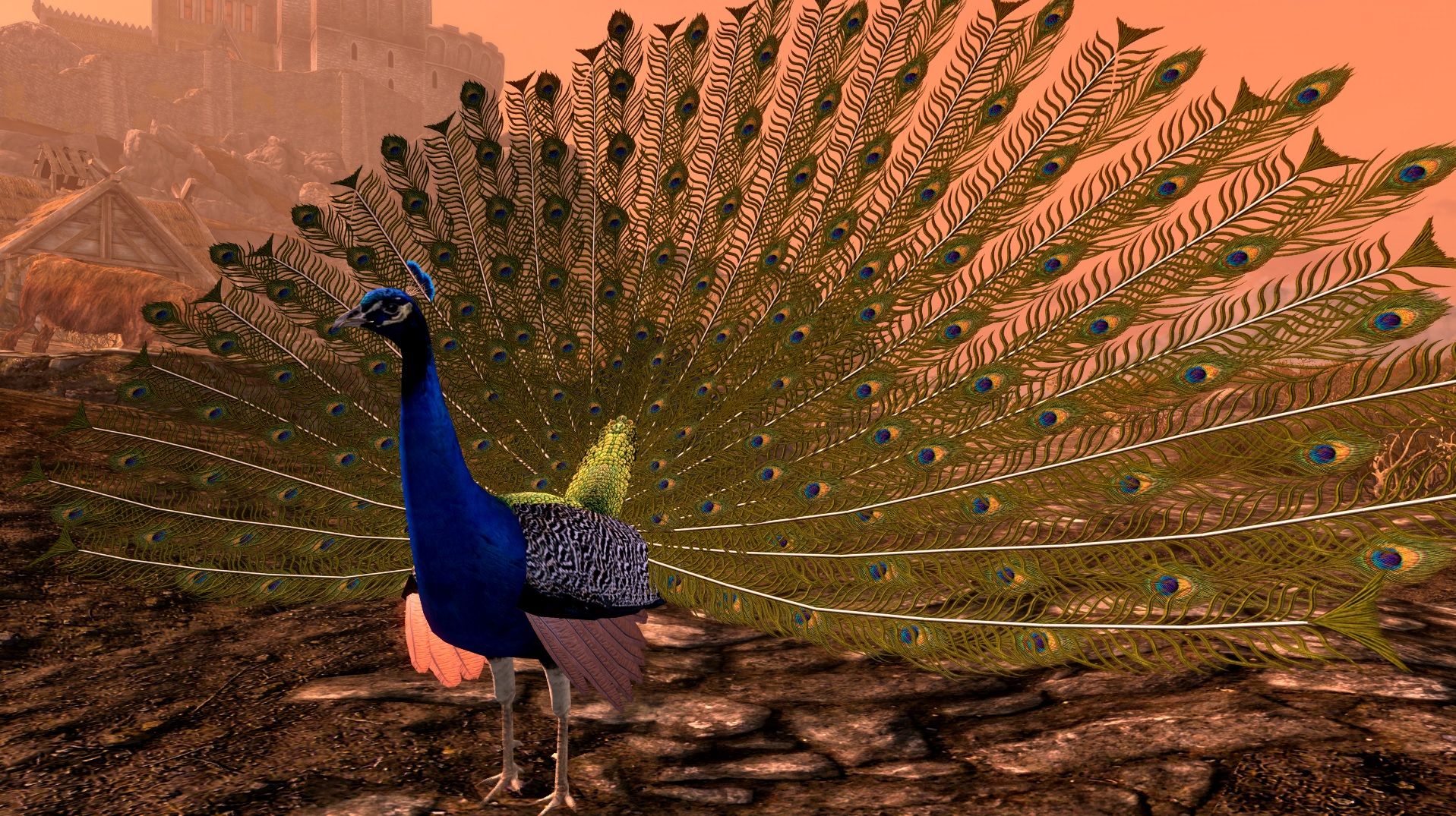 Credits
The textures of Goats , Cows and Chickens are from Bellyache; Mod
Bellyaches Animal and Creature Pack
("Asset use permission": "You are allowed to use the assets in this file without permission as long as you credit me").
Macadamstreet for the meshes and textures of the pig and the goose in his mod
Goosy goosa !
Jc1 for the model of the Goose
dogtown1 to convert the model of the Goose in skyrim, and for the model of the Pig
The meshes and textures of the Sheeps are from stormshallow in his mod
Sheep Modders Resource
Umar Muzammil
UMAR6419
for the model of the sheep in this site
The free 3D Models
("You are free to use these models in generating games, animations, multimedia, printed graphics, web graphics and others" and "you are free to distribute and modify the file as long as you attribute it's author(s)")
cansu for the new texture of the Sheep in his mod
stormshallows sheep mod retextured
testiger2 for the Mesh of the "Pack mule" for the goat in his mod
TesTiger's Mesh Resources
KANRAx2 with his Mod:
yurufuwa rabbit
("Modders resources and tutorials") for the meshes and the textures of the rabbits, and the mod
Kanra Follower
+
kanrafollower_addon
;
Blog of Kanra/Sala mitzha
LorSakyamuni for the models of a few animals in his mod
The Witcher 3 Monsters and Animals Resource Pack
("You are allowed to use the assets in this file without permission as long as you credit me","Pack containing a lot of monsters and animals included in the game The Witcher 3: Wild Hunt. All the original assets belong to
CD PROJEKT RED
and are distributed with their permission. Feel free to use them, just remember to credit me."). Some animals are rigged by SpikeDragonLord and jboyd4 in the mod
Beasts of Tamriel
Mihail Romanov for some birds (Chick, Duckling, Mallards, Rooster, Pheasants) in
Pheasants Ducks and Chickens- Elements of Skyrim pt.13 (mihail immersive add-ons- animal- birds)
, for the Pigeon in
Pigeons- Elements of Skyrim pt.12 (mihail immersive add-ons- birds)
, for the Seagull in
Seagulls -Elements of Skyrim pt.10 (mihail immersive add-ons- birds)
, for the Boars in
Boars and Daggerbacks- Mihail Monsters and Animals (mihail immersive add-ons- oblivion- eso)
, and for the Peacocks in
Peacocks- Mihail Monsters and Animals (mihail immersive add-ons- animals- birds)
("Feel free to use my mod in your projects, no need to ask me for permission first")
Peacock model Repair (SSE only) by
zenlyking
and
chinese forum
Kaizit and Tamira in
Ducks and Swans Resource
Free sounds :
universal-soundbank
-
Sound Fishing
-
lasonotheque
-
soundbible
-
freesfx
-
xeno-canto
-
The Internet IBC Bird Collection
Presentation of this mod by Gone Turbo :
(XB1 version)
->->->->->->->->->->->->->-><-<-<-<-<-<-<-<-<-<-<-<-<