Foster xbl's revolutionary mod "Diversifying Skyrim SE" adds mothers and infants (as well as other diversity) to Skyrim.

This add-on includes real baby sounds for further immersion!
Subtle, NOT loud screaming infants!
Ported over from Skyrim LE by request!
(This version is for Skyrim Special Edition. Skyrim LE can be found here: https://www.nexusmods.com/skyrim/mods/84866?)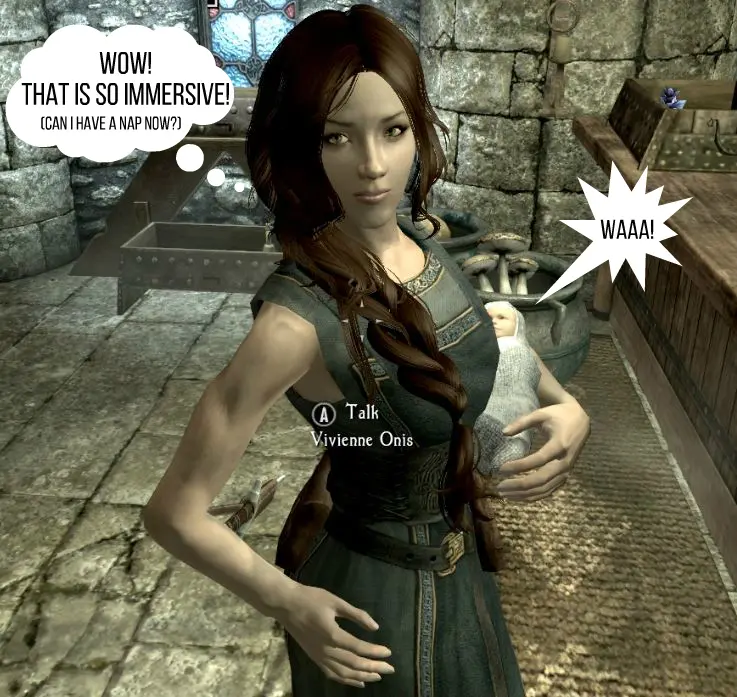 The original mod MUST be installed first for this add-on to work!
Please download it here:
Diversifying Skyrim SE
 by 
Foster xbl
.
The way this add-on works is that it introduces a sound loop to the "mother" npcs, as long as they are conscious.
If they are killed, the baby will stop crying.
PLEASE NOTE- Due to the way the original mod ties the baby into the mother's clothing mesh, if you have a mod that overwrites their clothing, you will have the sound of a crying baby, without an actual baby in their arms.
Therefore it is VERY IMPORTANT to make sure that Diversifying Skyrim SE and it's patch after any other mods that modify NPCs. 


Credits
Special thanks to Foster xbl for creating Diversifying Skyrim SE and for giving me permission to share this add-on. 
(https://www.nexusmods.com/skyrimspecialedition/mods/9193/)
Special thanks to sebastianlund of Freesound for sharing audio of his infant son under the creative commons licence, which I used as the basis for my audio file.
(https://freesound.org/people/sebastianlund/sounds/73765/)
Special thanks to Bethesda for Skyrim.
Special thanks to InsanitySorrow for the ReadMe Generator