VERSION 2.0 UPDATE
Details:
-Collision meshes fixed (drop the dresses on the floor all you like, no more game crashes)
-Sleeves and bracelets now added to dress meshes. To deal with this, each gown now has three versions (short sleeves, bracelets, and long sleeves). 
-I think I added survival mode support, but as I don't actually have survival mode myself, I can't say for certain. 
-The chest has been updated to include all new items. Old sleeve and bracelet items and meshes have been removed entirely and are now built into the gowns.
Update Instructions:
1. Remove Version 1.0 and 1.1 gowns from your character, and if possible entirely from your inventory by placing them in a barrel or chest or something (to be safe). 
2. Uninstall the Version 1.0 and 1.1 files following the uninstall instructions listed below or by using your mod manager.
3. Download and install the Version 2.0 body type of your choice and install as usual. 
4. Load your game. Some of the objects may still appear (sandals, boots, hoods, and cloaks remain untouched). Other items will be missing (sleeves and bracelets), or altered (gown). The basic gown is now just the short sleeved version without bracelets. There are two other dress versions now, one with the bracelets and another with the sleeves. 
Please let me know if you encounter any further problems.
-HR
___________________________________________________________________________________________________________________________________________________________________________________
Hey everyone,
This is my first mod for Skyrim that I'm releasing, so please be kind. I've been working on this one version for three weeks, and am only now at a stage I'm willing to consider releasing it. Given I'm fairly new to this sort of modding, I'm not sure I'll be able to help too many people, but if there are major problems (like something is invisible or missing), please post in the comments or add a bug report. I'll provide support if possible, but I may not be able to assist everyone. 
This mod is released for Skyrim Special Edition only, and is Nexus exclusive. It will not be released anywhere else, or for Oldrim. Thanks. 
-HigheverRains
I. MOD DETAILS
II. REQUIREMENTS
III. INSTALLATION
IV. UNINSTALLATION
V. KNOWN ISSUES
VI. CREDITS
VII. PERMISSIONS
I. MOD DETAILS
The theory behind the outfit is to provide modular pieces that can be combined and removed for roleplay purposes. In our own world, medieval clothes were expensive and washing them not always possible, and so they often came with detachable sleeves, in layers, and with different accessories to adjust style and increase the longevity and usefulness. The modular aspect of this mod was inspired by Skyrim's biomes. Gowns with sleeves are provided for snowy regions, and items like sandals for places where it's warm. The entire ensemble is designed to be attractive but also practical (no chainmail bikini's here). 
All pieces are considered clothing in game, meaning you should be able to enchant them. You may experience some seams at the joints of the wrist, forearm, or calves if pairing it with other meshes.
Each gown includes:
A short-sleeved dress
A dress with bracelets
A dress with long sleeves
Fur-lined gloves
Leather sandals
Fur-lined ankle-boots
A custom cloak -- Uses Body Slot 46 (chest primary or outergarment)
A fur-lined hood (for elves, orcs, and human races, these hoods show hair) -- Uses Body Slot 45 (neck)
The hoods and cloaks included in this mod are special. The hoods for non-beast races are specifically shaped to accommodate MOST custom hairs. These are not wigs. You can wear a helmet under the hood if you like. They simply function as hoods should, and your hair stays put. For high ponytail or large hairstyles, there may be clipping. This is unavoidable. To accommodate as many hairs as possible, I have provided a slim version and a wide version of the hood. These hoods have been tested with a few hairstyles from KS Hairdos, and are compatible with most vanilla hairs. The hoods do not accommodate the hairstyles from beast races, because they have distinctly different head shapes, but a special hood has been provided for Argonians and Khajiit that will match the outfits, but remove hair.
II. REQUIREMENTS
-CBBE
-Skyrim.esm
-Update.esm
Note About CBBE:

The mod is built around the CBBE's body via the Bodyslide Outfit Studio. I know that people like their options, so I've included versions of CBBE's SevenBase, CBBE Slim, CBBE Curvy, and CBBE Vanilla. All images provided are taken using CBBE Vanilla. I will not be providing additional body types due to the fact that Bodyslide overrides important information within the meshes during export, and in doing so breaks the mod. Please just choose one of the four provided options.
For those of you using other bodies (including the vanilla game body), I don't know if this will work for you. I am not providing support for any other body types, because I don't have access to bones and weights with anything other than CBBE, and this mod was built around CBBE specifically. If you still want to give it a go, please pick the shape you like from the list and try it out. If it doesn't work or you don't like how it turns out, uninstall it. Sorry I can't provide further options or support for you.
UPDATE: One brave user gave it a go and has confirmed this WILL work with WICO. So...if you're using WICO then choose a form and it SHOULD line up okay. :
)
III. INSTALLATION
Manual
1. Choose ONE file and download manually. 
2. Unzip the file into the game folder to install the .ESP, Textures, and Meshes. 
NMM
1. Download ONE file via NMM, or download manually and add the file into NMM using the add file option.
2. Allow NMM to install the required files (there is no mod installation menu for this mod)
The gowns and accessories can be found in a noble chest behind the counter in Solitude's Bits and Pieces. There is no crafting menu available as there are so many pieces I felt it would significantly clutter up the crafting options. If you want to add the pieces by console command, a search for "elegant" will bring up all the necessary pieces. If you don't know how to do that, there's guides available online that can explain it for you with pictures.
SHAPE COMPARISON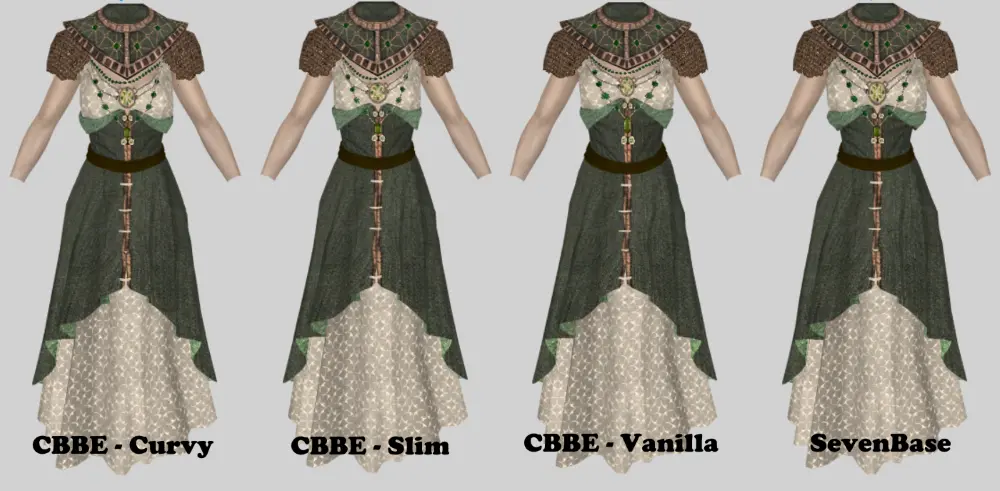 IV. UNINSTALLATION
Manual
1. Go to your Skyrim Install Directory and delete the following:
              HRElegantGown.esp
2. Delete everything in the following folders:
              Data/Textures/HR/OutfitsandArmors/ElegantGown
              Data/Meshes/HR/OutfitsandArmors/ElegantGown

NMM
1. Right-Click the mod and choose Uninstall from All Profiles and Delete
V. KNOWN ISSUES
This is my first attempt at an outfit mod, and I had to learn everything as I went, so this mesh is far from perfect. The biggest problem is at the very bottom back edge of the skirt, which has clipping issues when walking/running. I tried to repaint the bones on this but all attempts continued to fail, so this is the best version I could get of it. The rest of the mesh moves with the body really well, and some clipping is to be expected because of the type of movement. If I succeed in fixing it at a later date, I will release an update. 
I have no been able to sort out collision for the clutter meshes of the outfits. Some have them from the meshes I based them from, but others are entirely new (bracelets and sleeves). If you drop them in the game, the collision may act weird, and as a result, your game could crash. If you don't want them anymore, stick them in a barrel or chest or other container and leave them behind. Don't just drop them on the ground. Sorry I don't know how to fix this. I did try. 
FIXED IN VERSION 2.0
Sometimes the sleeve meshes won't show up. I don't understand what's causing this. Sometimes they do and sometimes they don't, and the only thing that appears to fix this is quitting the game and reloading again. If I figure out WHY this happens or how to fix it, I'll issue a release. For now, it might be a weird thing with my files due to how I was testing edits. If you experience this, please leave a comment with the version you're using and the specific parts of the outfit which are causing problems so I have more information with which to track it down. :) Thanks. 
 FIXED IN VERSION 2.0
VI. CREDITS
Thanks to the community at large for the vast number of tutorials available to try and help, and the sheer amount of modding ability from which I have been able to learn. 
Thanks to Caliente for CBBE and Bodyslide, specifically the SSE versions that were recently released which were used for the creation of this mod.
Thanks to the NifTools team for making Nifskope, which was vital in the creation of this mod.
Thanks to Bethesda for Skyrim and for the Creation Kit which was used to package, preview and combine the mod.
Thanks to ChumbalumSoft for Milkshape3D which I used for some simple model edits.
Thanks to CDProjektRed for the permissions to use their assets in Skyrim.
Thanks to Bryan Wee, whose armor mashup tutorials got me started down the path to making outfits that actually worked in game.

RESOURCES:
Thanks to Witcher5688 for porting over Witcher 2 armor. It was a mashup of the sorceress dress that forms the bodice and skirt of this mod, and while I did the weights and bones myself, they are responsible for the original port. -->
WITCHER 2 MODDING RESOURCE
(Permissions to use Witcher 2 ported files as long as credit is given)
Thanks to Nazenn, who has given permission for the community to use the cloaks from the well-known Cloaks of Skyrim, which I tweaked and edited to create my cloaks here. -->
CLOAKS OF SKYRIM SSE
(Permissions to use cloaks for outfits as long as credit is given and a comment is left on the main page:
HERE
)
Thanks to Caliente for CBBE and Bodyslide/Outfit Studio, specifically the SSE versions that were recently released which were used for the creation of this mod. -->
CALIENTE'S BEAUTIFUL BODIES ENHANCER -CBBE-
(Permission to use CBBE body for outfits as long as credit is given and notable edits are made. Link provided to mod page as required).
VII. PERMISSIONS

This mod contains the assets of other authors, used with permission. As such you are NOT permitted to alter these assets in anyway, nor release them. You do not have permission to alter my work, or to release it as your own, in any form including retextures or other body types/models. The mod has been cleaned with SSEedit, and as such should not require patches.
The mod is Nexus exclusive and SSE-only. I still have some edits I wish to make to the skirt when I get the chance, and I still want to add some additional content if possible, but I am slow in armor/clothing meshing, and still learning. At this point, permission for ports to other versions of Skyrim on different platforms is not granted, so as to control for any updates I make. If this changes, I shall update the permissions. :) Thank you! 
-HR