About this mod
This mod adds a GOT-inspired follower/Orphan to your game. She has perks mostly in one-handed. Standalone.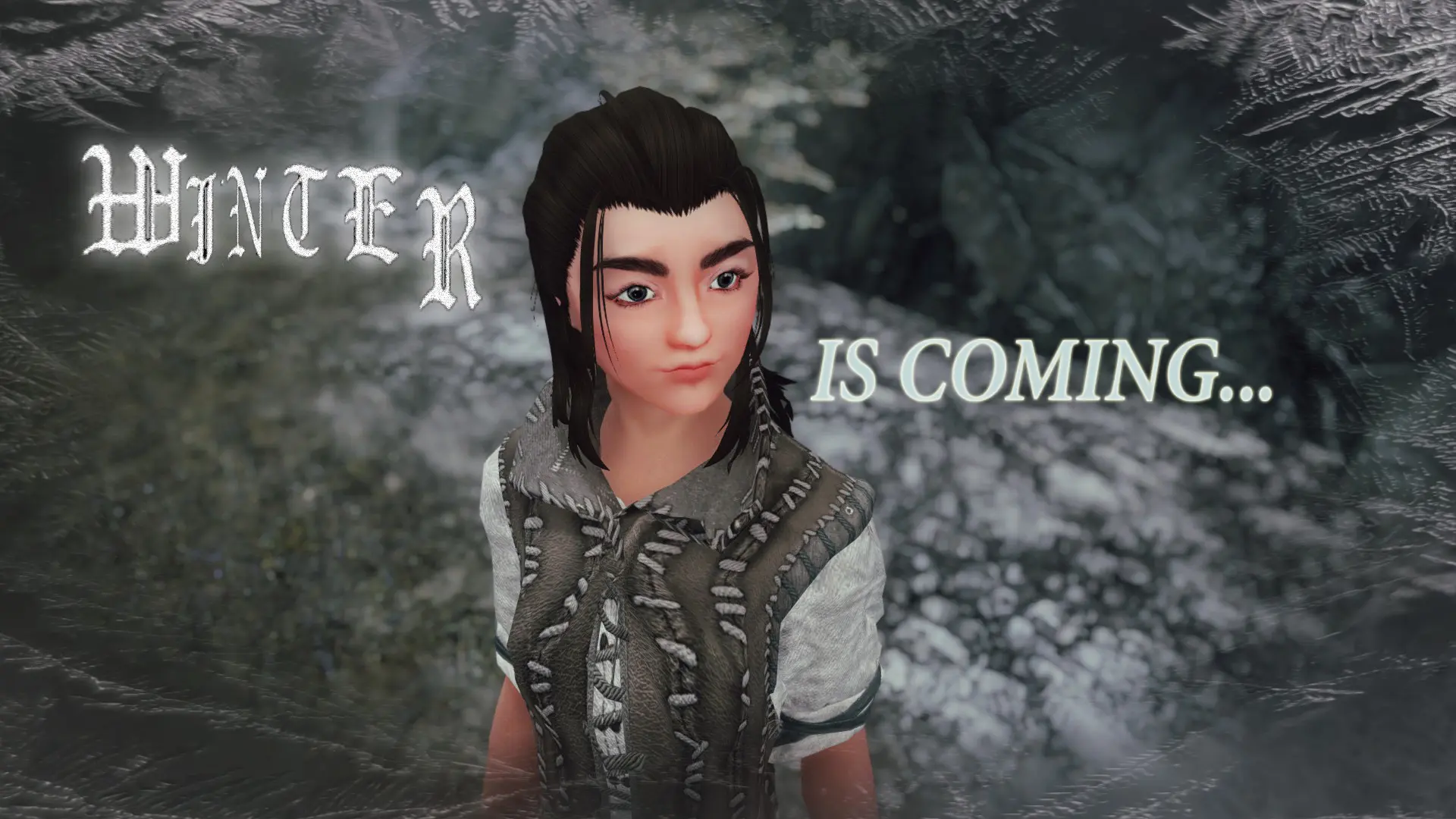 So I give You a Game of Thrones inspired standalone follower/orphan.
About:
Arya can be found in Jorrvaskr. She has a default outfit which she wears if
not given anything else. She has a shield and some other clothes in her
inventory too. Arya has a custom follower system because her voicetype
is malechild. There is a bodyslide preset available in the misc-files.
Known issues:
- The scabbard does not sit perfectly on her narrow hips
Used Mods/Credits/Thanks
Face/Head/Skin/Eyebrows
/Eyes
Soft Face Textures for Females
by Mitzi

Smile in HD by zzjay and normal map by Urshi
Character Mod Resource Pack by Nuska
Eye Normal Map Fix
by Mr Dave
Improved EyeReflections and Cube Map
by
fadingsignal
El's Face Stuff by ElliseUnivision Face by DD AKT
Pretty Face by tktk
PureSkinTexture by Anini n Regenbot03
RaceMenu by Expired

Body

Caliente's Beautiful Bodies Edition -CBBE-
by
Ousnius and Caliente

BodySlide and Outfit Studio
by
Ousnius andCaliente
Caliente's Texture Blender by Caliente
PureSkinTexture
by
Anini n Regenbot03
For normal map neck seam issues Fair Skin Complexion by HHaleyy and Indig0
Hands
Feminine Hands CBBE UNP by Sunspot2 (From 1.2)

Hair
KS Hairdos - Renewal by Kalilies Stealthic Khaos and Shocky
KijikoHairCC by chitama

Outfits/armour/jewelry
Wayfarer's Coat by Ellise
Witcher 3 Female Armors by zzjay and CDprojektRED
Maid Outfits by zzjay and GraceDarkling by zzjay and GraceDarkling
The Witcher 3 Young Ciri Armor by blink and CDprojektRED
Caliente's Vanilla Outfits for CBBE by Caliente and Ousnius

Mods Used In Some Screenshots


Snapdragon Prime ENB
by
tetrodoxin

Enhanced Lighting for ENB (ELE) - LITE
by
--JawZ--

Face Light
by
tktk

Natural Lighting and Atmospherics for ENB
by
Confidence-Man


Special thanks:
David Benioff, D. B. Weiss and others for Game of Thrones
George R. R. Martin for A Song of Ice and Fire
Unknown medieval and ancient church and castle painters and antique artists who's work I have used in some textures
Bethesda for Skyrim
This community for all its great features

If someone feels that his/her rights have been violated by not giving proper credit or asking for permissions etc.so please contact me. I would never do such a things with purpose. This community and great works of other modders form a great fountain of inspiration for me.PermissionsAsk me. This mod is nexus exclusive, and its assets can't be used in paid mods