Dames of Skyrim SSE has been ported from the original Dames of Skyrim Complete for Skyrim
Legendary, comprised of 280 modded female NPCs all over Skyrim to Harkon's Castle of
vampires to the Nords and Dunmers of Solstheim. This is purely cosmetic. Dismiss any followers
or companions before installing or updating.
This is
NOT
a lore-friendly mod and is a
COMPLETE STANDALONE
- no other mods required.
There are no female body mod requirements. This mod complies what you currently have, be it
vanilla, CBBE, UNP, or any other. The only intention of this mod is to change female NPCs'
appearance. Each and every NPC's default npcweight has been retained.
I will not charge money for this mod. All mod assets used to create this mod is/was put together
from other mods created by their respective mod creators mentioned in the description's credits
and in no way do I own them. If you feel that this mod is not lore-friendly to your game at all
nor it to be your cup of tea and ruins your "Immersion", save yourself the trouble and
DO NOT
INSTALL 
this mod. Mods are created as how they are personally envisioned.
Kudos and many many thanks to
SPECTRE Studio for taking
 the time to review the mod and
put it up in YouTube. I can't blame you for not reviewing every single one of them. Reviewing
more than 240 various heads from different holds is a lot of work which no different from
creating them. Good job, sir. And again, thank you.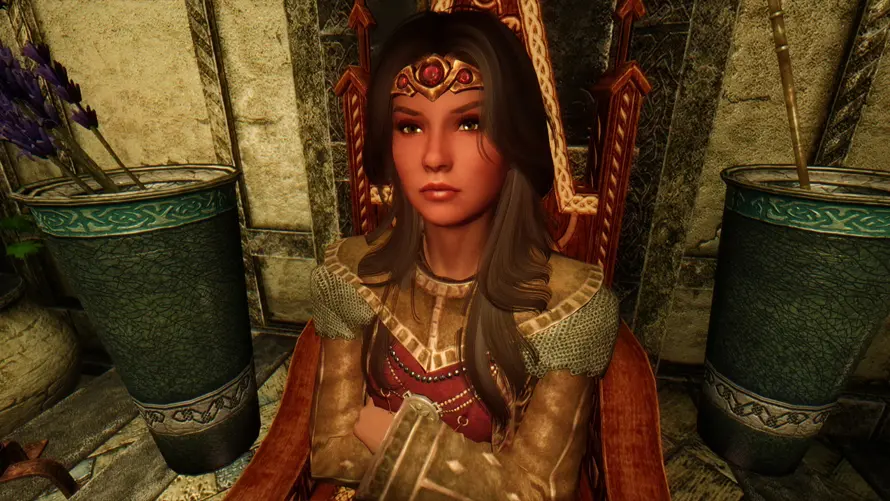 Jarl Elisif of Solitude
INSTALLATION

1. Download and install using your favoured Mod Manager, be it NMM or MO.
2. Sort the plugins installed by using LOOT.
3. To avoid Dark Face bugs, check your plugin list. There are three (3) ESP filenames
used to create this mod. Each ESP filename carries the attributes DOS which are
DOS_2_LG_WDM_SSE.esp, DOS_2_LG_MS_SSE.esp,
and
DOS_2_LG_WWR_SSE.esp
 which
can be sorted out by simply changing the Metadata in LOOT. As an example, the very
bottom mod on my LOOT list is the
Relationship Dialogue Overhaul
 based from my LOOT
result from Skyrim Legendary. I simply changed each ESP's Metadata to be sorted right after
RDO. In this manner, there is no need to relocate them again whenever a new mod is installed.
My apologies since I haven't found an actual solution to this problem. But so far, this has
worked for me.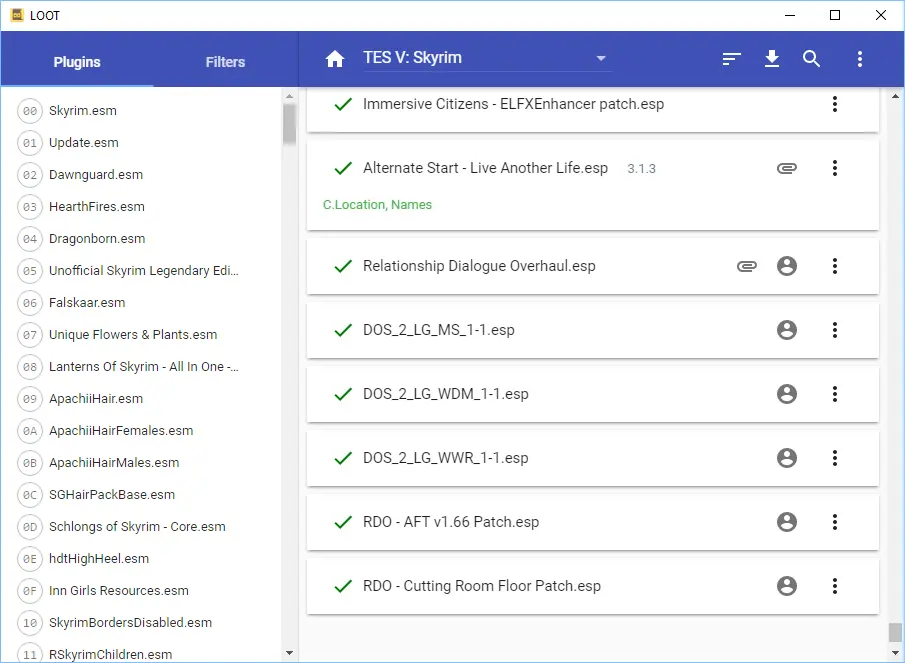 Sorted plugin list.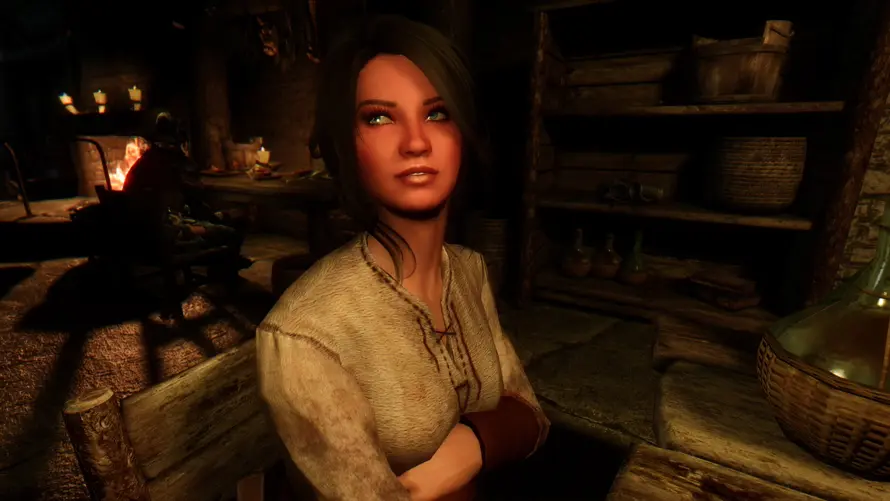 Sylgja of Shor's Stone
QUESTIONS AND ANSWERS

Just the few (or many) inquiries that I've got and might be getting eventually.
Q: What's the impact of this mod to the previous Dames of Skyrim Series?
A: This is an entirely new mod made from the ground up, but have also added more
characters that were never in the original Dames of Skyrim such as potential followers,
and marriage candidates. There are 280 modded female NPCs. This mod doesn't carry
any scripts so you'll be fine.
Q: Any other requirements that I might need?
A: Just the latest version of Skyrim Special Edition that you have from STEAM.
Q: Do you take requests?
A: No. Just No.
Q: I want to learn how to make my own NPC. Can you teach me?
A: No. But if you browse around the web, you can certainly find a tutorial. That's
how I did it from my end. Learned from my mistakes and have created a certain
approach on creating stuff. Besides, I have a life to live and a family to look
after just like anyone who's a spouse and a parent IRL.
Q: Can I upload this on another site?
A: No. That's utterly disrespectful to myself and to other mod authors whose works
are being used to create this mod. That's simply THEFT no matter what. It's already
an issue that a number of people engage in these days to make a name for themselves.
This mod stays as a
Nexusmods Exclusive
until further notice, is to remain Free of Charge,
and open to anyone and everyone who wants to use this mod.
Q: Are there any incompatibilities to this mod?
A: So far, the only incompatibility I encountered were vampire mods and other mods
that changes the appearance of any NPC (except for Elders and beast race). Other
than that, none I suppose.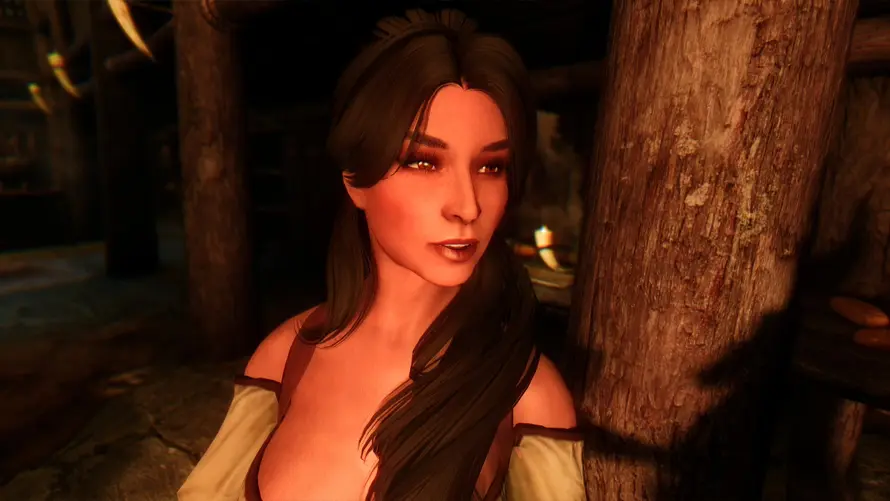 Lynly Star-Sung (aka. Svidi) of Vilemyr Inn in Ivarstead
CREDITS

I wish to extend my sincerest thanks for the mod authors for coming up with tools and assets
to make this 5 year old game still good. As follows...
Racemenu by expired6978.
The Eyes Of Beauty by Gabriel Mailhot as LogRaam.
Brows by Hvergelmir.
KS Hairdos - Renewal by Kalilies Stealthic Khaos and Shocky.
SG Hair by HelloSanta.
Original Vampire Races by Loshirai14.
HN66s Long Eye Lashes by humannature66.
Caliente's Beautiful Bodies Edition -CBBE- by Ousnius and Caliente.
DIMONIZED UNP female body by dimon99.
Demoniac- High Quality Glossy Female Body Texture 8K 4K 2K by Regenbot03.
Sporty Sexy Map - Athletic muscle mod CBBE UNP UNPB ADEC by Xs2reality.
Sporty Sexy Sweat - wet body skin texture - CBBE UNP UNPB ADEC Vanilla by Xs2reality.
Better Makeup for SKSE by Diethardt.
XCE - Warpaint and Dirt by Xenius.
Battle Hardened Warpaints by Diethardt and netherwalk.
TS Female Warpaint MAX by TairenSoul.
SSE NIF Optimizer by ousnius
NIFSkope by Corwin and team
NPC Nif Merge by Turulo
Skyrim Script Extender by Ian Patterson, Stephen Abel and Paul Connelly
(ianpatt, behippo and scruggsywuggsy the ferret)
AIR ENB by HRK1025
Serana
Please support your mod authors by
simply endorsing their work. Honestly,
it means a lot. Thank you.