Skyrim Textures Redone - High Hrothgar
Skyrim Textures Redone - High Hrothgar
File information
Created by
Gorgulla
About this mod
Complete texture overhaul for High Hrothgar, Offers studio quality baked normals and baked ambient occlusion maps with proper specular maps to correctly reflect the environments.
Requirements

Permissions and credits

Changelogs

Donations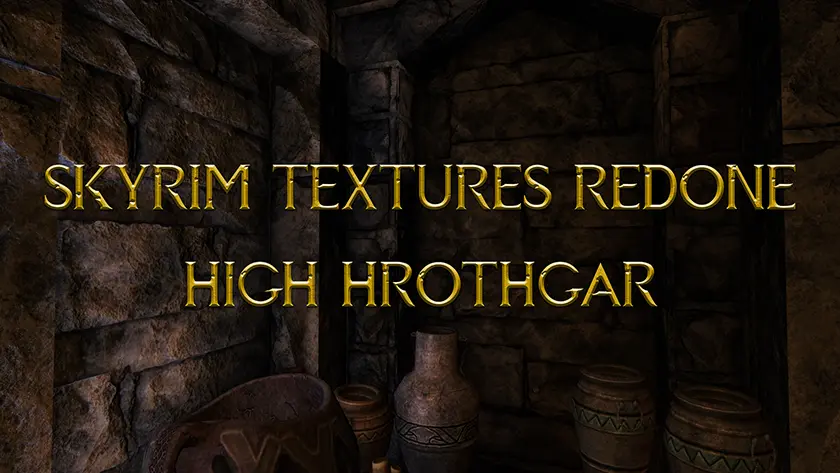 NOTE: Images is taken without ENB, Reshade or Sweetfx, 1080p (1920x1080px).
The pics on the window textures is from gamwich and is not included in the mod.
Everything is made procedurally and by hand, no photos have been used. This results in studio quality textures, proper light reflection from the specular-maps and normal-maps results in better lightning in-game as well.
This Overhaul offers:
Studio Quality Baked Normal-maps with no compression artifacts as well as the same performance as compressed normal-maps, gives of closely the same effect as parallax-maps


Studio Quality baked Ambient occlusion-maps collaborating with the diffuse and normal-map to give much more depth


Studio Quality proper Specular-maps which results in much better lightning in-game


Studio Quality Diffuse-maps that collaborates with the normal and specular-maps to give the best results



Your choice to choose between 2K or 4K resolution (Your screen resolution does not matter in this case, 4K will still look better no matter what resolution you have on your screen)
Install:
Use NMM or extract to your data folder
Permissions:
This mod is made by Gorgulla and is ONLY allowed to be uploaded by Gorgulla on either Nexusmods, Bethesda or Creation Club.
If you find it elsewhere, IT'S STOLEN.
You are not allowed to change my mod and upload it as your own.