Description
Last updated at 21:57, 12 Oct 2017 Uploaded at 21:57, 12 Oct 2017
This is a port to SSE of the original Skyrim mod 
Irina Follower by NeusKharp
with permission from the original authors.  You may not redistribute, upload or otherwise use the assets of this mod in any way without express permission from the original authors.
Mod cannot be uploaded anywhere else other than nexus without express permission from the authors.
I recommend using a skeleton such as XP32 Maximum Skeleton Special Extended - XPMSSE by Groovtama. http://www.nexusmods.com/skyrimspecialedition/mods/1988/? .  All of the body meshes have been tested in SSE with this skeleton and work fine. 
DO NOT attempt to install the oldrim mods mentioned in the original description as it probably wont work at best and at worst it will destroy the universe.
The description below is copied from the original mod so the links in it will be pointing to oldrim mods, not SSE mods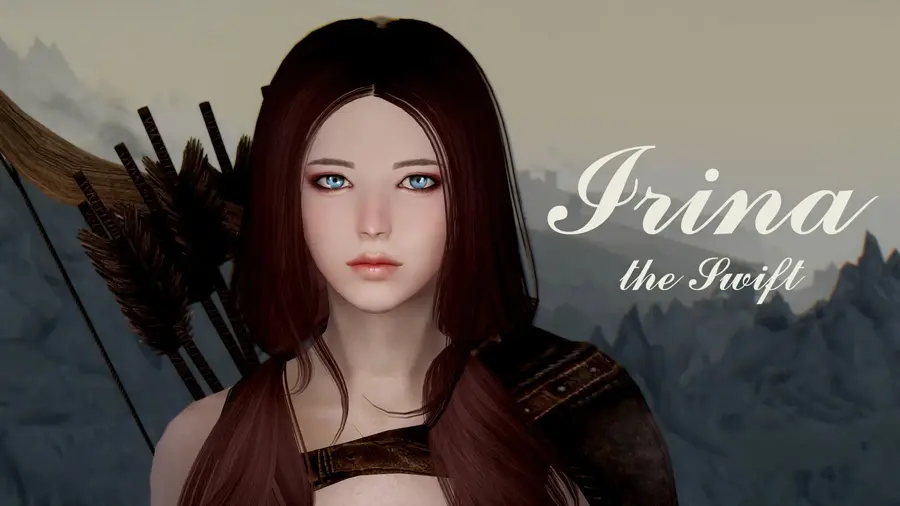 This mod adds a female follower.
This is standalone. So you can use this with no problem whatever body types you're using.  
[Follower detail]
Name: Irina the Swift
Voice: Young Eager (Vanilla)
Body: CBBE or UNPB
Location: Angi's Camp
Combat Style: Archery
Perks: Overdraw, Critical Shot, Power Shot, Stealth, Light Foot, Face Light, Novice Alteration
ETC: Essential and marriable  
[Recommended Mods]
Female Facial Animation by nao4288
(I recommend an optional file too)  
[Credit]
Enhanced Character Edit by tktk
Caliente's Beautiful Bodies Edition by Caliente
UNP BLESSED BODY- UNPB REDUX PROJECT by Blessed Redux Project team
SG Female Textures Renewal by Hello Santa
Girl of Innocence by Lumina
The Female Texture by Gonzo
KS Hairdos - Renewal by Kalilies
The Eyes Of Beauty by LogRaam
Eye Normal Map Fix by Mr. Dave
Face Light by tktk
zzjay's wardrobe by zzjay
Emfy Cleric Robes UNP - CBBE by Deserter X - Mitosuke
Gim Boots by Gimora
Amulets of Skyrim by uni_SL
Thank you for the mods.  
[Change Log]
v1.1 Adds the Irina's custom outfit. 
v1.0a Fixs a bug.  
[Video]
by Vatiwah 
Thank you for the video.  
[My mods]