File information
Created by
HeirOfTheSeptems
About this mod
Adds Ruin's Edge, an enchanted bow originating from the Shivering Isles. Strikes from the bow have unpredictable negative effects on its target.

Also includes a short quest (by modding standards, not by CC standards) to obtain the bow.
Requirements

Permissions and credits

Translations

Spanish
Polish
Italian
German
French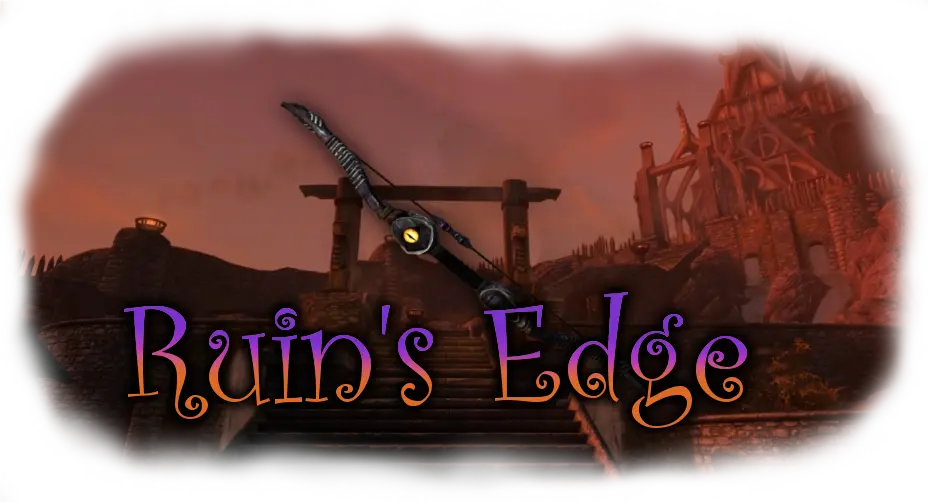 Description:
This mod adds Ruin's Edge, an enchanted bow originating from Dementia In the Shivering Isles.
Also included in this mod is a short quest which will bring you to the Shivering Isles to do a good deed for an old friend.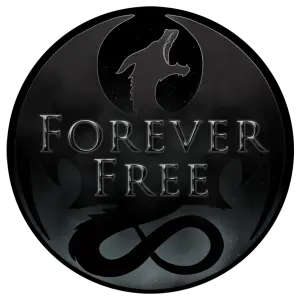 The Bow:
Ruin's Edge has a Unique appearance and enchantment. Its base damage is equal to that of an Ebony bow.
You can obtain the bow by completing the quest "Have a Nice Trip".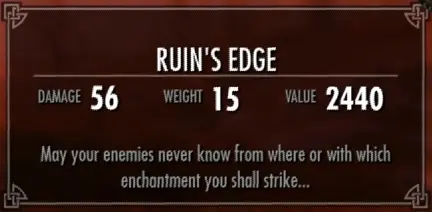 Base Damage: 17
Weight: 15
Speed: 0.6
Enchantment: When the bow strikes its target it has a random enchantment.
How to use:
Step 1 - Nock arrow
Step 2 - Aim for knee
Step 3 - Fire
You can find a List of possible effects here: (Hidden for those who don't wish to ruin the surprise)
The Quest:
Requirements: The quest will not start until you have completed Sheogorath's Daedric quest "The Mind of Madness"
How to Start: So you want to start a quest eh? Maybe first you should take a nice stroll up to Dragonsreach in Whiterun, you really look like you could use the exercise.  But be careful, I hear those steps can be treacherous this time of year!
F.A.Q.
Q: Where do I find the bow?
A: Read the description.
Q: How do I start the quest?
A: Read the description.
Q: Why can't I pay you for this mod?
A: Because I don't suck :D
Q: Why won't the quest start?
A: Have you finished Sheogorath's Daedric quest?
Q: But what if I want to pay you for this mod?
A: Then you aren't very bright.
Q: When do I get your first born child?
A: Is that you Molag Bal? I told you, you'll just have to wait!
Q: Take My Money!
A: NO! >:(
Change Log:
1.1 - Fixed an issue where the BSA had some erroneous assets that could override vanilla ones
1.2 - Fixed Facegen bug
Also be sure to check out: 
Stendarr's Hammer
, 
Chrysamere
, and
The Staff of Sheogorath
!
===========================================================================================================================
Modder's Note: This mod is 100% unrelated to the Creation Club paid Mod "Ruin's Edge". This mod is also free, has a real quest, and has a more interesting enchantment. Enjoy. :)